25 October, 2019Safe Demo Plastik, the Turkish subsidiary of French auto supplier Safe Group, is conducting an extensive strategy of union busting against members of IndustriALL Global Union's Turkish affiliate Petrol-İş in the city of Bursa, centre of the auto sector in the country.
Petrol-İş, the Oil, Chemical and Rubber Workers' Union, organized the majority of the around 400 workers at Safe Demo Plastik in mid-June. This was officially certified by the Turkish labour ministry.
Without grounds, the company's local management challenged the ministry's certification in court, claiming that Petrol-İş did not have a sufficient majority to be a collective bargaining agent. This is a very common tactic used by employers in Turkey to stall collective bargaining.
During this period, Safe Demo Plastik fired six members of Petrol-İş for unjustifiable reasons. However, it was clear to Petrol-İş and IndustriALL that the reason was their union membership, since all the fired workers are very active members who played an important role in the organizing campaign.
IndustriALL approached local management and the headquarters of the company to find a peaceful solution. IndustriALL's French affiliate FCE-CFDT also took solidarity action in support of Petrol-İş members.
Petrol-İş and Safe Demo Plastik had several interactions in an attempt to create constructive labour relations and social dialogue. IndustriALL witnessed those conversations. According to the common understanding developed in the process, local management was going to withdraw the lawsuit challenging the trade union recognition certificate and simultaneously begin the process towards a collective bargaining agreement.
Afterwards, however, the company reneged and refused to talk to Petrol-İş. IndustriALL contacted the main customers of Safe Demo Plastik, calling on them to conduct due diligence and ensure that their supplier respects trade union rights and recognizes Petrol-İş.
Safe Demo Plastik continues to threaten Petrol-İş members to quit the union through one-to-one meetings, with the final objective of getting rid of the union.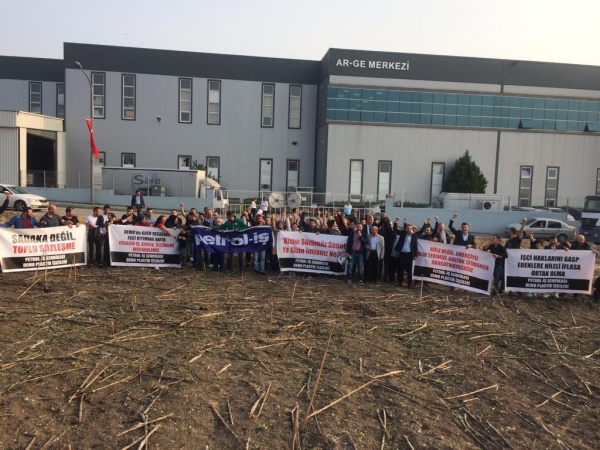 Recently, union members gathered at the workplace in a demonstration demanding recognition of their rights. Their demands include Safe Demo Plastik's withdrawal of the court case and starting collective bargaining negotiations, reinstatement of the fired union members and an end to bullying workers to quit the union.
In the meantime, the country manager of Safe Demo Plastik has been sentenced to six months in prison by the first magistrates' court of Bursa over his violation of article 118 of Turkish Penal Code related to "Preventing the use of trade union rights". This decision indicates that Safe Demo Plastik violated fundamental workers' rights.
"It is shameful for the French-based company to violate fundamental workers' rights in its operations in Turkey," said Kemal Özkan, IndustriALL assistant general secretary.
"Together with our affiliate Petrol-İş, IndustriALL has waged all the good will efforts to find a peaceful solution through constructive dialogue. As it looks like the company will not respond in the same manner, we will continue to struggle until we achieve justice."
French-based Safe Group is an active second tier auto supplier providing automotive safety and trim parts to first-tier suppliers such as Faurecia. The company has two production facilities in France, one in each of Czechia, Turkey, Brazil, the USA and Mexico.