28 November, 2019Workers in the auto supply chain in the German state of Baden-Württemberg are demonstrating against industry plans to deal with technological change by cutting jobs and conditions.
There are around 160 companies in the automotive and parts supplier industrial cluster in Baden-Württemberg, which is a major centre for the industry. Around 468,500 workers are employed across the sector.
Many companies have announced austerity programmes, relocations, job cuts and plant closures, citing technological changes. One of the companies planning cuts is Bosch, which is planning to cut 1,600 jobs at two sites. Industry experts estimate that between 30,000 and 45,000 jobs could be lost by 2030.
The companies are represented by a regional employers' association, which negotiates wages and conditions with IndustriALL Global Union affiliate IG Metall. At least one company has left the employers' association and therefore the wage agreement.
The union takes the situation very seriously because the transformation of the world of work due to Industry 4.0 and the shift to electric vehicles is just beginning, and the cuts set an alarming precedent. The situation in Germany is part of a wider trend in the global automotive sector. The need to invest in new technology and in some cases fundamentally change both the product and the production process is disrupting the sector and has led to global plant closures.
The workers have taken part in a series of demonstrations in the city of Stuttgart. On 22 November, 15,000 workers turned Schlossplatz in the city centre into a red sea of ​​flags.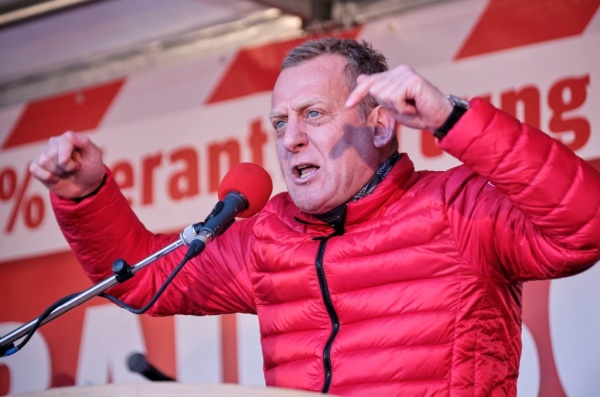 IG Metall regional secretary Roman Zitzelsberger said,
"We will not let ourselves be deprived of our jobs and our future because employers have not done their homework.
"All employers need to know: we can only shape a successful future together. Let's work together with employees to develop perspectives for all our sites and for a transformation that includes all employees. We stand here, we will fight and we will not give up until there are good solutions for everyone."
IndustriALL general secretary Valter Sanches said:
"We are deeply concerned by the irresponsible and short-sighted approach taken by the employers in this auto cluster, which demonstrates a lack of social responsibility. Our unions have addressed the changing world of work in great detail, and consistently called for a Just Transition managed through a fair negotiation process.

We stand in solidarity with IG Metall and its members who are showing their willingness to fight back – the transformation of the industry must not leave anybody behind."