12 May, 2022On 5 May, the International Trade Union Confederation (ITUC), LO Norway and IndustriALL held a first workshop on hydrogen technology as part of the Just Transition and the Energy Sector initiative. The initiative provides a platform for unions around the world to exchange information on energy transition technologies and the jobs, skills, markets, investments, and emissions related to them.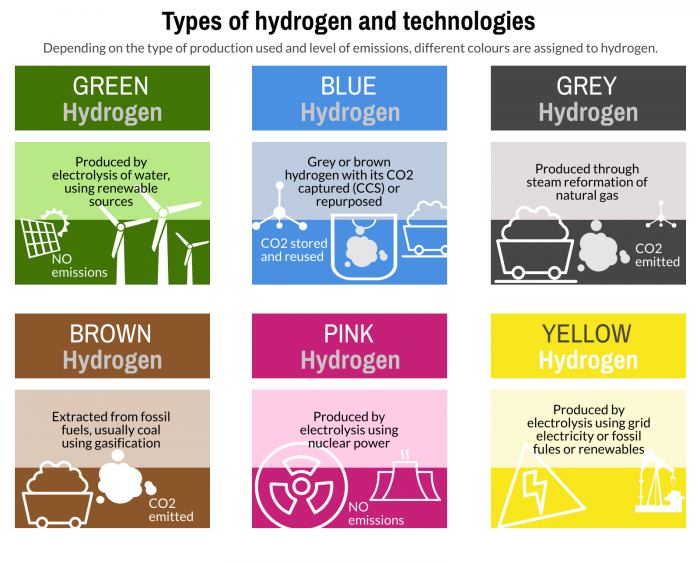 "There is no single industry that could replace the oil and gas industry, in terms of jobs and in terms of income. We must consider multiple different technologies when thinking about where jobs are going to transition to,"
said Kenneth Sandmo, Head of business and Industry Policy in the Norwegian Trade Union Confederation (LO Norway).
Putting it into perspective, Sandmo explained that Norway's oil and gas industry employs more than 200,000 workers directly and indirectly. As the hydrogen sector is projected to create approximately 35,000 jobs in Norway, hydrogen technology shouldn't be the only focus for trade unions.
Hydrogen technology is key for the long-term decarbonisation of energy intensive industries and sectors such as heavy transport. To get a better view of where jobs are and where they could be, the workshop looked at the value chains of oil and gas and hydrogen. Breaking both value chains down to production, processing, distribution, and end use (upstream, midstream, downstream) provided a clearer view of where the jobs are, and where there is a future for workers to transition in the hydrogen value chain.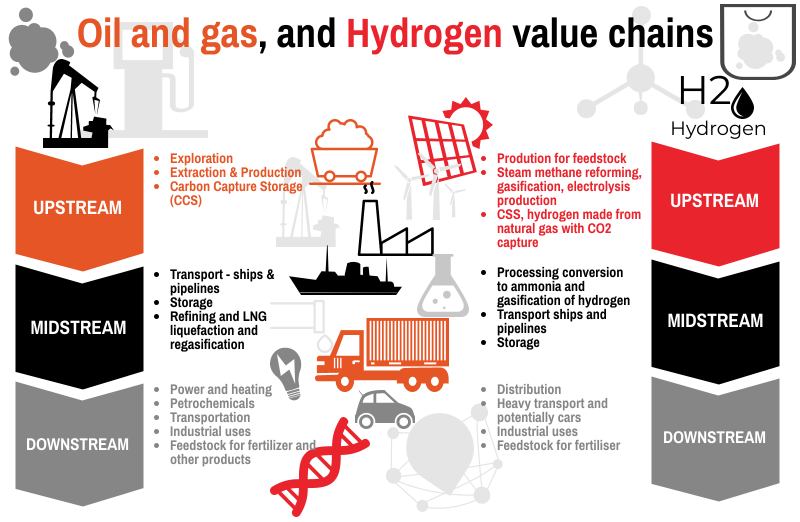 From Brazil to the US, Germany and Spain to Japan, trade union experts made it clear that transition paths and development prospects for a hydrogen energy system that puts workers first are challenging, but not impossible. With uncertainty, conflicting perspectives, and sometimes opposing interests from multinational companies, governments and workers, unions must ensure that workers are part of the transition from the start.
The German government came up with a hydrogen strategy in 2020 to create strong energy partnerships around the world.
"However, the debate is dominated by technical details, with no worker perspective,"
said Patricia Kraft from DGB.
Engaging trade unionists, works council members, and value chain experts, DGB has produced their own literature on the subject. They carried out interviews with 20 different experts and produced a position paper: Trade union demands for the hydrogen economy – towards a H2 ready workforce.
"A lot of new infrastructure must be built in Germany for hydrogen. Gas infrastructure needs to be repurposed. Transportation issues need to be solved; it is not easy to transport hydrogen around the world,"
said Kraft. Other union experts agreed, noting that there are no commercial solutions yet to the technical challenges of large-scale shipping hydrogen. 
Unions from Spain UGT and CCOO spoke on the conversion of refinery sites to hydrogen. The Repsol group is leading a project to repurpose their five refineries into hubs for hydrogen supply, distribution, and output for small consumers, especially for maritime transport, aviation, and heavy goods transport. 
"There are around 30,000 workers in our oil industry, if you include distribution workers there are about 70,000 more. We don't know how many jobs hydrogen distribution will offer. Where hubs are created in the petrochemical sector, we see real quality jobs. Hydrogen production outside of these complexes offers lower pay, fewer rights, less negotiating power and this is a concern for unions,"
said Augustin Perez from UGT.
In Japan, the government has established a Green growth strategy to achieve carbon neutrality by 2050. 11 out of 14 growth sectors in the strategy are linked to hydrogen.
Although the pandemic and the war in Ukraine have slowed down Japan's hydrogen strategy, one of the main targets remains to make hydrogen affordable and to expand the hydrogen network in Japan. Major investment is also foreseen between energy companies to expand the growth of the technology.
In the US, the Infrastructure Investment and Jobs Act provides federal funding for up to four hydrogen hubs. Chris Hannan from the Los Angeles/Orange County Building and Construction Trades Council explained that unions in California are committed to achieving the state's climate goals. They see a future in hydrogen for today's skilled tradespeople in the energy sector and are spearheading a coalition to secure federal funding for a green hydrogen hub in Southern California.  
"Hydrogen represents replacement work, it's an industrial process that still uses highly skilled construction workers to make the facilities and maintain them,"
said Hannan.
Anna Fendley from the United Steelworkers explained that she also sees a great national opportunity, which potentially can provide new jobs for workers in US refineries. 
Daniel Gaio from the CUT in Brazil explains that
"Brazil was a pioneer in hydrogen technologies between 2002-2005 with the national hydrogen plan. We were an important player in climate protection, but we have taken a giant step back."
With interest in investment in cleaner technologies unions in Brazil are optimistic that the trend will change, though a lot depends on the forthcoming election. 
Participants made it clear that unions need to be prepared for the change and must adapt fast. Ensuring a Just Transition for workers in energy intensive industries, guaranteeing labour rights, health and safety and real quality jobs is a priority for unions.
Unions must look at the global picture to see where multinational companies are investing, for example, the German company Siemens has signed an agreement with the Iraqi government to produce Hydrogen in the country. IndustriALL has a Global Framework Agreement with Siemens that can provide unions with leverage to demand workers participation in the transition process.
Three more workshops on energy transition technologies will follow this year as part of the Just Transition initiative in the energy sector:
Carbon capture storage
Offshore wind
Battery, solar, photovoltaic