20 August, 2020A joint commitment on promoting safety and health, the welfare of workers and business sustainability was signed by four garment and textile unions and three employer associations in Indonesia on 6 August 2020 during an online meeting.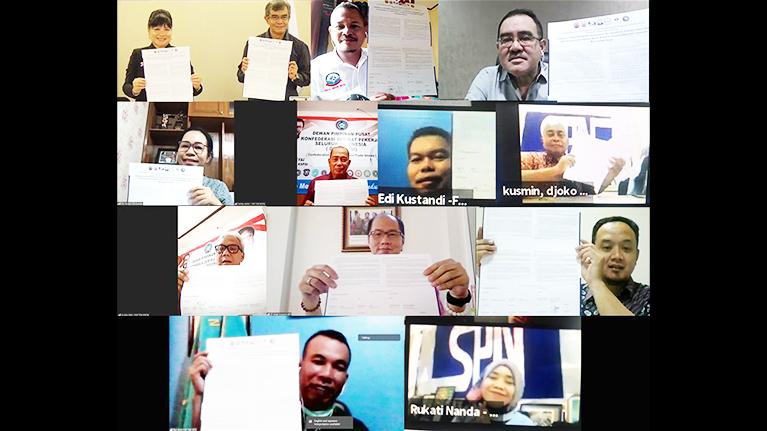 The declaration refers to the ILO Call to Action in the Global Garment Industry, and commits to protect workers and employers from contracting Covid-19, reduce the escalation of the unemployment rate and the loss of income of workers.
Both employers and unions pledge to implement ILO core labour standards, comply with occupational safety and health (OSH) regulations and engage with government and brands to maintain jobs and livelihoods of workers.
IndustriALL Global Union affiliates, Garment and Textile Trade Union Federation (FSB GARTEKS), is among signatories of the declaration. The Indonesian Employers' Association (APINDO), the Indonesian Textile Association (API) and the Indonesian Footwear Association (APRISINDO) represent employers.
Trisnur Priyanto, GARTEKS general secretary, says:
"We would like to thank the ILO Better Work Indonesia for facilitating this social dialogue, and this will be a barometer for the implementation of OSH at workplaces, both during the Covid-19 pandemic and in the future."
IndustriALL South East Asia regional secretary Annie Adviento says:
"I congratulate Garteks for endorsing this significant declaration, which is a manifestation of commitment from the tripartite partners to address the impact of Covid-19. This is really a big win for garment and textile sector in Indonesia."

"The action plan will strengthen social dialogue between unions and employers at factory-level and national level, I anticipate Garteks will soon push for joint policy recommendations to overcome the challenges posed by Covid-19."