2 February, 2022Several student leaders have been arrested while others allegedly tortured at police stations in Eswatini. Unions say over 100 people were shot dead, and hundreds injured and arbitrarily arrested in incidences where the police and the army used excessive force and live ammunition against prodemocracy campaigners.
 
With trade unions and civil society organizations worried over the absence of political will and the slow pace towards dialogue by the government of Eswatini, IndustriALL and ITUC have written to the African Commission on Human and People's Rights (ACHPR, the Southern African Development Community (SADC), and the South African government to urge King Mswati III's government to act towards respect and protection of workers and human rights.
 
According to the Amalgamated Trade Union of Swaziland (ATUSWA) and the Swaziland Electricity Supply, Maintenance, and the Allied Workers Union (SESMAWU) and the Trade Union Congress of Swaziland (TUCOSWA), affiliated to IndustriALL and ITUC respectively, security forces are continuously violating human and workers' rights to freedoms of expression, assembly, association, and the right to life.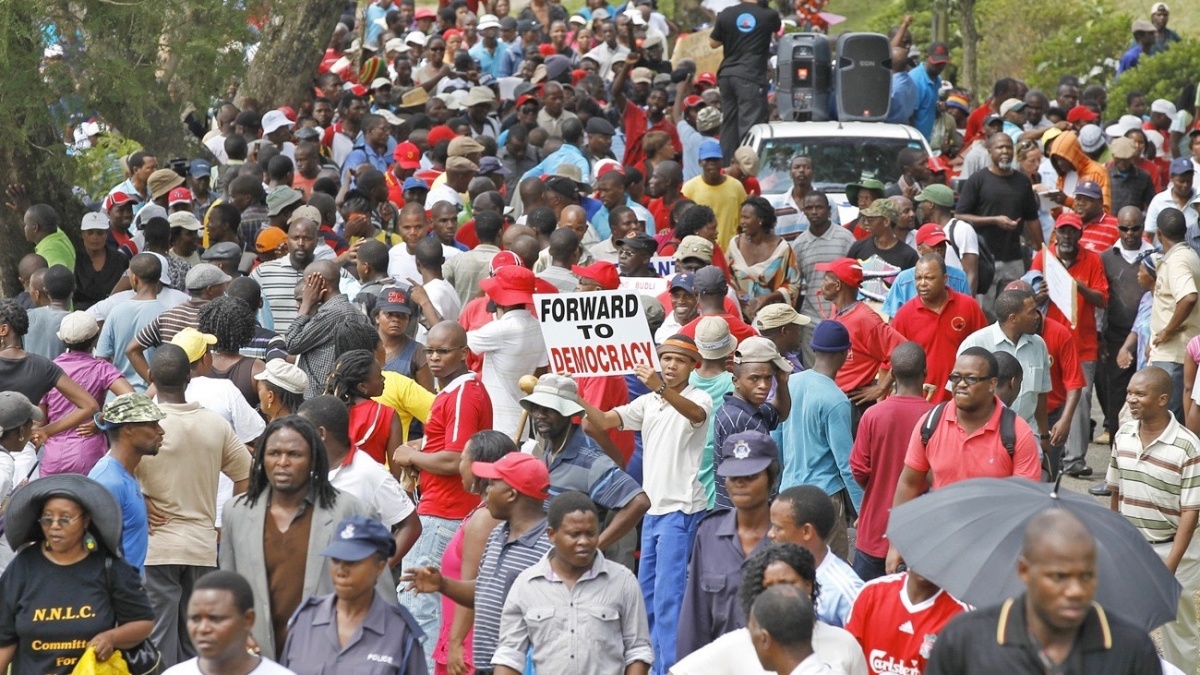 This is making life unbearable to the workers who live in harsh conditions characterised by poor wages, increasing poverty, elevated levels of unemployment and the pandemics of Covid-19, and HIV and AIDS.
 
Atle Høie, IndustriALL general secretary, Sharon Burrow, ITUC general secretary, and Kwasi Adu-Amankwah, ITUC Africa general secretary, write in the letters:
"We recall that the African Charter of Human Rights and the African Charter on Democracy, Election and Governance all protect the right to freedom of association, assembly and the strengthening of political pluralism including ensuring that opposition political parties are given a legal status under national law. Therefore, human rights defenders, including trade unions and other citizens, who exercise their human rights in pursuit of democracy in Eswatini must be protected from attacks, reprisals and retaliation from the government and security forces."
In an online meeting hosted by the IndustriALL regional office for Sub Saharan Africa and ITUC-Africa in December 2021, attended by organizations including the Southern African Trade Union Coordinating Council (SATUCC) and the Congress of South African Trade Unions (COSATU), it was agreed that unions would launch a coordinated pan African and global campaign for the democratization of Eswatini.
A 2021 survey by Afrobarometer, a pan-African research network, concluded that most people in Eswatini favoured a multiparty democracy instead of the rule by the current absolute monarchy under Mswati III. Under the current regime people are afraid of speaking out as freedom of speech and association are limited through arbitrary arrests and detentions.