3 November, 2021IndustriALL Global Union has called on multinationals doing business in Myanmar to take immediate action to cease their operations, divest, stop placing new orders, and halt business relations in the country, as part of a campaign of comprehensive economic sanctions against the military junta.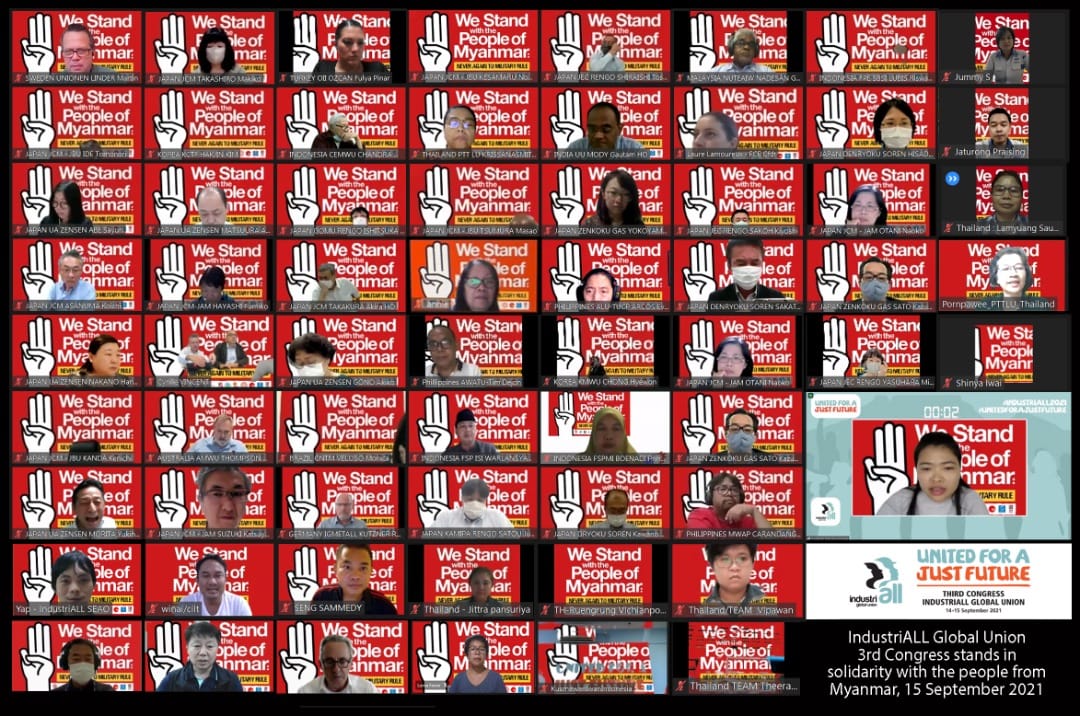 The interventions were made in a series of meetings and communications with multinationals in the energy, steel and garment industries as well as multistakeholder initiatives.
The actions taken are a consequence of a resolution in support of democracy in Myanmar, unanimously adopted at IndustriALL's Third Congress on 14 and 15 September 2021, with the participation of 434 trade unions from 111 countries. The resolution calls for comprehensive economic sanctions against the military junta. The decision to call for sanctions was made by the labour movement of Myanmar and supported by trade unions and activists around the world.
IndustriALL's core message is that human rights violations in the country make it impossible to trade ethically, as companies are not able to guarantee the safety of their workforce. The message to companies reads:
"…on 1st February 2021, a coup d'état by the military in Myanmar led to the detention of democratically elected leaders of National League for Democracy (NLD) Win Myint and Aung San Suu Kyi and of many other political leaders, hours before the swearing-in ceremony of new parliament and the formation of a new cabinet. The military junta has since carried out arrests, killings and other forms of violence against politicians, activists and workers in Myanmar.

"At least 1,088 people have been killed by the military, over 8,100 people have been arrested and 1,984 arrest warrants have been issued.

"Hundreds of thousands of workers already lost their jobs. Trade unionists and workers taking part in peaceful demonstrations are being hounded by the military. People in military or police custody are brutally tortured, often leading to death. Many workplaces and industrial zones such as Hlaing Thar Yar and Shwepyitha have been violently attacked by the military.

"It is imperative to act now to strengthen and support democracy in Myanmar and thus help to end the blatant violations of human rights and trade unions rights.

"We strongly believe that the support and strict adherence of brands to enforcing comprehensive economic sanctions will greatly contribute to restoring the free exercise of the fundamental rights of people in Myanmar."
A UN human rights expert recently warned the General Assembly that "Myanmar could be on the eve of an even greater human rights catastrophe and loss of life amid reports the military junta is deploying tens of thousands of troops and heavy weapons to northern Myanmar".