16 September, 2021Originally planned to take place in Cape Town, South Africa, the Covid-19 pandemic meant that IndustriALL's 3rd Congress instead became a virtual event from a television studio in Geneva. On 14-15 September, more than 3,000 delegates and observers from more than 100 countries discussed and debated, elected a new leadership and adopted an ambitious action plan for the next four years.
The world's unions and their workers face several crises, growing inequality, changing forms of work, climate change and now the pandemic. Workers need strong organizations to build a pathway through these crises, and to ensure that workers don't pay the price.
IndustriALL's 3rd Congress was a crucial meeting for the global trade union movement, as it will influence the priorities of unions in the mining, manufacturing and energy sectors across the world for the next four years. A virtual meeting meant that more people could participate; the Congress welcomed more than 3,000 delegates and observers from more than 100 countries.
Although the meeting was held virtually and not in South Africa as planned, the spirit of the anti-apartheid struggle was present throughout the Congress, with music, historic posters and a video. Delegates were reminded of how Black workers organized into unions to take on the might of the apartheid state and bad bosses, and won. What lessons do they have for today's labour movement?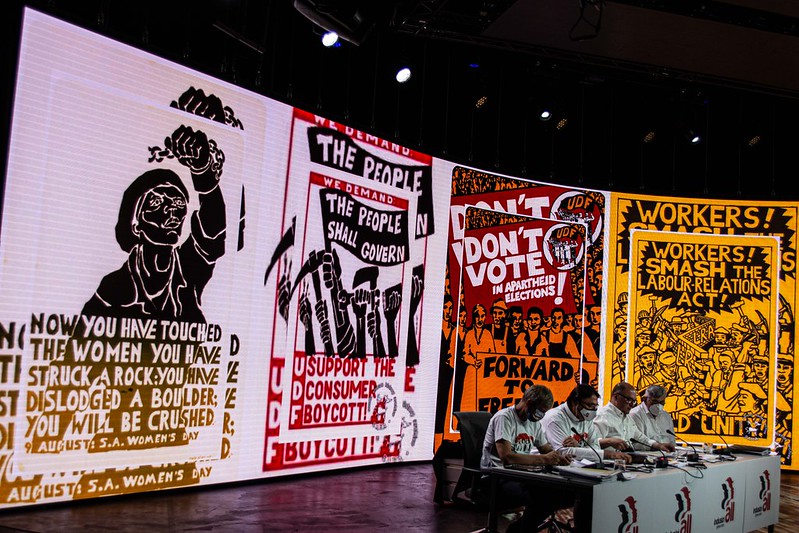 Delegates paid a fond farewell to Valter Sanches, who stepped down as general secretary.
Online elections were held for a new leadership team. Atle Høie, former assistant general secretary, was elected as general secretary. Jörg Hofmann, president of German union IG Metall will continue as president of IndustriALL. Kemal Özkan was re-elected as assistant general secretary, and was joined by Kan Matsuzaki, previously ICT, electrical & electronics and shipbuilding-shipbreaking sector director at IndustriALL, and Christine Olivier, international secretary at South African union NUMSA.
There are also six new vice-presidents from IndustriALL regions:
Asia-Pacific – Akira Takakura, Japan
Latin America and the Caribbean – Lucineide Varjao, Brazil
Middle East & North Africa – Abdelmajid Matoual, Morocco (2021-2022), Hashmeya Al Saadawi, Iraq (2022-2023), Saleh Kandil, Morocco (2023-2024), Habib Hazami, Tunisia (2024-2025)
North America – Anna Fendley, USA
Sub-Saharan Africa Joseph Montesetse, South Africa
Europe - GarbineaEspejo, Spain (first two years) Marie Nilsson, Sweden (next 2 years)
Winning the war on workers' rights
In his opening statement, IndustriALL and IG Metall president Jörg Hofmann spoke about the need for vaccine justice: the pandemic has left millions without income, too many have died, human and workers' rights have worsened, and there has been a rise of discrimination and segregation. Poor countries have very low access to the vaccines.
"This is profoundly unjust: we need a fair, global distribution of vaccines."
As Congress delegates debated the proposed action plan for the next four-year period, IndustriALL general secretary Atle Høie stressed the need for input from affiliated unions:
"Workers' rights are trampled on and under attack every day of the year. We have every right to expect that these rights, recognized by the OECD, UN bodies and many governments, are respected. We are the organized force that stands between multinational corporations and complete dictatorial power over the entire production process. How do we win the war of rights?"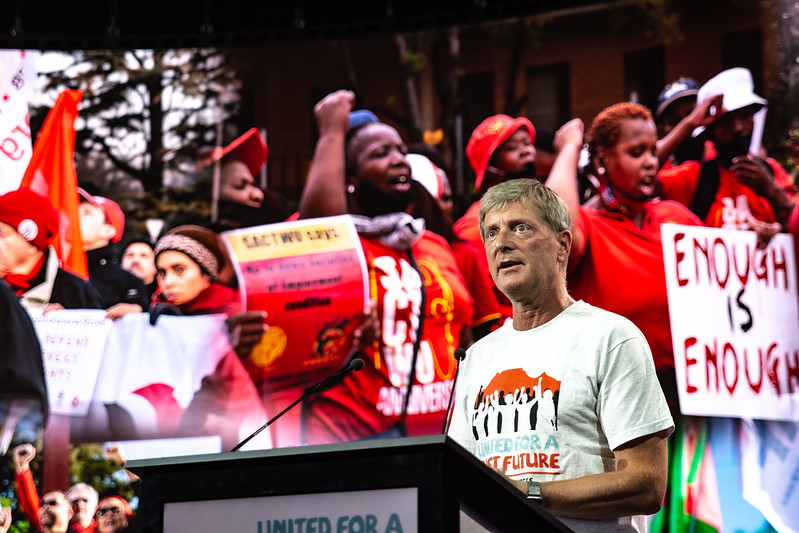 Assistant general secretary Christine Olivier spoke about building union power:
"We need to go back to basics, to build democratic, worker-controlled unions that deliver. Any agreements reached, including global agreements with multinationals, must advance workers' rights."
Assistant general secretary Kan Matsuzaki made an introduction on confronting global capital:
"We need more powerful international tools to impose binding obligations to multinational companies, not only asking them to respect the fundamental workers' rights."
Introducing the discussion on sustainable industrial policy, assistant general secretary Kemal Özkan said:
"The global labour movement has a historic responsibility to confront the megatrends that influence the future of work, including climate change, digitalization and industry 4.0. We demand a Just Transition."
After many speakers took to the floor to discuss and debate, Congress delegates moved to adopt the ambitious action plan on advancing workers' rights, building strong unions, confronting global capital and sustainable industrial policy.
Solidarity is central to IndustriALL, and Congress adopted a number of resolutions. Trade union leaders from Algeria, Belarus, Korea, Eswatini, Indonesia and Myanmar spoke of the difficult situations in their respective countries, where trade union work is paralyzed due to the massive attacks on workers' rights.
Khaing Zar, president of Industrial Workers Federation of Myanmar (IWFM), introduced the resolution on Myanmar, which coincided with the global union day of action on Myanmar.
"My country is run by military thugs, killing and imprisoning working women, men and activists. It is time to intensify the campaign; workers in Myanmar need your help now more than ever. Thank you for your solidarity and support."
Maksim Pazniakou of Belarus reminded Congress of the terrible repression being experienced in Belarus, where many of his trade union colleagues have been imprisoned and how the support of the international union movement is crucial.
Discussing the resolution on youth, Amy Bracegirdle from AMWU, Australia, said:
"The structures that have enable many union leaders to develop their skills and commitment to the cause of labour have changed. Young workers are often at the sharp end of rights violations. To advance workers' rights, Congress should pass the youth resolution, to create more space in union structures for young workers."
Congress also adopted resolutions on Afghanistan, on cooperation with other global unions, on building a strong, united and vibrant Industriall Global Union and to address sexism and gender-based violence in union structures.  
Monica Veloso, of CNTM Brazil, spoke of how the pandemic made the precarious situation of women worse:
"We must fight for the ratification of ILO C190 to fight against violence and harassment in the world of work. There is no future without equality: we need to send a message to the world's working class that women leadership in our global union is critical to the future of the global trade union movement."
For more coverage of Congress, along with images and quotes from the more than 200 speakers please visit YouTube, Flickr, Facebook and twitter.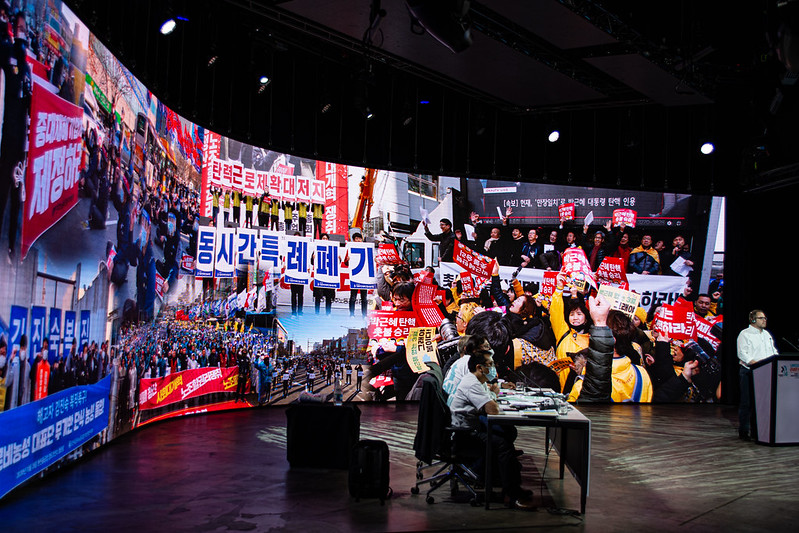 Resolutions