27 August, 2020An unprecedented mass strike in the Iranian oil and gas sector is holding firm as it enters its fourth week.
Around 10,000 workers in Iran's oil and gas fields have been taking part in wildcat strike action since 1 August. Despite attempts at repression, the strike is holding firm, morale among workers is high, and many employers are starting to offer concessions.
Although the industrial action is centred in the South Pars gas fields, the work stoppage has spread to industrial complexes in Mashhad, Tabriz, Urmia, Isfahan and other cities across Iran, affecting petrochemical plants, refineries and power stations.
The workers are employed by agencies who provide labour under contract to major oil and gas companies. These agencies are under tremendous pressure, as they are in danger of breaching their contracts with the oil companies. The dramatic shutdown of production is, in turn, a potential crisis for Iran, which is heavily reliant on the sector to generate foreign exchange.
Some contractors have conceded to the workers' demands to pay late wages and raise pay, and have also agreed to pay wages on weekly basis. Workers' representatives have announced that the strike action will continue until all the demands are met, including for representation. The demands include higher wages, secure contracts, and better accommodation and food.
Because independent unions cannot operate openly in Iran, the action is coordinated by an underground strike committee made up of workers. The Iranian government often blames industrial unrest on foreign agitators and exiled opposition groups, and uses this as an excuse for heavy oppression by making it an issue of national security.
The strike committee has been able to resist oppression because it has focused on bread and butter issues. Workers have withdrawal their labour and maintained a dignified presence outside the employers' offices. The committee distributes weekly strike bulletins through social media, with updates and demands. The most recent bulletin acknowledges the support of IndustriALL affiliate, the Union of Mechanics and Metalworkers of Iran, for the workers' economic and social demands.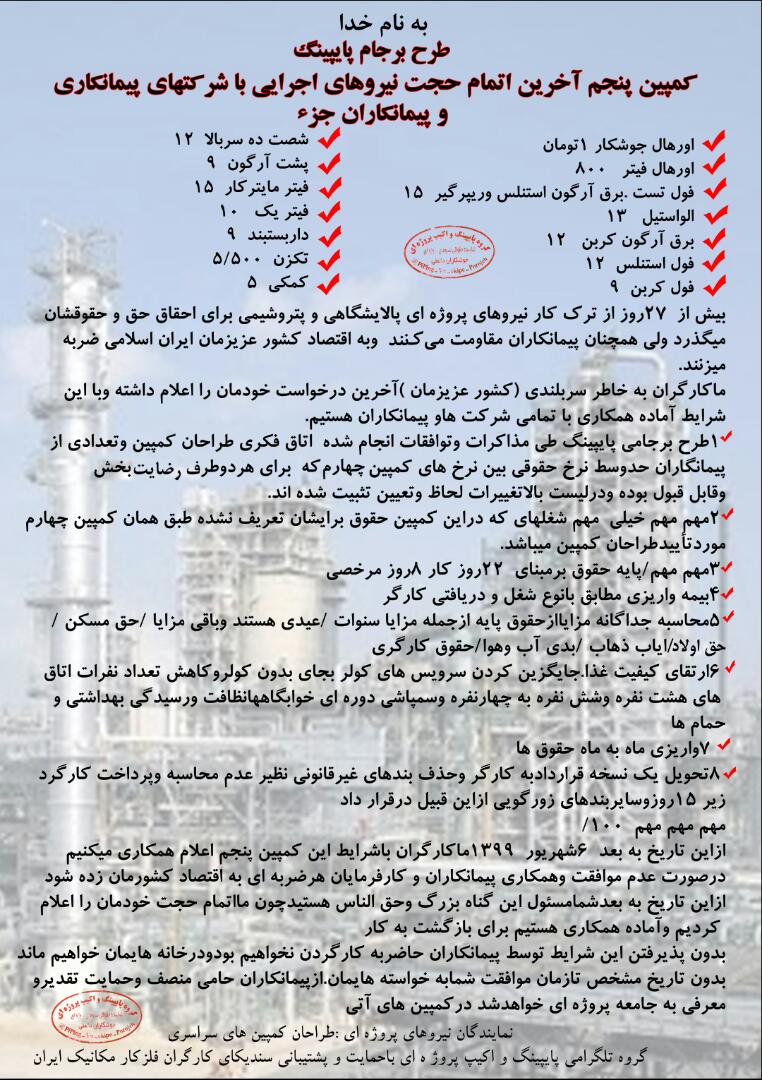 There is industrial action in other sectors as well. At the Haft Tappeh sugar refinery, workers have been on strike for 71 days, and IndustriALL's sister global union, the IUF, wrote to the ILO to raise their concerns. The ILO responded to say that they had intervened with the Iranian authorities, urging them to ensure freedom of association and workers' right to defend their interests.
IndustriALL Global Union assistant general secretary Kemal Özkan said:

"IndustriALL expresses its full solidarity with Iranian workers. We admire your resilience and courage, because you don't have the luxury of being defended by free and independent unions. We fully support the demands of the workers for decent wages, paid on time, for direct contracts with the oil and gas companies, and for companies to negotiate with workers' representatives.

"Iran must recognize workers' representatives and independent unions as legitimate partners in negotiations."