1 March, 2023According to the United Nations, the world is not on track to achieve gender equality by 2030. It may take up to 286 years to secure the legal frameworks to ensure that women have equal legal rights and protections. Covid-19 and the backlash against women's sexual and reproductive health and their rights have further diminished the outlook for gender equality.
Global figures reveal a concerning regression in women's economic empowerment. The UN Development Programme (UNDP) suggests that by 2021, approximately 435 million women and girls around the world will be living on less than US$1.90 per day and that 47 million will fall back into poverty due to pandemic-related shocks.
Women and girls are underrepresented in industries, academia, and the broader technology sectors. According to the UN, internationally, two in every ten women hold jobs in science, engineering, and information and communication technology. Last year, women made up only 33 per cent of the workforce at the world's 20 largest technology companies, with only one woman in four in leadership positions. Women inventors make up only 16.5 per cent of inventors listed on international patent applications globally.
The ILO reports that the Covid-19 pandemic continues to deepen various forms of inequality, from exacerbating gender inequity to widening the digital divide.
As unions, we need to be concerned about the situation of our women co-workers, and women in general, who are kept away from the labour market.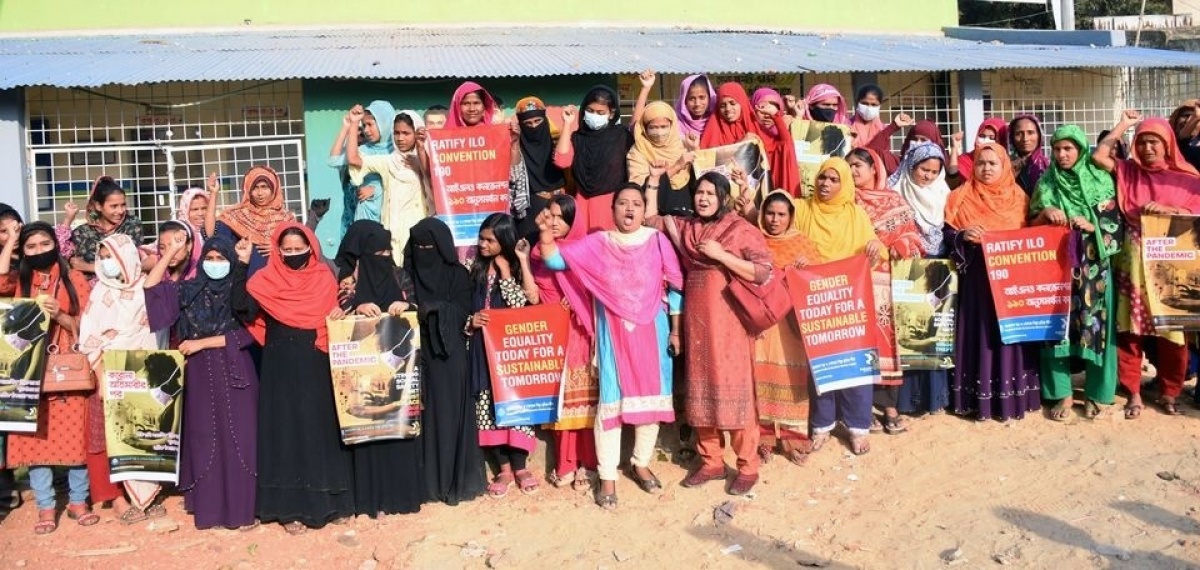 We need to take into consideration the rapid evolution of the world of work with digitalization and automation, especially the impact of the digital gender gap, which will continue to widen gender-based inequalities in our sectors.
We cannot claim to be implementing a transformative agenda if our response to the changes generated by Industry 4.0 and climate change in our industries does not include a gender analysis, especially on how the changes will impact men and women differently.
It is not only a question of asking what and where the decent and quality jobs of tomorrow will be. It is also about asking ourselves and analyzing the extent to which women will be able to access them on an equal basis to men. What can we, as trade unions, do to ensure that public and corporate policies lead to a gender based equal share of these new opportunities? Otherwise, the trade union narrative on gender equality will remain a dead letter.
Join the action on 8 March
On 8 March, the UN proposes the theme DigitALL world: innovation and technologies for gender equality, associated with the priority theme of the 67th session of the Commission on the Status of Women, CSW-67: Innovation, technological change and education in the digital age to achieve gender equality and empower all women and girls. Follow IndustriALL on social networks in connection with the UN CSW67, and share your union's experience using the hashtags: #CSW67 #UNCSW6. You can also follow UNCSW67 trade union news on the UNCSW global union blog. 
On 8 March, we will publish IndustriALL's toolkit on pay equity. The toolkit will be a new instrument for affiliates to conduct collective bargaining for equal pay for jobs of equal value.  Studies show that the gender pay gap narrows when trade unions engage in collective bargaining. In the European Union for example, a comprehensive approach to pay transparency and integrating equal pay in collective bargaining could reduce the gender pay gap by between 1.65 and 4.33 per cent.
These advances of gender equality in the world of work will only be possible with the elimination of gender-based violence and harassment (GBVH). IndustriALL is publishing training modules on GBVH and the ILO Convention 190 online. The three training modules are a practical tool to educate unions leaders, officers, educators, and shop stewards, providing practical guidance on how to integrate GBVH in occupational health and safety policies and establish effective complaints systems that workers trust.
At the end of January, Canada became the 25th country to ratify ILO C190.  Let's continue to campaign for the ratification and the implementation of this instrument. Every worker has a right of a world of work free from violence!
Let us know what your union will do on 8 March. You can also join our IndustriALL women facebook group and report back on your actions, or send pictures to [email protected] and [email protected].
Please use the hashtags #ALLWomen, #RatifyC190, #ItCanChangeLives