13 October, 2022Madagascar unions are calling upon the ministry of Justice to unconditionally release trade unionist Sento Chang who was imprisoned on false charges.
On 28 August, the Anosy Court in Antananarivo sentenced and jailed Sento for 12 months, after he posted on social media about the discussions the unions had with the management of E-Toile S.A., a textile and garment manufacturer where he was employed as a machinist. Amongst other charges, Sento, who is a trade union representative, is accused of breaching confidentiality and "agitating workers."
Syndicalisme et Vie des Sociétés (SVS), which is affiliated to IndustriALL Global Union, disputes this and says that Sento "is a victim of moral harassment whose rights to freedom of opinion, expression, and association are being violated as well as his rights as a trade union representative."
In the post, Sento, informed the co-workers about various union issues that were discussed with the management. These included on union elections, that the food committee should raise concerns about poor food quality after reports of stale food, training of workers on the role of the labour inspectorate, and that the employer should approve and not deny workers' rights to holidays, off-days, and sick leave, which are protected by the labour laws.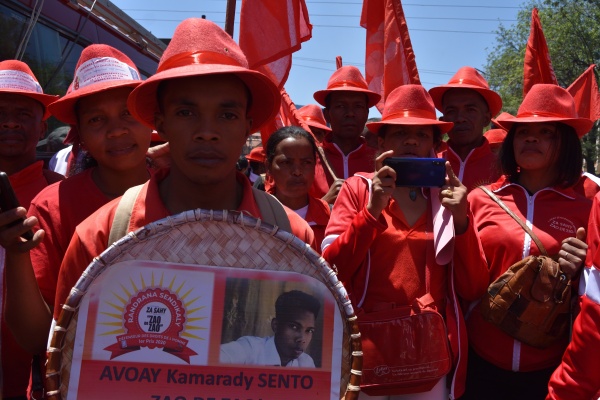 On 8 October, SVS and IndustriALL visited Sento at the Maison Centrale Antimora prison in Antananarivo, where he is jailed and briefly talked to him.
"There is nothing extraordinary about the social media post besides it being our usual mode of communication as workers. But I was taken by surprise by the reaction of the human resources department, which said they were disappointed by the post and asked me to delete it, which I did. However, they then laid charges against me.

"As a trade union representative, I wrote this post soon after the meeting because workers were anxious to hear the outcomes of discussions with the management; and social media happened to be the most effective way to reach them,"
says Sento.
During a march to commemorate the World Day for Decent Work on 7 October in Antananarivo, workers held banners is support of his release, and chanted slogans condemning the injustice against the worker. They said employers were colluding with the justice system to violate trade union rights.
"The conviction of Sento on trumped up charges shows that E-Toile wants to hide the truth on workers' rights violations at its factories. We are campaigning against this injustice and trade union bashing and want him to be released as he is in jail for doing trade union duties. Representing workers as a union leader is not a crime,"
says Ravonintsoa Malala, SVS president.
Atle Høie, IndustriALL general secretary says:
"We are appalled by this conviction and jailing of a trade unionist for reporting to co-workers about discussions at a meeting with management. This is unacceptable, and we would like to remind E-Toile management and the government of Madagascar that they must respect national and international labour standards on freedom of association and trade union rights. The employer and the government should engage in social dialogue with trade unions instead of intimidating workers with trumped up charges and imprisonment."