30 June, 2022In an online meeting on 28 June, IndustriALL brought together industry experts to discuss and consolidate the strategy on battery supply chains. 
The battery supply chain is growing fast, fuelled by the increasing demand for electric vehicles (EV), and with that the creation of new jobs. In Europe alone, employment related to the EV industry is estimated to increase by 500,000 to 850,000 by 2030. The auto industry has a relatively high level of unionized workers, but the number decreases along the supply chain, where workers' rights violations, as well as forced and child labour, increase.
Every region makes up different parts of the battery supply chain. There is a lithium triangle in Latin America, most mining is done in Africa, Asia Pacific is seeing new battery investments and there is booming investment in electric vehicles in North America and Europe.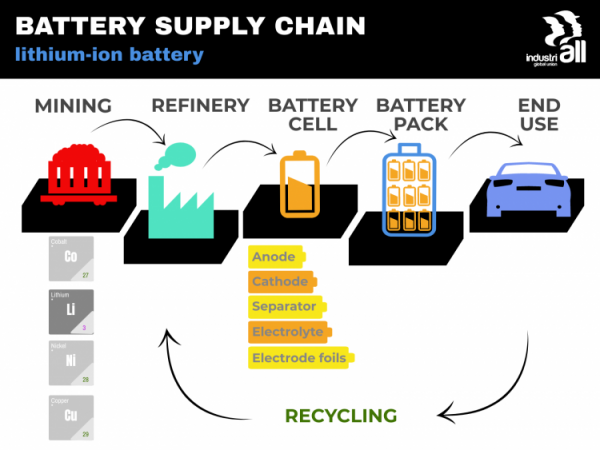 Among the challenges for unions, Jojo Nem Singh from the International Institute of Social Studies, mentioned that focus on mining policies is important. The access to raw materials is a battlefield in the global south. 
China is the world's largest battery producer, a country where even though unions may be present, they play no role in sector bargaining. IndustriALL's electronics director Alex Ivanou talked about the Foxconnization of the car manufacturing industry, with lwith harsh living and working conditions and internal labour migration.
"We want to increase our leverage along the battery supply chain, which starts in the mines, passes through the chemical industry with its refineries, to the packaging of batteries, to the end-user. We need to accelerate our organizing drive to match the expansion,"
said IndustriALL assistant general secretary Kan Matsuzaki.
"We need to develop due diligence tools and have an increased focus on the growing number of women workers and gender issues, including gender-based violence."
Inga Petersen from the Global Battery Alliance, a global public-private platform mobilizing to ensure that battery production not only supports green energy, but also safeguards human rights and promotes health and environmental sustainability. The organization is behind the Battery Passport Action Partnership, which, if it works, could be a way to establish global criteria, data and benchmarks for a sustainable and transparent battery market.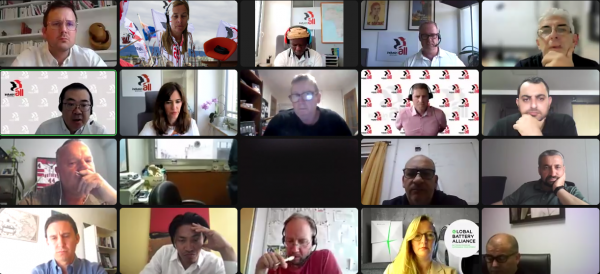 Alejandro Gonzalez from the Centre for Research on Multinational Corporations talked about the EU batteries regulation proposal with requirements on sustainability, labelling and information on batteries, as well as on the collection, treatment and recycling. The proposed regulation lays down supply chain due diligence obligations covering human and workers' rights, as well as health and safety.
Building capacity on how to integrate the gender perspective is crucial, as is advancing gender equality in the battery supply chain. That means equal rights, treatment and opportunities for women and men, said IndustriALL women director Armelle Seby.
"One of our main challenges is to move from principles to action,"
said Glen Mpufane and Georg Leutert, IndustriALL mining and auto directors.
"Real due diligence needs the voice of workers in social dialogue to safeguard freedom of association, collective bargaining, health and safety and decent work."
Going forward, IndustriALL will build union capacity in the battery supply chain through:
developing effective due diligence tools to organize workers
creating platforms with multinational companies and other stakeholders
developing communications with Chinese companies and workers
ensuring gender is integrated in union activities and that
focusing on sustainable industrial policy and Just Transition