15 April, 2021Malaysian unions are campaigning to end emergency rule in the country, calling on the government to reform labour laws to protect workers' rights during the Covid-19 pandemic.
Since a change of federal government in 2018, the Pakatan Harapan government have begun reforming labour law. After the Industrial Relations Act was passed in the parliament, the government collapsed in February 2020.
The new Perikatan Nasional government, which rules by a razor thin majority, has used Covid-19 to introduce a variety of movement control orders and limited parliament seating. In January 2021, the government proclaimed a state of emergency and suspended the parliament.
94 per cent of Malaysian workers are denied the right to organize and collective bargaining due to restrictive labour laws.
The Labour Law Reform Coalition (LLRC) chairperson and IndustriALL Malaysia secretary N. Gopal Kishnam, says:
"We are demanding that anti-worker provisions severely restricting workers' freedom to establish or join unions of their choice, right to collective bargaining and right to strike, are removed from the labour laws.

"Suspension of parliament has delayed the amendments of the trade union act and the implementation of the new industrial relations act. We are urging the government to reconvene parliament and pass all ministry proposals made public in 2019."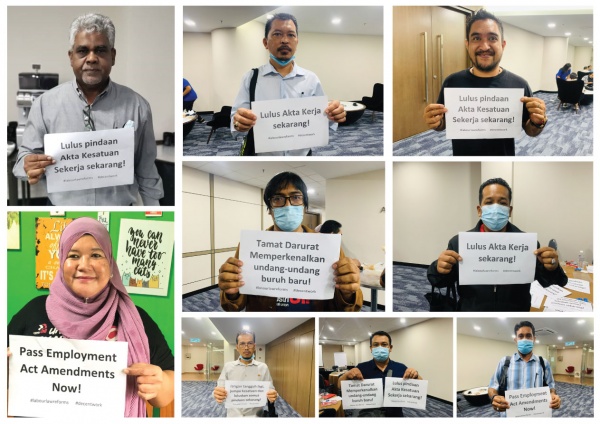 LLRC has been engaging with the new government to continue labour law reforms to ensure that workers have a bargaining platform with employers during the pandemic. With no positive response from the ministry of human resources, the coalition decided to campaign in public.
Since 7 April, leaders of IndustriALL affiliates National Union of Transport Equipment and Allied Industries Workers (NUTEAIW), Electrical Industry Workers' Union (EIWU), Electronics Industry Employees' Union Coalition (EIEU Coalition) and Paper and Paper Products Manufacturing Employees Union (PPPMEU) have participated in a week of action on labour law reform organized by LLRC.
IndustriALL South East Asia regional secretary Annie Adviento says:
"We fully support the campaign for Malaysian labour law reform in conformity with ILO standards. Freedom of association is the baseline principle of any national labour law."