21 April, 2022After a peaceful demonstration in the South Okkalapa township on 20 April, a military vehicle rammed into a taxi carrying trade unionists. According to an eyewitness, three people were beaten up and taken away by six soldiers.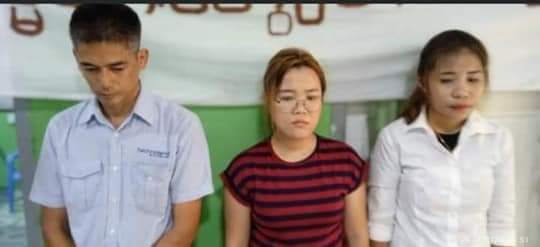 The Confederation of Trade Unions of Myanmar (CTUM) has confirmed that Khaing Thinzar Aye, the head of communications at CTUM, and Ei Phyu Phyu Myint, a member of IndustriALL Global Union affiliate the Industrial Workers Federation of Myanmar (IWFM) are among the detainees.
The demonstration was organized by umbrella body the Myanmar Labour Alliance, CTUM and IWFM. The Alliance demands the restoration of a democratic society and end of military rule.
CTUM president Maung Maung issued a press statement to condemn the inhuman and violent attack against the women unionists. He called for the immediate release of Khaing Thinzar Aye, Ei Phyu Phyu Myint and another unknown protester.
Khaing Zar, the treasurer of CTUM and president of IWFM, says:
"The escalating violence against citizens and unionists shows the military regime is turning the country into a killing field. No one is spared from violent repression, including young women, who are the economic backbone of the garment industry in Myanmar.

"How can businesses continue their operation when every day massacre happens side by side with the business?"
Four months earlier, a military truck hit a group of demonstrators in Yangon. A person was critically injured and another two were injured. The soldiers arrested 11 people.
Atle Høie, IndustriALL general secretary of IndustriALL said:
"IndustriALL condemns the absurd crackdown and demands the immediate release of the three young women, including two trade union activists. We reiterate our call that businesses cannot continue to operate under such abnormal circumstances.

"The international community must heed the call of the Myanmar Labour Alliance and impose comprehensive economic sanctions now with the aim of restoring civilian rule and saving lives."
According to the Assistance Association for Political Prisoners, as of 20 April 2022, 1,779 people had been killed and 10,271 are in currently being arbitraryly detained by the junta.
Dozens of trade unionists have been killed, and tens of thousands of workers participating in the civil disobedience movement have been dismissed or blacklisted.