29 March, 2022More than 200 million workers joined the two-day nationwide strike on 28-29 March in India, under the banner of 'Save the people and save the nation'. The Joint Forum of Central Trade Unions, consisting of central trade unions and independent sectoral federations including IndustriALL affiliates, called the strike in protest of the government's anti-worker, anti-farmer and anti-people policies.
Trade unions have been campaigning for workers' rights that are under severe attack in India's current anti-labour policy regime. The joint platform called the strike to protest against the privatization of the public sector, the national policy of monetising public sector land assets, the new labour law reforms promoting precarious employment and the attacks on workers' constitutional and democratic rights.
"Thousands of workers have lost their jobs and lives in the pandemic and the government's policies are further increasing precarious employment with unsafe working conditions. The two-day strike shows that India's workers are angry and dissatisfied with current policies,"
says G Sanjeeva Reddy, president of Indian National Steel, Metal, Metalmines and Engineering Employees' Federation and IndustriALL executive committee member.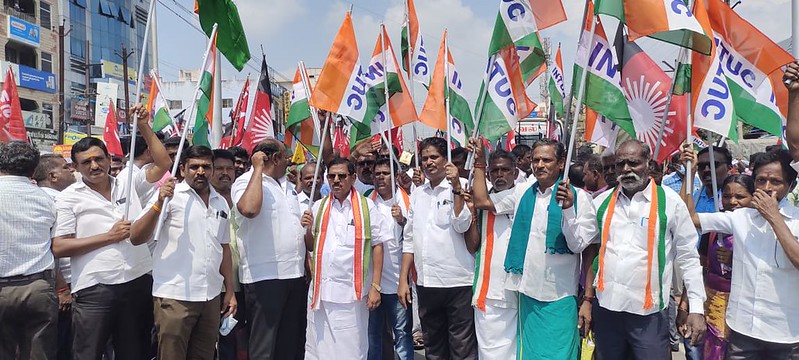 Unions across the country organized joint rallies, gate picketing, roadblocks, rail blocks and public meetings in support of the strike. Bank services and public transportation was severely affected. Workers from various steel, coal, oil and metal factories downed tools. A large group of coal workers participated in the general strike, showing their dissatisfaction against the government's policy to privatize coal mines.

Some unions, like the electricity workers in Maharashtra, were unable to participate, as the state government barred employees of state-run electricity companies from joining the protest.
"The government has failed to address the trade unions' charter of demands, which includes scrapping the labour law changes, increasing minimum wages, end privatization of public-sector enterprises, as well as an end to casualization of permanent work. Workers have been forced to strike as the government refuses to talk to trade unions,"
says Sanjay Vadhavkar, IndustriALL executive committee member.
Atle Høie, IndustriALL general secretary, says:
"IndustriALL Global Union stands in solidarity with India's trade union movement, fighting to protect workers' rights and to protect and strengthen democratic institutions and practices. We call on the Indian government to engage in genuine social dialogue with the unions."