4 September, 2019IndustriALL Global Union affiliates representing shipbreaking workers in South Asia met in Kathmandu, Nepal, at the end of August to improve safety and strengthen unions as yet more lives are lost in one of the world's deadliest jobs.
Two workers were killed and thirteen more were injured at a shipbreaking yard in Sitakund, Bangladesh on 31 August, providing a stark reminder of the need to implement basic safety measures in shipbreaking in the South Asia region.
Sixteen union activists from unions in Bangladesh, India and Pakistan took part in a training the trainers workshop on occupational health and safety (OHS) from 26-28 August, conducted by Joop van Oord and Martjin van de Beurcht from Dutch affiliate, FNV.
The training covered various aspects of OHS including communication, observation, organization, appropriate use of personal protective equipment, safety from noise pollution, accident prevention, and the safe use of wire rope, tools and shackles.
Participants were able to share good practices, speak frankly on safety issues, and discuss how to best train colleagues on ways to improve safety.
At the subsequent regional project meeting on 29-30 August, participants assessed the shipbreaking industry in the wider global context, took stock of ongoing union organizing activities and discussed means to build sustainable unions with an appropriate membership fee collection system.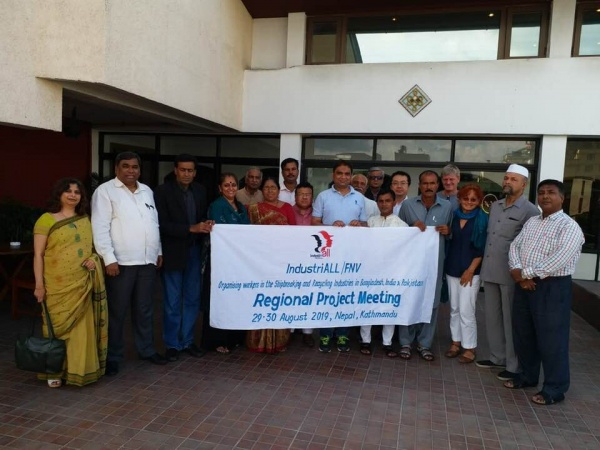 The trade unionists underlined the need for a renewed focus on safety and to increase campaigning for countries to ratify the Hong Kong International Convention for the Safe and Environmentally Sound Recycling of Ships.
The International Maritime Organization's Hong Kong Convention requires ratification by 15 States, representing 40 per cent of world merchant shipping by gross tonnage, to come into force. So far 13 states have ratified the Convention, representing 29.42 per cent of gross tonnage.
Kan Matsuzaki, IndustriALL director for Shipbuilding and Shipbreaking, stressed:
"Getting India and Bangladesh or Pakistan to ratify the Convention will take us a long way towards putting it into force."
The meeting also organizing downstream workers engaged in activities including plastic recycling and steel re-rolling mills.
Participants resolved to set up a Shipbreaking South Asia platform enabling workers and like-minded organizations to work together to improve the working conditions in the shipbreaking industry in the region. 
Atle Høie, IndustriALL assistant general secretary, said:
"Shipbreaking continues to be one of the most dangerous industries in the world. We cannot allow shipbreaking workers to risk their lives doing the dirty work of billionaire ship owners. IndustriALL and FNV's solidarity efforts will strengthen workers' capacity to improve safety in the yards."
Apoorva Kaiwar, IndustriALL South Asia regional secretary said:
"Our affiliates are working towards strengthening union structures to respond to the critical safety issues in shipbreaking and its downstream industries."
IndustriALL affiliates Bangladesh Metalworkers' Federation (BMF), Bangladesh Metal, Chemical, Garments and Tailors Workers Federation (BMCGTWF), National Trade Union Federation (NTUF) from Pakistan and the Steel, Metal and Engineering Workers' Federation of India (SMEFI) and Self Employed Women's Association (SEWA) took part in the meetings that were organized by IndustriALL with solidarity support from FNV.