18 August, 2021In August, national youth forums were held online for IndustriALL affiliates in Bangladesh and Sri Lanka respectively. Participants called for youth policies in their unions, stressing the inclusion of women.
The 59 participants at the Bangladesh national youth forum listed job insecurity among the major challenges. A large number of young workers are on precarious contracts with low wages and no social securities, with women workers being more exposed than their male colleagues.
A youth committee was formed in February 2020. Young unionists decided to implement the action plan to organize young workers and address youth issues in their unions. During the virtual meeting, it was also decided that young activists will work to establish sustainable union structures, union capacity building and create awareness of young workers' rights and effective union communication.
After intense debate, the young trade unionists committed to work with senior union leaders to pursue the following action plans during 2021:
Revitalising youth committees
Developing youth policies that ensure active participation of young leaders, including women
Taking adequate steps to ensure that unions are youth friendly and involve young workers, including women, in decision-making structures
Developing effective youth communication networks to support youth organizing campaigns, sharing experiences and knowledge to young members, organizing communication and other technological trainings for young union members will be prioritized. Developing intervention strategies and trainings on ILO convention 190 on violence and harassment in the world of work will also be prioritized.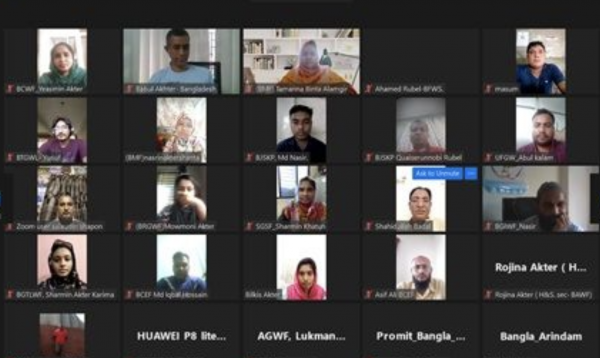 At the Sri Lanka youth forum, participants decided to form a youth working group. They decided to reorganize the youth committees of their respective unions and youth policies with a gender perspective. Developing capacities of young workers to ensure that young leaders, including women, are able to take on leadership positions will be prioritized.
Developing effective communication networks to support organizing young workers and creative use of social media platforms to attract more young and women workers will be a key priority for Sri Lankan affiliates.
Apoorva Kaiwar, South Asia regional secretary, said:
"It is encouraging to see the active participation of young unionists in the youth forums. It is essential to organize and integrate more young and women workers in the day-to-day union activities. We have a democratic trade union history in South Asia, and the voices of young workers need to be well integrated in union activities."