22 December, 2020IndustriALL affiliate Federation of Korean Metalworkers' Trade Unions (FKMTU) calls on Samsung Group to stop using delaying tactics in collective agreement negotiations and to accept the union's demands.
Since November 2019, FKMTU has successfully established unions in Samsung Electronics, Samsung Display and Samsung SDI Ulsan. The jailing of Samsung group chairman Lee Sang-Hoon for union busting on 18 December 2019 further emboldened workers to join the union. To date approximately 2,600 Samsung workers have joined unions, most of them affiliated to FKMTU.
However, Samsung union members are increasingly dissatisfied with the slow pace of negotiation process. Ten negotiations have been held in Samsung Display since May 2020 with no concrete results. The company argued that some parts of the draft agreement were unacceptable, like guaranteeing union activities workers participation in management, occupational safety and health issues, which are guaranteed by ILO Conventions.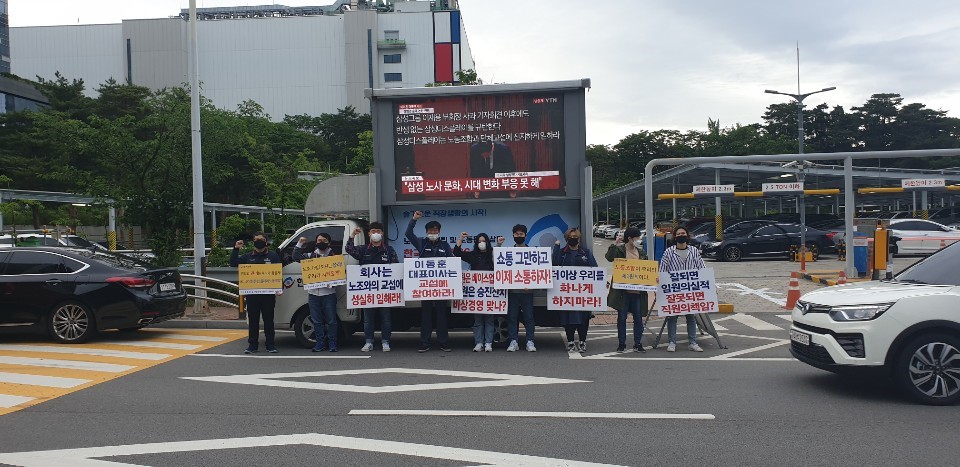 The union and Samsung Display are in mediation; should this fail the union will call a strike. The collective bargaining at Samsung SDI Ulsan and Samsung Electronics kicked off in September and November 2020, also at a snail's pace.
Kim Manjae, FKMTU president, says:
"We are fighting for higher wages, the implementation of a social solidarity wage system for agency workers, and safer and healthier working conditions. Our union aims to eliminate occupational diseases, like musculoskeletal disease and noise induced deafness.

"FKMTU is urging the company to reform its employee evaluation system and address the issue of contract workers. Unionization in Samsung gives new hope to its workers, with strong unity and solidarity. We will struggle to the end to raise the unions flag at Samsung."
Kan Matsuzaki, IndustriALL electronics director, congratulates the establishment of unions at Samsung, but underlines:
"Samsung Electronics, the flagship company of Samsung Group as well as the world leading multinational in the electronics industry has a responsibility to act together with the unions to achieve decent work for all, the one of SDGs. The company's behaviour towards the negotiations with FKMTU will draw attention in the industry."