20 March, 2019A strike is on at Arcelor Mittal, South Africa, to force the company to give permanent jobs to contract workers, and to demand equal pay for work of equal value.
IndustriALL affiliate, the National Union of Metalworkers of South Africa (NUMSA), has 3,000 members at ArcelorMittal's six South African operations and is calling on all workers to join the strike.
Most of the workers are employed through labour broking firms, Real Tree Trading, Monyetla and others. Real Tree Trading tried to stop the strike through a court interdict, but the request was thrown out. NUMSA is questioning why Real Tree Trading considers itself a 'service provider' and not a labour broker when it is one of the subcontractors to ArcelorMittal.
Workers say ArcelorMittal is paying contracted artisans with the same qualifications and experience about 50 per cent of what permanent workers earn. Further, newly qualified artisans are underpaid, with entry level pay pegged at the minimum wage of R3500 (US$244).
NUMSA won a landmark Constitutional Court case in 2018, which ruled that labour brokers cannot employ a worker beyond three months. When that happens, the contract becomes permanent according to the law.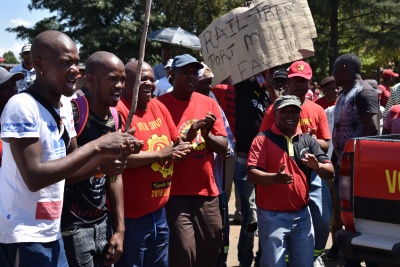 "We must shutdown the operations of the company in order to defend the rights of all workers. It is immoral for workers who do the same work, to earn less, just because they were brought in by a contractor," says Mokete Makoko, NUMSA regional secretary for Sedibeng.
"They do the same work as other workers directly employed by ArcelorMittal, yet they earn lower salaries and do not receive the same benefits. NUMSA's ultimate demand has always been to ban labour brokers."
ArcelorMittal's offer of permanent jobs for contractors after three years was rejected by NUMSA.
The striking workers also want health and safety standards at the company to be improved after recent accidents.
Says Adam Lee, IndustriALL director of organizing, campaigns and base metals:
"IndustriALL supports NUMSA's struggle for permanent jobs. We urge ArcelorMittal to act as a responsible employer and provide all of its workers with stable, decent work."
Ten striking workers were arrested by the police, but have since been released.
IndustriALL Global Union organizes a global network of unions at ArcelorMittal, which will meet in Brazil in April and discuss the strike.