27 November, 2020IndustriALL affiliates in South East Asia pledge to negotiate collective agreements and to campaign for the ratification of C190 in every country, take actions against domestic violence, initiate programmes to eliminate violence against women and develop structures for advocating the ratification.
In observance of International Day for the Elimination of Violence Against Women and the start of the 16 days of activism against gender-based violence, 120 women and men from IndustriALL affiliates in South East Asia showed strong support for a call to action to promote the ratification of ILO Convention 190 on violence and harassment in the world of work.
While attending IndustriALL South East Asia Conversation #3 on ratification of Convention 190 on 25 November via Zoom, participants from Australia, Cambodia, Japan, Indonesia, Korea, Malaysia, Mongolia, Myanmar, Philippines, Thailand and Vietnam committed to organize workers around the campaign to end violence and harassment in workplaces.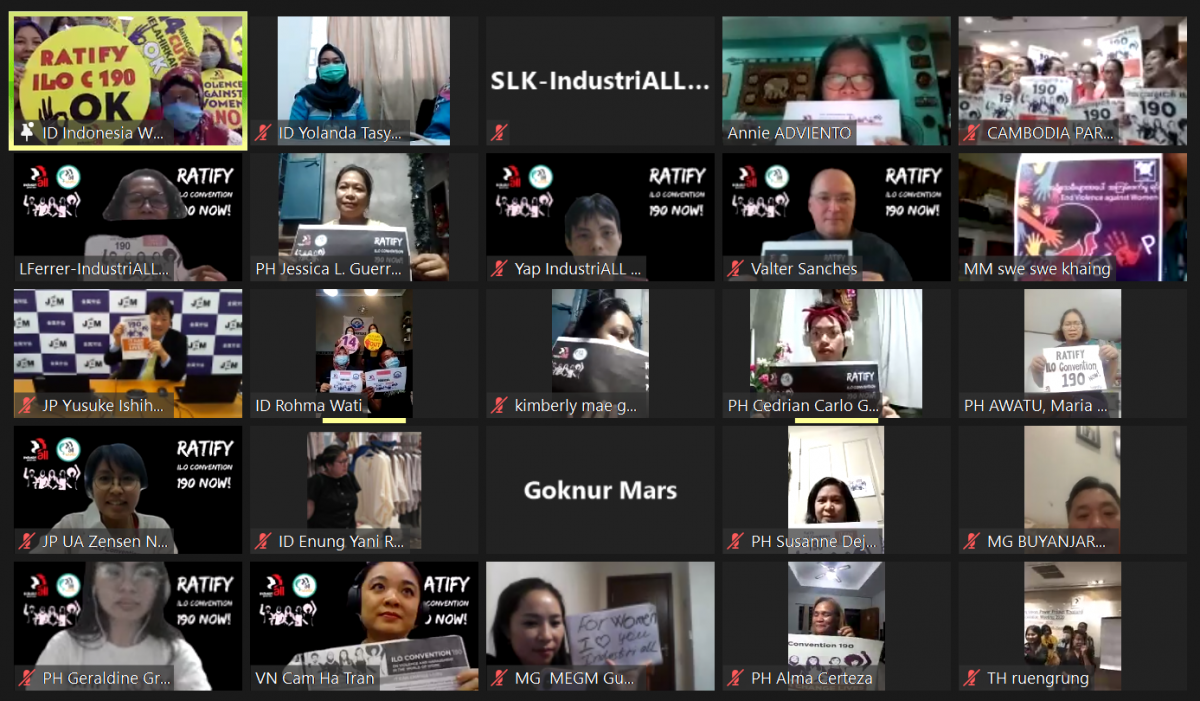 In Indonesia, women unionists are focusing their energy on the inclusion of gender equality in collective agreements, after IndustriALL Indonesia women's committee discovered that 77 per cent of the in total 186 surveyed agreements did not have provisions on sexual harassment.
Ira Laila Budiman, secretary of IndustriALL's Indonesia women's committee, says :
"We demand that all Indonesian affiliates insert a provision on violence and harassment at work in collective agreements. We believe this is achievable; since 2014 we have managed to include provisions of 14-weeks maternity leave in 33 collective agreements."
Philippine women unionists are actively campaigning for gender-mainstreaming policies. After intense lobbying, the Philippine government enacted the Expanded Maternity Leave Act in 2019 that provides for 105 days paid maternity leave.
Eva Arcos, the Co-Chair of IndustriALL global women's committee and national vice president of Associated Labor Unions, says:
"IndustriALL Philippine affiliates have initiated dialogues with the Department of Labor and Employment and other stakeholders, we met women rights' champions in the Philippine senate to put forward the Convention 190 agenda. The campaign for ratification will go on."
IndustriALL South East Asia regional secretary Annie Adviento says:
"The convention provides a momentum for unions to call for the elimination of all forms of violence and harassment in workplaces. IndustriALL will continue to support affiliates to use the convention to change the lives of women and men."