31 May, 2022Despite the call by Myanmar's trade unions for comprehensive economic sanctions against the military regime, many global garment brands continue to source from the country. The response of the international community to human rights abuses in Myanmar stands in stark contrast to the situation in Russia.
SPECIAL REPORT

From Global Worker No 1 June 2022

Country: Myanmar

Text: Walton Pantland
Since the military coup on 1 February 2021, Myanmar's junta has committed human rights abuses which the UN High Commissioner for Human Rights, Michelle Bachelet, said "may amount to war crimes and crimes against humanity". She added that "the appalling breadth and scale of violations of international law suffered by the people of Myanmar demand a firm, unified, and resolute international response."

More than 10,000 political prisoners – including union activists - are in detention, and at least 1,800 civilians, including 54 worker activists, have been killed by the junta. 16 unions and federations, including IndustriALL Global Union affiliate the Industrial Workers' Federation of Myanmar (IWFM), have been banned. 
Despite this, it is still business as usual for many global garment brands. Brands which left Russia within days of the invasion of Ukraine are finding excuses to stay in Myanmar – the most common being that they are a force for good and can protect workers by doing "enhanced due diligence".
For workers and trade unionists, the situation is very difficult: the ILO estimates that 220,000 garment workers have lost their jobs, and the IWFM estimates that a further 120,000 may have lost jobs and pay due to temporary closures, furlough or reduced production which have not been reported in the unemployment figures.
Unionized workers who were protected by collective agreements before the coup have been fired and replaced by casual workers with no rights. The IWFM has documented numerous cases of workers being dismissed without compensation, and of security forces coming to the homes of trade union leaders to arrest them after being given their personal details by factory managers. There are cases of protesting workers being shot, of workers unfairly dismissed, union leaders whose lives have been threatened and have been targeted by security forces. 
IWFM organizers, educators, negotiators, and leaders are being sought by the military. Most garment workers now earn less than US$1.80 per day, while hundreds of thousands have been fired from the public sector, hospitals, schools, universities, and railways for refusing to work for the military. 
In a letter to the ILO, the IWFM said that it
"cannot properly protect workers' rights under the military dictatorship, as democratic trade unions cannot operate freely. Nonetheless, we tried to protect workers through 2021 by working with brands through the dialogue mechanism we have built.
"The experience gained during the whole year of negotiation now clearly shows that Western brands cannot protect workers' rights."
Many cases have been reported in factories, often Chinese-owned, producing for brands such as Adidas, H&M, C&A, Tesco, Bestseller and Inditex. The IWFM has raised these violations with the brands, and many have been resolved. But because due diligence is impossible in a military dictatorship, factories have denied the allegations and other cases have remained unresolved. The IWFM has documented instances of workers being threatened with dismissal if they don't lie about conditions, and of the military forcing workers to return compensation at gunpoint.
Because trade unions cannot operate freely and due diligence is impossible, unions in Myanmar believe that the country risks being turned into a vast slave labour camp. In summer 2021, the Myanmar labour movement issued a call for comprehensive economic sanctions, arguing that the priority must be starving the regime of resources, and particularly foreign exchange.
IndustriALL supported the sanctions call at its Congress in September 2021, and wrote to companies operating in Myanmar, calling on them to cease their operations until democracy and fundamental labour rights are restored. Many companies have subsequently left the country, including Voltalia, POSCO, Telenor, Total, Chevron, Shell, Woodside Petroleum and Bridgestone, with Total saying that growing human rights abuses mean it can no longer make a positive contribution to the country.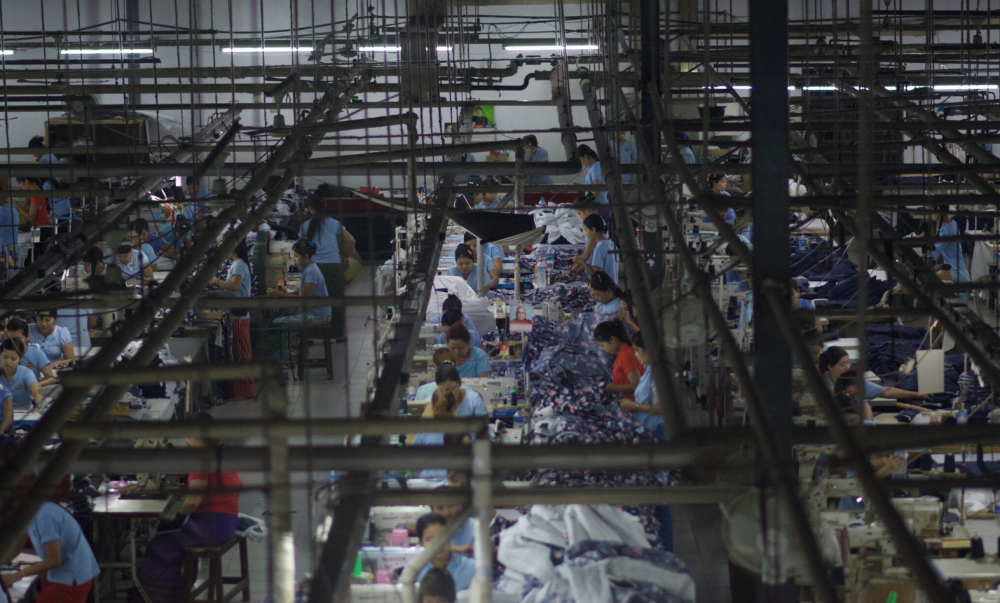 However, most garment producers have remained. While some producers have committed to placing no new orders, the production cycle means many have ongoing commitments through 2022. The textile and garment industry is a significant source of foreign exchange for the country, and unions fear that as time passes, working with the military dictatorship will become normalized. 
Garment brands claim that leaving the country responsibly is a complex task, but the experience of Russia shows that where the political will exists, it is possible to act quickly. In the face of global sanctions and widespread outrage from the general public, H&M, for example, closed all its stores in Russia within days of the invasion of Ukraine. The company is still sourcing from Myanmar. 
One of the biggest obstacles is that, unlike Russia, the international community is divided on the situation in the Myanmar, and the usefulness of sanctions. While the military junta's State Administration Council (SAC) has been increasingly isolated from international diplomacy – for instance, being denied credentials by the UN- Myanmar's democratic government in exile, the National Unity Government (NUG), does not have widespread international recognition as the legitimate government. The global trade union movement supports the call of the Myanmar unions for diplomatic recognition of the NUG.
The NUG has stressed the importance of not providing income to the junta, saying in a recent statement that "the NUG would like to remind that all business are instructed NOT to pay any tax or provide any income to the military regime of Myanmar. If it is not possible to avoid payment to the military, then the only option is to suspend the business operation until democracy is fully restored in Myanmar." 
It's not possible for global brands operating in Myanmar to avoid providing income to the military, in the form of tax, import duties on fabric, utility costs to military-owned companies, and fees at Myanmar's two ports, both of which are military-owned.
The biggest obstacle to the campaign for sanctions is the EU, which currently gives Myanmar tariff-free access to its markets through the Everything But Arms (EBA) programme of trade preferences. The EBA has been a great benefit to the economy of Myanmar, with the EU receiving more than half of Myanmar's apparel exports. 
While in the past the EU has used sanctions to nudge Myanmar towards democracy, commercial interests have lobbied against this approach and the current position of the EU is that economic links and constructive engagement is the best way forward. This is the same thinking that led Europe to become heavily dependent on Russian oil and gas. While the existential threat of a war on the European continent, and floods of refugees entering the EU, led the EU to act quickly and forcefully to economically isolate Russia, Myanmar appears to be sufficiently far away to avoid taking equivalent action.
EBA was originally developed as a way to support democracy through trade, but the EU has become addicted to cheap production in global value chains. Myanmar is a very attractive destination for garment brands, which have made substantial investments in the country. The failure to withdraw EBA is at odds with a growing body of legislation, including German due diligence law and an EU directive.
Myanmar unions are concerned that the Ukraine crisis and other issues will result in the world's attention moving on. If the military can buy enough time, is can strengthen and consolidate its rule through a fake election process, and work on normalizing diplomatic and economic relations. 
As the space for bringing about peaceful change shrinks in Myanmar, many people are joining the armed insurgency. This raises severe environmental, social and governance (ESG) risks for garment brands. By choosing to operate in a conflict zone, they become responsible for demonstrating human rights due diligence and avoiding complicity in violations. Brands risk reputational damage, litigation, OECD complaints and shareholder revolt. There is also a risk of supply chain disruption due to the growing conflict.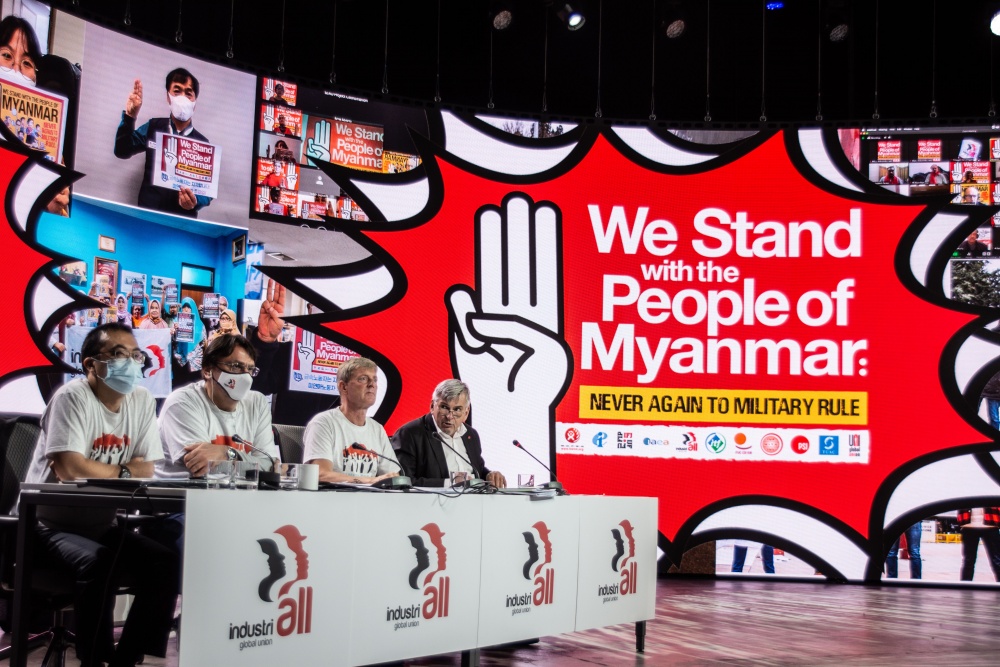 IndustriALL general secretary Atle Høie said: 
"The situation in Myanmar risks degenerating into a civil war. After more than a year of armed attacks by the military on civilians, people are now joining armed militias to defend themselves. This is because of the closure of democratic avenues for change. 
"Comprehensive economic sanctions are the non-violent solution to bring democracy back to Myanmar. The longer global garment brands continue to source there, the greater their complicity and longer the agony of Myanmar will continue."