7 December, 2022The right to freedom of association is one of the ILO's fundamental principles and rights at work, and yet right now there are too many people around the world in prison for joining or being active in a union.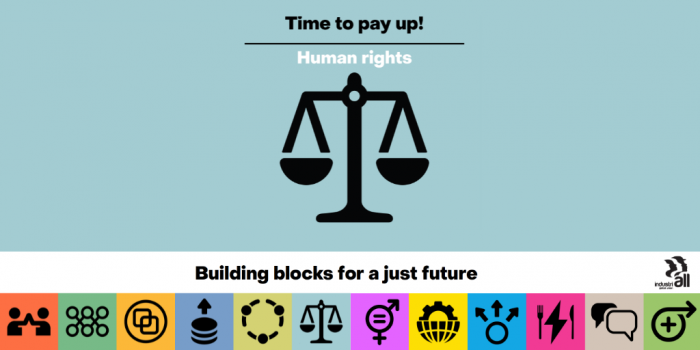 10 December is Human Rights Day, commemorating the adoption of UN's Universal Declaration of Human Rights. This Human Rights Day, we remind the world that workers' rights are human rights and renew our call for all imprisoned trade union activists to be released.
Legal persecution, up to and including arrest and imprisonment, is a widespread concern for union activists in many countries. Trade unionists are frontline defenders of democracy. Because they are organized and rooted in workplaces and working class communities, they are often the first to resist when democracy is under attack – and the first to be persecuted.
Today, oppressive governments and exploitative employers work together to suppress unions, and activists are charged with terrorism, sedition, being foreign agents, illegal assembly, creating unrest, or destroying company property and undermining commercial operations.
The problem is particularly acute in some countries: In Myanmar, trade unions have been outlawed and more than 60 trade unionists are in jail on trumped up charges since the violent military coup in February 2021.
"We demand the immediate dismissal of the trumped-up charges filed against all jailed democracy activists, strong assurances that their health and safety inside the prisons are secured, and their swift and safe return to their loved ones."
Global union statement, October 2022
Free and independent unions in Belarus have been effectively disbanded by the country's Supreme Court. 16 union leaders and activists have been arrested, some are awaiting trial, with some sentenced to restriction of freedom, and at least three sentenced to prison terms for warning strikes and defamation of the President. Unions have also had their assets and membership data confiscated.
In November, IndustriALL's Executive Committee adopted a resolution, condemning the dissolution of the independent trade unions, demanding the immediate release of all trade unionists in Belarus.
In Madagascar, a trade unionist is in jail for putting the spotlight on violations against workers in the factory where he worked.
In Iran, a country currently in the throes of pro-democracy protests, workers attempting to form free and independent trade unions frequently find themselves in prison.
The arrest and imprisonment of trade union activists is also a regular feature of industrial relations in Turkey, Egypt, Colombia and many other countries.
Government oppression creates a climate which leads to other crimes, including murder. In the Philippines, where workers face arrest for participating in strike action, the government and others "red tag" trade unionists, labelling them as terrorists and making them targets of attacks, leading to the murder of several trade unionists.
Unfortunately, the list of persecuted trade unionists is too long, as highlighted in the ITUC annual Global Rights Index on violations of workers' rights, with the latest index showing violations at an all-time high.
What we do know, however, is that international solidarity campaigns to free imprisoned trade unionists do work. In 2017, for instance, 35 Bangladeshi trade unionists were imprisoned as part of a government crackdown – encouraged by local business owners – against union organizing. By putting pressure on the government, as well as brands sourcing from the country, a global campaign succeeded in freeing all the imprisoned trade unionists.
Says IndustriALL general secretary Atle Høie:
"We need to stand with our imprisoned brothers and sisters, and keep up the pressure – both on oppressive governments, and on multinational corporations sourcing from countries where workers' rights are violated. We need to ensure that human rights due diligence includes workers' rights, and that companies are held accountable for abuses in their supply chains."