25 May, 2022After the Labour Court dismissed the interdict to stop the strike at ArcelorMittal South Africa, the National Union of Metalworkers of South Africa (NUMSA) has resumed the strike for a seven per cent wage increase and for cash benefits.
Earlier, ArcelorMittal South Africa had won an urgent temporary interdict which sought to ban workers operating coke batteries, blast furnaces and some sections of steel production from joining the strike arguing that they were part of essential services.
The workers' cases are before the essential services committee for determination of whether they are essential services or not. Although going on strike is a constitutional right, the Labour Relations Act allows for some strikes to be stopped if there are deemed to part of essential services.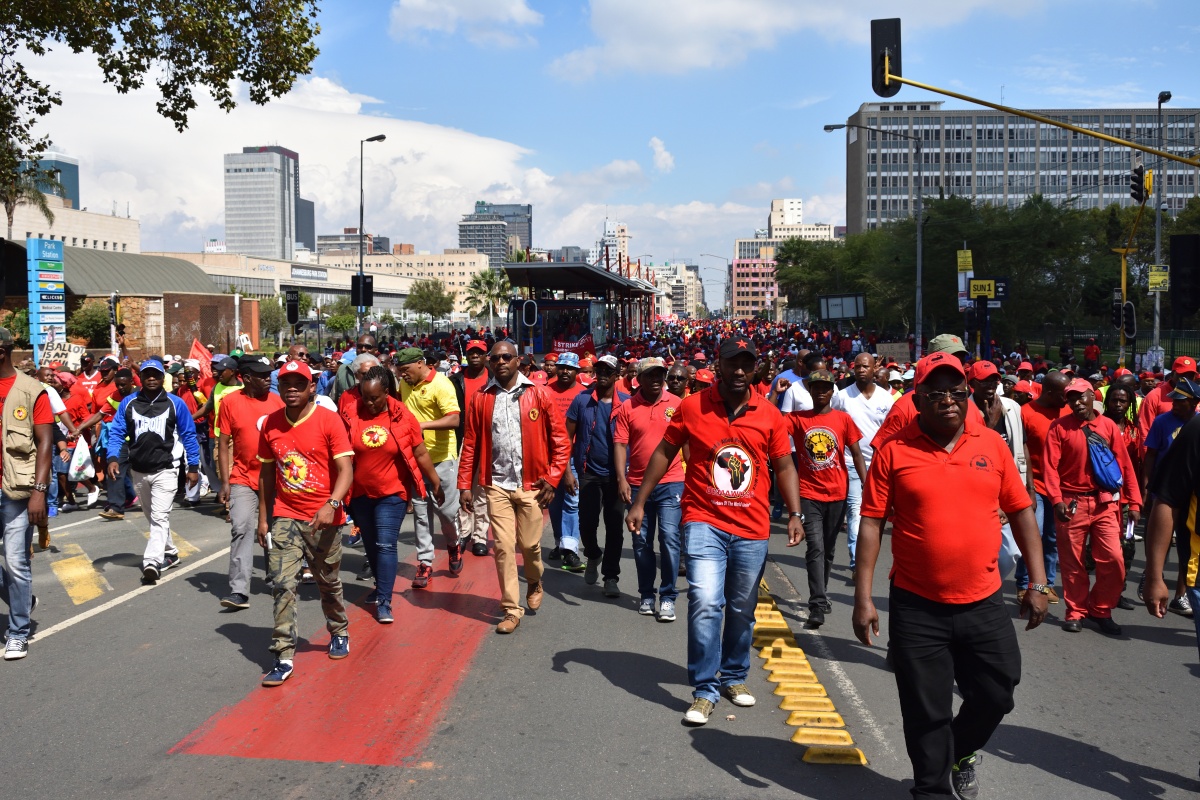 Kabelo Ramokhathali, NUMSA Regional Secretary for Sedibeng says:
"We argued in court that there is a pending investigation on this matter, and that it is well-established that a court will not interdict a strike based on a pending essential services committee investigation. ArcelorMittal SA was being opportunistic, and the goal was simply to undermine the right to strike. We view this as an attempt to divide workers. The right to strike is a sacred constitutional right which should not be tampered with."
On 24 March, the workers marched to the ArcelorMittal SA plant in Vanderbijlpark and presented a petition of their demands to the management. In the petition NUMSA cites reports that the company made profits nationally of 6.86 billion rand (US$436 million) and performed well globally. This means the company can afford to pay the wage increases of 7 per cent across the board and cash payments of R5000 (US$318) each to the workers. The union says workers only got a 5 per cent increase in 2020 and a paltry 2 per cent in 2021.
 
On the company's profits the NUMSA, which is affiliated to IndustriALL Global Union, says in the petition:
"This incredible performance was only possible because workers at ArcelorMittal SA put in the extra effort to ensure that the company makes generous profits. Workers increased production, and it is their sweat and blood that enabled this company, not only to survive during the Covid-19 pandemic but to thrive as well!"
"We are in solidarity with NUMSA in its demands for wage increases at ArcelorMittal SA. Workers must also benefit when multinational corporations make profits. The wage increases that workers are striking for will help to cushion them against high inflation and the increasing cost of living as recently seen in transport and food price hikes,"
says Paule France Ndessomin, IndustriALL regional secretary for Sub Saharan Africa.