20 August, 2020You and your union can join the global demand for 38 sacked paper workers in Indonesia to get their jobs back.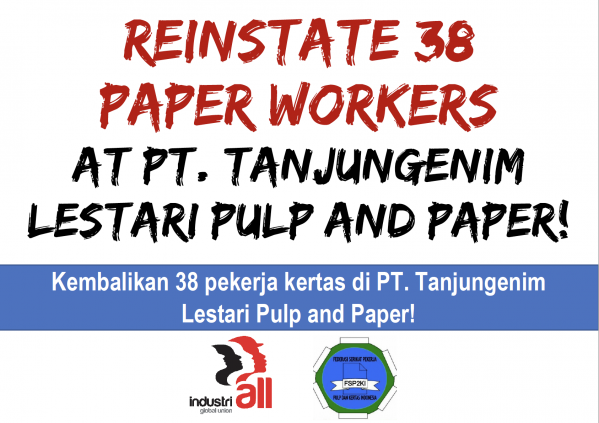 IndustriALL Global Union's pulp and paper sector at global and regional levels has set the campaign for reinstatement of the 38 as a top priority. While the 38 are members of the IndustriALL affiliate FSP2KI, their determined picket at the entrance to the factory has won wide support from civil society and other Indonesian unions.
IndustriALL places responsibility for this union busting attack primarily with the company that runs the entire worksite, PT. Tanjungenim Lestari Pulp and Paper. The new service provider PT Kamigumi should rehire all the 38 workers who have been in their jobs several years, and Tanjungenim must require them to do so.
Send your demand to the top management of Tanjungenim using these contact details. You can use this model letter and your union's letterhead, and send to:
Hiroyuki Moriyasu, President Director of PT. Tanjungenim Lestari Pulp and Paper (Email)
Ahmad Fauzan, HR Director of PT. Tanjungenim Lestari Pulp and Paper (Email)
Moch Amrodji, Head of the HR Division of PT. Tanjungenim Lestari Pulp and Paper (Email)
The picket has been conducted around the clock since the mass dismissals, including through difficult weather conditions. The IndustriALL flag flies high at the picket. IndustriALL condemned the 8 August aggressive police intervention to break up the workers' protest outside the site.
While consumers generally do not recognize the company name Tanjugenum Lestari, the pulp manufactured at the site is shipped to various countries and made into every type of paper and tissue product.
IndustriALL is also working to raise this case with companies along the supply chain.
IndustriALL director for the pulp and paper sector, Tom Grinter, said:
"Please add your voice to this demand for justice in Indonesia. It is a simple demand, get these 38 people back in their jobs immediately. Our message to Tanjungenim Lestari is that we will not go away until that happens."
What you can do
The FSP2KI represents around 15,000 pulp and paper workers in Indonesia.