16 June, 2020With COVID-19 restrictions making it impossible for face-to-face meetings and workplace visits, IndustriALL Global Union affiliate the Tanzania Union of Industrial and Commercial Workers (TUICO) has gone digital to continue providing service to its members.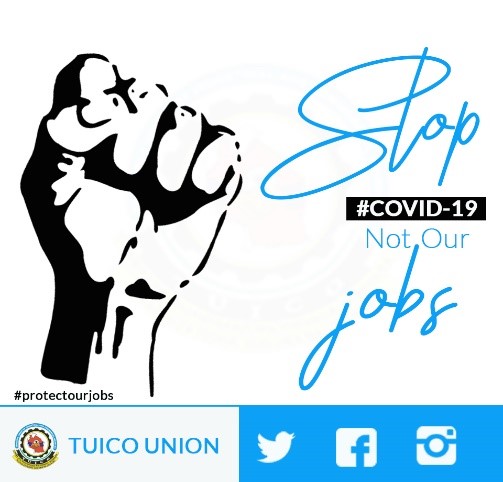 Between 2015 and 2018, IndustriALL and Unifor Canada assisted the union to establish an information communication technology (ICT) department and structure which reaches out to all TUICO's branches at national level.
With most workers restricted to working from home because of COVID-19, TUICO is using digital platforms and social media to reach its members and officials. The union has moved meetings to online platforms.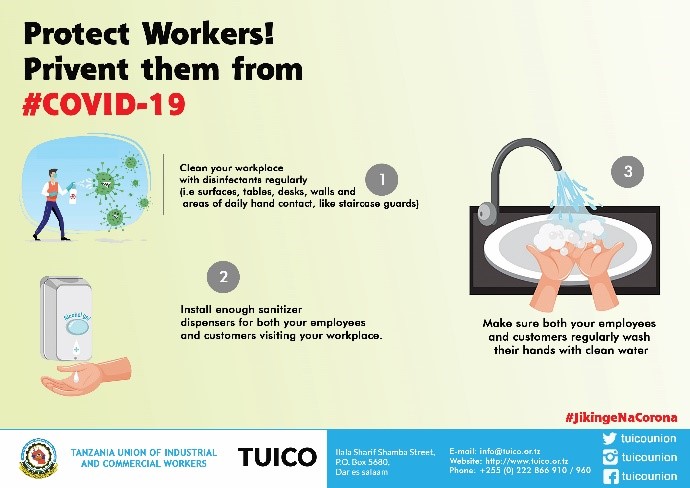 COVID-19 awareness e-posters on prevention were designed, and short videos that demonstrated how workers can protect themselves produced. Social media campaigns were carried out on recruitment and organizing, grievance handling, and collective bargaining.
Boniface Y. Nkakatisi, the general secretary of TUICO said:
"Using ICT services during the pandemic period proved effective. Most activities on our three-month plan were completed and we managed to recruit 903 members from the sectors that we organize such as cement, garment and textile, and petroleum. We also resolved 15 disputes with various employers."
Nkakatisi says the union negotiated collective bargaining agreements online with cement companies, Tanga and Tanzania Portland and wage increases with some companies.
"We set up meetings with the employer to discuss the union's bargaining proposals. In the meetings we had union leaders from the companies present. After discussions, we reached agreements. However, it is not the same as long negotiations. Questions are limited and queries deferred to the local union leader. Everything happens within limited time."
He added that recruiting members online is unique:
"The local organizer calls for a meeting with a few workers, tells them the importance of joining a union, and gives out joining forms to pass on to those not present. We have learnt that under COVID-19 the strength of the union lies in the local organizer. Therefore, we are prioritizing the training of 1,000 organizers."
The union has also set up management information systems for collecting union dues.
However, there were challenges as the union was not ready for a full online rollout when the first coronavirus cases were reported in Tanzania. Further, internet access is unreliable and data cost high.
Valter Sanches, IndustriALL general secretary said:
"It is important that TUICO is using digital technologies to raise awareness on COVID-19, and to advance union work. Unions must be ready to overcome any barriers and stand up for workers' rights and demands in whichever platform possible. The amazing capacity to adapt and succeed showed by TUICO is an example to be followed."
TUICO also launched a news portal which publishes news, events, and the activities of the union on www.tuico.or.tz. The union can be reached on these social media handles:
@TuicoUnion is amongst the strongest trade unions in Tanzania. It's effectiveness has attracted more members to join the union. Find out more https://t.co/ysmeo7HKve #HakiHaipotei #Solidarity pic.twitter.com/9E0cljQ4O7

— TUICO Tanzania (@TuicoUnion) May 19, 2020
Instagram: TuicoUnion