17 November, 2021Trade union delegates, including representatives from IndustriALL Global Union and industriAll Europe, spent two intense weeks lobbying and organizing at COP26 in Glasgow to make sure that workers' issues were on the agenda at the climate conference.
Trade unions have been attending COPs since 2008, and the ability to organize and influence outcomes has grown every year. The union delegation came to Glasgow well-prepared. Trade unions lobbied negotiators, organized and coordinated a collective response, and built coalitions and networks. Unions participated in a number of events and meetings, both within the Blue Zone – the official COP26 venue – and outside.
To enter the Blue Zone, delegates needed an official pass, a daily Covid test, and to endure a long wait at security – typically an hour every morning. The union delegation coordinated its work through a daily morning meeting and a WhatsApp group, where they shared documents and logistical information.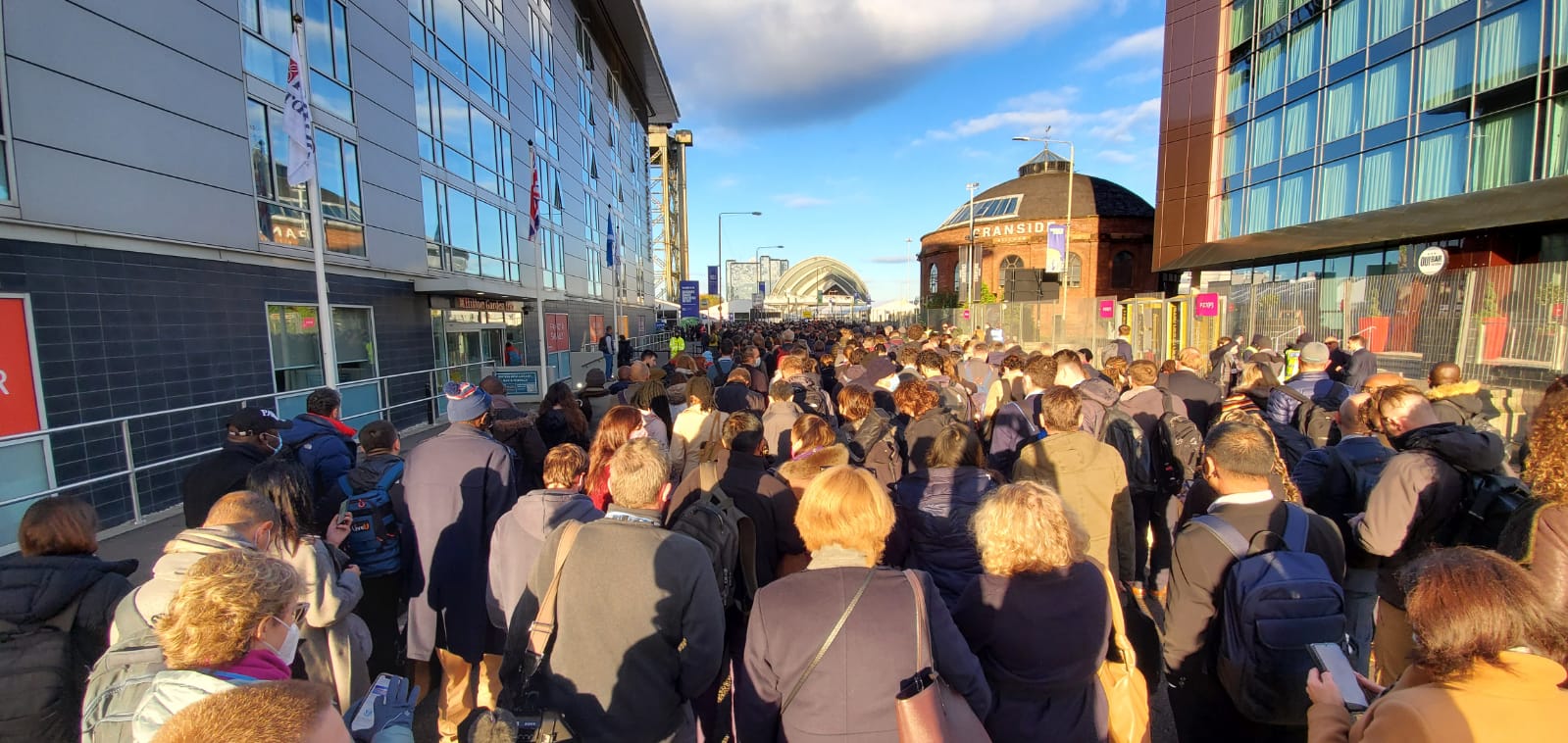 Outside the Blue Zone the COP26 Coalition - made up of civil society organizations, including trade unions – held a counter-summit, which included about 200 events. Unions also organized a number of separate side events. IndustriALL's agenda for the conference is here.
Because there were so many events, delegates chose key areas to focus on. For IndustriALL, a major priority was achieving solid commitments on Just Transition. A typical day at COP included meetings inside the Blue Zone and across the city.
On 3 November, for example, IndustriALL took part in two meetings in the Blue Zone: An ILO working group on Just Transition and Decent Work, and an ITUC side event on the same theme.
4 November was Energy Day in the Blue Zone, and a plan to decarbonize the South African energy sector was announced. Sharan Burrow of the ITUC called the plan "a model we need to emulate".
At #COP26 #EnergyDay, the International Just Energy Transition Partnership to fund South Africa's decarbonisation was announced.@SharanBurrow of the @ituc called the agreement a #JustTransition model: pic.twitter.com/wpaoDlUWmE

— IndustriALL (@IndustriALL_GU) November 4, 2021
In the afternoon, a hybrid meeting was hosted by both IndustriALLs in the offices of UK affiliate Unite the Union, to develop best practice in Just Transition. It was attended by about 150 people, in person and online, and many examples were shared from different countries.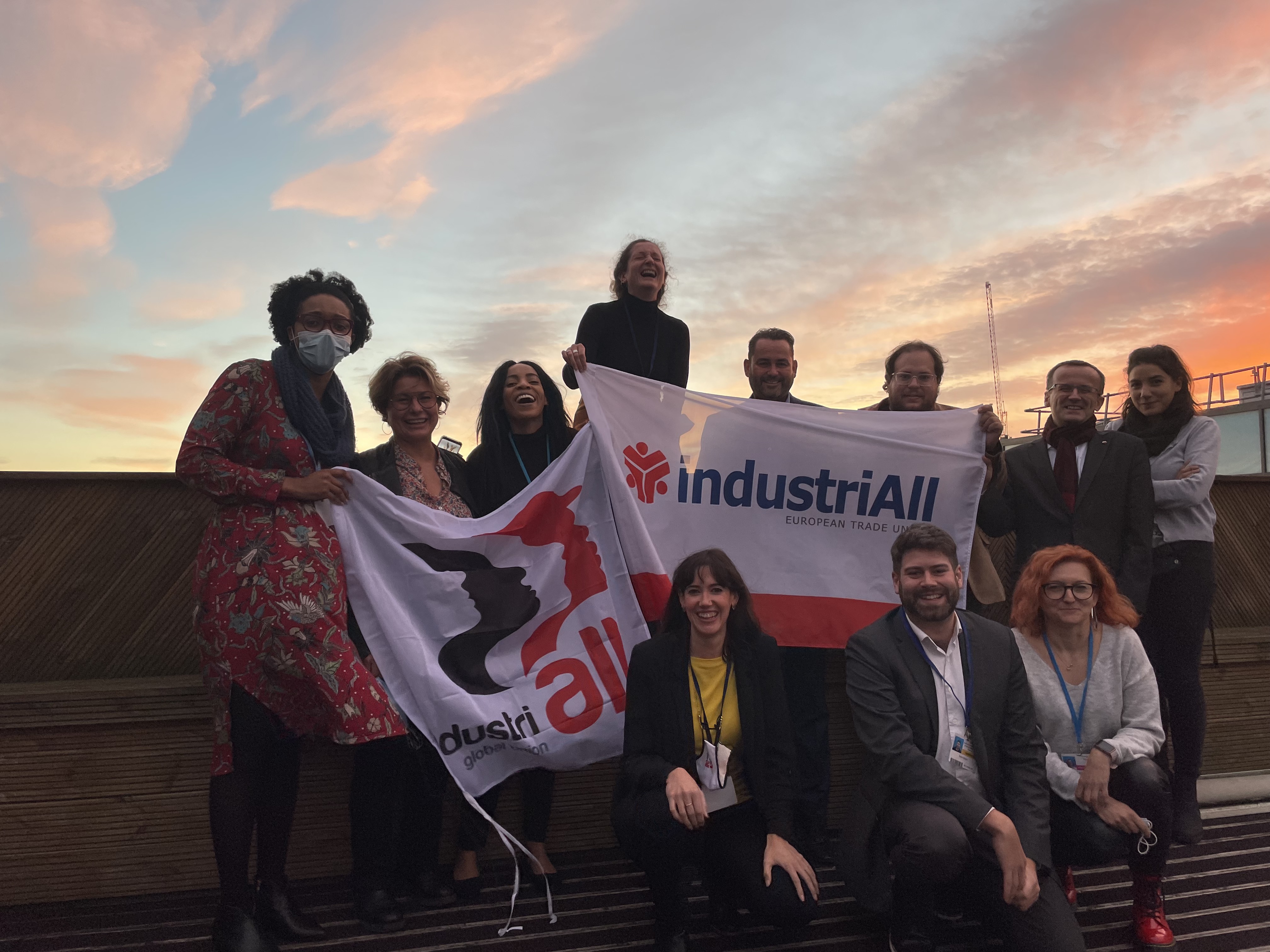 On Friday 5 November, the Fridays for Future school climate strike marched through the city and congregated in George Square, joined by a union delegation, including striking refuse workers from IndustriALL affiliate GMB.
The next day, 100,000 protestors braved the bitter cold and lashing rain to march through the city in the global day of action in for climate justice, joining demonstrators in cities around the world. The demonstration, which included a large trade union and workers' bloc, marched from Kelvingrove Park to Glasgow Green.
That evening, the ITUC, IndustriALL, the Norwegian confederation LO, and the Scottish Trade Union Congress (STUC) convened a meeting to discuss Just Transition in the energy sector, particularly oil and gas, where IndustriALL proposed the idea of negotiating global just transition agreements.
On 7 November, the trade union delegation held an all-day strategy meeting at Strathclyde University. The day included input from senior leaders from global unions and the STUC and TUC national centres.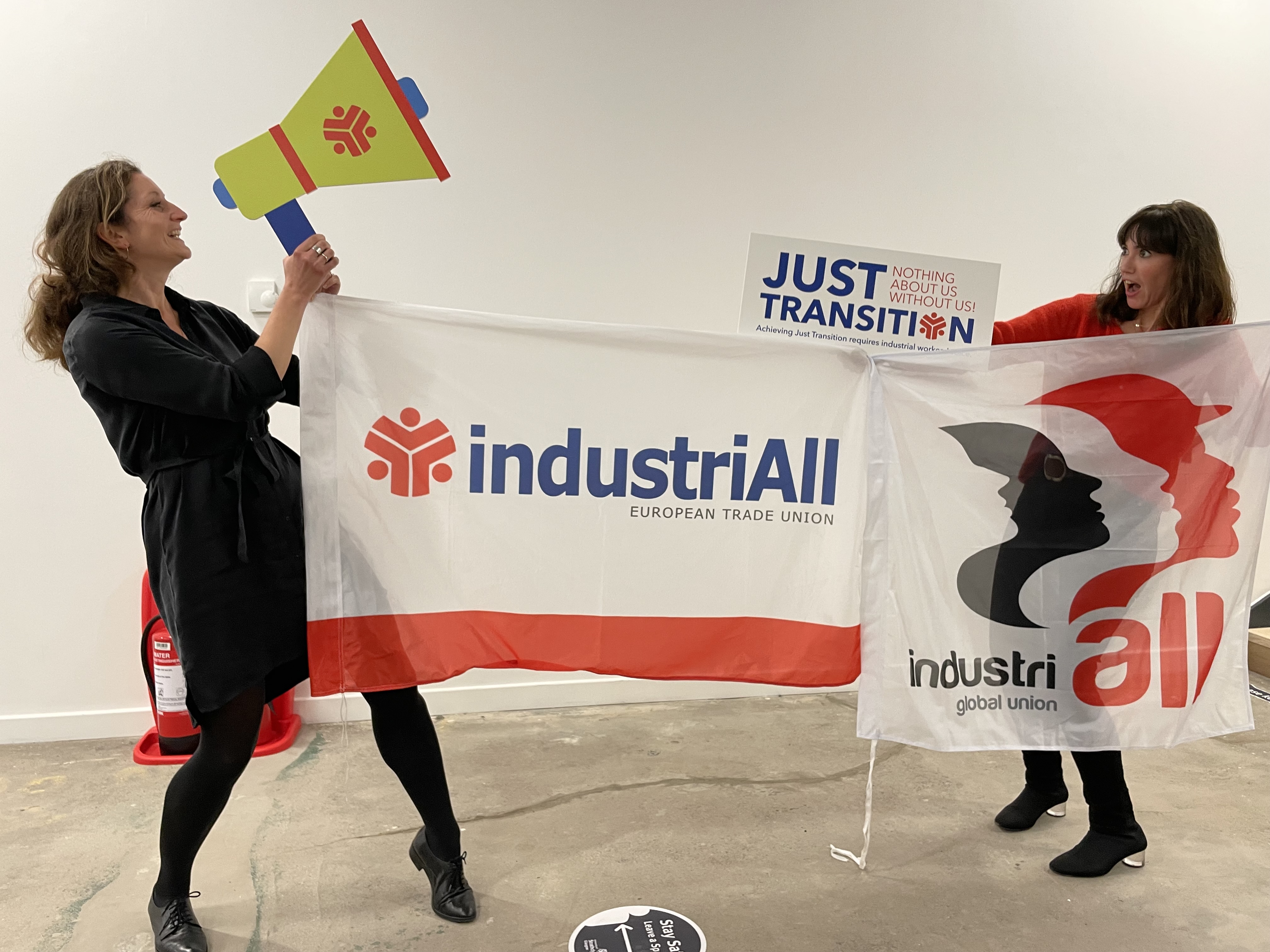 In between meetings, delegates had to urgently follow negotiations, update documents and write reports, meaning finding a work space with an internet connection and electricty to charge devices was a priority. Because the Blue Zone was extremely busy and noisy, this often meant working anywhere in the city with suitable space.
On 10 November, both IndustriALLs held a joint side event in the European Pavilion of the Blue Zone to talk about what needs to happen to make Just Transition real. This event was extremely important, due to the difficulty of getting a slot and because the organizers confirmed that this was the only trade union event organized in their pavilion.
There are very different experiences of #JustTransition in different countries: Colin Potter of @unitetheunion is "extremely frustrated" with the UK government, while Karl-Petter Thorwaldsson of @SSAB_AB says that workers in Sweden are positive and see jobs being created. #COP26 pic.twitter.com/OOBd0vbDBR

— IndustriALL (@IndustriALL_GU) November 10, 2021
Aside from official meetings, delegates also met with and lobbied government ministers and met representatives of civil society. New friendships and professional relationships were formed, and ideas were shared.
When talks overran, trade unions stayed connected to the final plenary session until 11:45pm on Saturday 13 November. Richard Hardy of the Prospect union gave a closing statement on behalf of the global labour movement, expressing disappointment at the lack of ambition shown by global leaders.
Despite an inadequate Glasgow Climate Pact, unions felt that their interventions had been successful and that there was growing momentum around key trade union demands.
Speaking about the way forward, IndustriALL energy director and COP delegate Diana Junquera Curiel says:
"We have a big task ahead of us: we need to make sure that countries deliver on their Just Transition pledges, and that money being invested in transition benefits our members. To achieve the best result, our response must be coordinated and global.

"This means we have to engage with our affiliates to explain how COP commitments are likely to impact them, and to help them prepare to influence the outcome as much as possible.

"For us, a crucial test case is the decarbonization fund for Eskom in South Africa. If this can be achieved successfully, with union agreement and a Just Transition for all impacted workers, it will create an important template we can use everywhere.

"We are at a crucial tipping point in world history. It is not too late to prevent dangerous climate change, but we are very close. If we build a strong coalition, we can force our governments to have the ambition to invest in the future, instead of hoping that markets will develop a technical solution.

"We can build a better world for everyone."
"#JustTransition funds are for people, not companies", says IndustriALL's @dianajunquerac. "Any company that does not consult its workers and the unions should not receive these funds." #COP26 pic.twitter.com/4D8RNMx8dA

— IndustriALL (@IndustriALL_GU) November 10, 2021
COP26 Video Playlist