9 August, 2019Members of IndustriALL Global Union's affiliate Kristal-Is are on strike since 26 July 2019 at Düzce Cam, one of the subsidiaries of Turkish-based glassmaker Okan Group in the town Düzce. Over a four-year struggle for union recognition, the glassmaker has used every union-busting tactics in violation of the national and international legislation, including dismissal of 80 union members and nominated union representatives.
Union organizing campaign by Kristal-Is started in 2015 seeking legal recognition at the three subsidiaries of Okan Group, namely Okan Cam, Düzce Cam (both located in Düzce), and Çetaş Cam (located in Samsun). The Turkish Ministry of Labour issued an official document recognizing Kristal-İş as the legitimate workers' bargaining representative at Düzce Cam.
However instead of entering into proper dialogue with Kristal-Is, Düzce Cam management challenged the certificate issued by the Ministry of Labour and tried to undermine the union. Two years later, the judicial process ended in favour of Kristal-Is, confirming the union's sufficient majority for being a party to collective bargaining negotiations.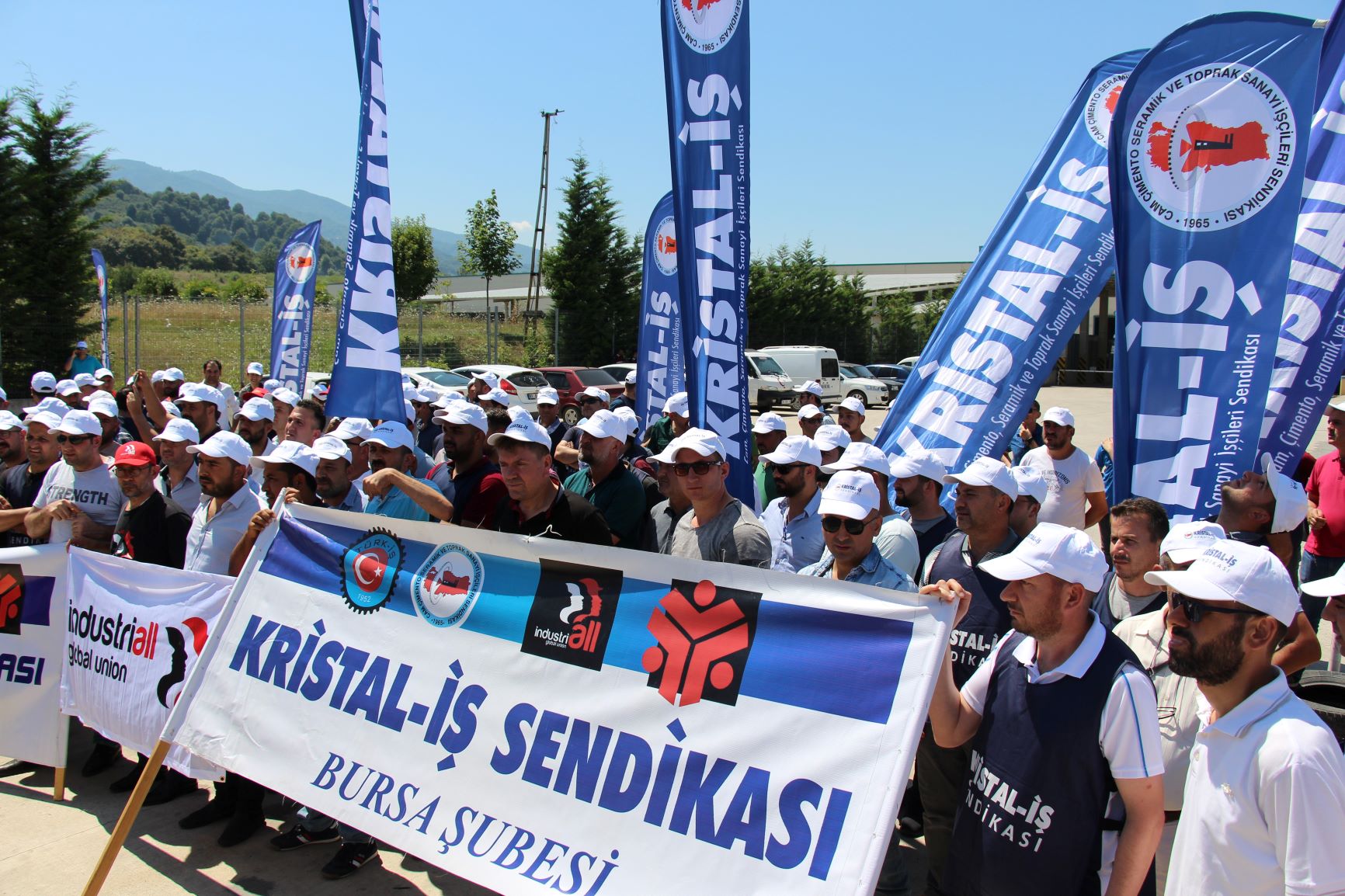 Dusze Cam glassworkers striking over recognition
In spite of repeated calls by IndustriALL Global Union, the Okan Group has failed to respect the rights of workers to join the union of their choice, and engage in collective bargaining negotiations with their representative trade union Kristal-Is.
Okan Group persistently continued its intimidation and anti-union actions against Kristal-İş members in a way to force them to leave the union. To date management has illegally dismissed around 80 union members, including officially nominated union representatives, for their union membership.
In addition, the Okan Group management failed to attend a mediation meeting facilitated by the Turkish Labour Ministry, categorically refusing any dialogue with Kristal-Is.
Kristal-İş demands from Okan Group to:
immediately reinstate all the unfairly dismissed workers;
stop intimidating workers who wish to join Kristal-İş and stop using threats to force members to leave Kristal-İş;
recognize Kristal-Is as the legitimate collective bargaining partner — as mandated by the labour court decision — and, in consequence,
engage in good faith negotiations with Kristal-Is without any delays at Düzce Cam.
On 08 August 2019, over the 14th day of the strike, Kristal-İş organized a press conference in front of the plant of Düzce Cam in Düzce with the participation of the strikers, their families, sister unions' and NGOs' representatives and also IndustriALL Global Union.
"This struggle continues for more than four years" said General President of Kristal-İş Bilal Çetintaş. "Together with our global union and all allies, we will keep fighting until the justice is here".
In his address to the strikers and press, Kemal Özkan, IndustriALL assistant general secretary said:
"IndustriALL Global Union, together with its 50-million-strong family, greets this strike and extends its full support and solidarity. We will not stay silent. We will do everything in power to get union recognition in this group".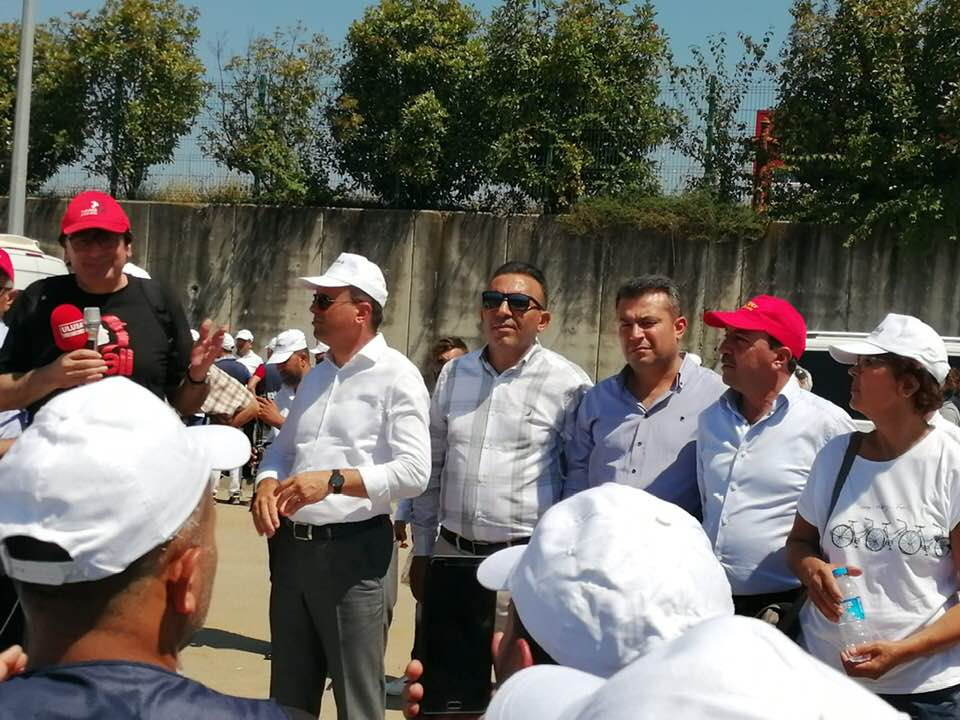 Kemal Özkan addresses Düzce Cam glassworkers
Düzce Cam is a growing glassmaker in Europe with two float lines open in 2010 and 2016 in Düzce and the third one to be installed soon. Since the factory produces overwhelmingly for exports, IndustriALL Global Union has already reached out the company's business partners in the glass sector, including Saint-Gobain, Glaverbel, Pilkington, and Guardian, with a demand to do a proper due diligence over the violations of fundamental rights.