14 July, 2020Since 30 June, hundreds of coal miners and their wives have been protesting in Kiev, Ukraine, demanding that coal mine operations restart and wage arrears are settled. On 12 July, protestors could finally return to their homes across Ukraine after the government guaranteed action.
The protest was organized by the Independent Trade Union of Miners of Ukraine (NPGU) who mobilized members from private and state-owned coal mines across the country, demanding that operations resume, that stable operations be ensured and that wage arrears amounting UAH 1.2 billon (US$ 45.8 million) are paid.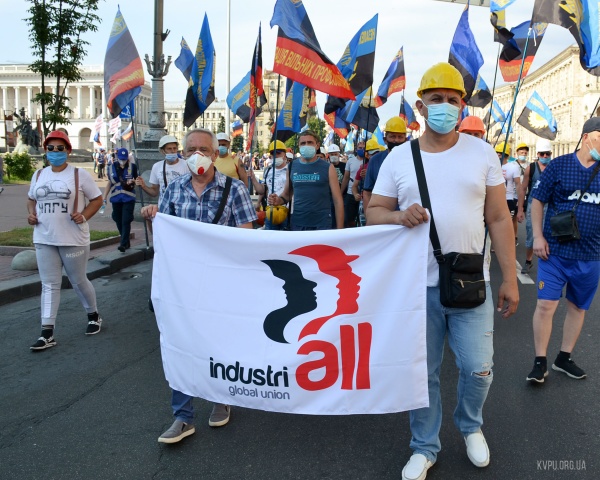 During the protest, negotiations between coal mining companies and state-owned Centrenergo, the country's largest coal consumer, were held by the Ministry of energy. Negotiations resulted in a contract to restore supplies of Ukrainian coal to Centrenergo thermal power plants. The parties also reached a preliminary agreement with two state banks on opening a credit line for Centrenergo to ensure timely payment for supplied coal and miners' wages.
As a result, the state and private mines will be able to restart operations and miners will return to work.
Acting energy minister Olga Buslavets mediated the negotiation process and provided guarantees for the protesters that the idle coal mines will resume operations, wage arrears will be paid, and purchase of coal extracted in Ukrainian coal mines will be resumed.
Dobropillyavuhillia coal mining company that operates five mines in Donetsk region resumed operations on 13 July, and workers returned to work after five months of forced downtime.
NPGU chairman Mykhailo Volynets stresses the urgent need for a comprehensive and systematic solution to the problems in the energy sector:
"The protest was intense but the miners are quite satisfied with the progress made, especially solving the problem of wage arrears at state-owned mines. However, there are no guarantees that mines will be stable in the future and there are risks of new wage arrears. The NPGU hope to continue a comprehensive dialogue with authorities and employers."
In recent years, miners at state-owned coal mines have taken multiple actions across Ukraine to draw attention to the critical situation of coal mining industry and regular wage arrears. 
IndustriALL Global Union's assistant general secretary Kemal Özkan says:
"IndustriALL congratulates NPGU, coal miners and their families who achieved this victory together. We urge the Ukrainian authorities to engage in social dialogue with unions to improve the situation in the coal mining industry, guarantee stable production and employment, as well as timely payment of wages."