5 March, 2021After decades of incessant union campaigning for international labour standards, South Korea has ratified ILO Conventions 87, 98 and 29.
The Korean Confederation of Trade Unions (KCTU) and Federation of Korean Trade Unions (FKTU) have relentlessly campaigned for the ratification of ILO's core Conventions. The unions held a joint press conference on 21 October 2020, calling on the government to ratify ILO Convention 87 and 98.
The ratifications of the Convention on Freedom of Association (C87), the Convention on Right to Organize and the Collective Bargaining (C98) and Convention on Forced Labour (C29) will require the South Korean government to take steps reforming its labour laws and protect workers' rights.
Kim Man Jae, the president of Federation of Korean Metalworkers' Trade Unions (FKMTU) says:
"We will continue to fight for the ratification ILO Convention 105 on Abolition of Forced Labour. The government now needs to revise the Trade Union Act and must stop excessive interference in industrial relations."
South Korea's government has been under pressure from the European Union to ratify ILO's fundamental conventions, as stated in the EU-Korea Free Trade Agreement, in force since 2011.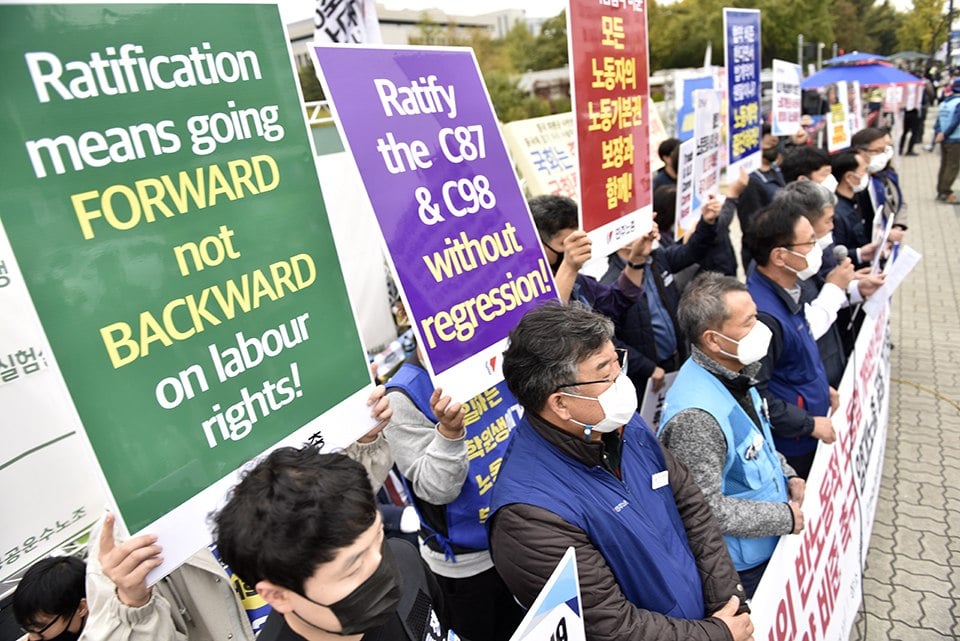 On 25 January this year, an EU panel of experts concluded that the Korean government violated the labour commitments in the agreement.
 
Kim Ho Gyu, president of IndustriALL affiliate the Korean Metal Workers' Union (KMWU) says:
"The ratified conventions are important legal guideposts for a comprehensive labour law reform to end union busting, to bring law and practice in line with freedom of association and to guarantee union rights for industry-level unions."

"We thank the international trade union movement for the solidarity during our thirty years of struggles for ratification of the ILO conventions. We pledge that KMWU will continue the struggle throughout the supply chains of the Korean chaebol."
International Trade Union Confederation (ITUC), European Trade Union Confederation (ETUC) and International Federation for Human Rights (FIDH) made an official submission to the panel of experts on 15 January 2020.
 
IndustriALL general secretary Valter Sanches says:
"The long history of workers' rights violations in Korea seems to have come to an end thanks to the tireless historical fight and campaign of the Korean unions that led to this important victory.

As we welcome the ratifications of ILO's core conventions, we expect South Korea's government to promptly amend the labour legislation accordingly and most of all implement the conventions' provisions."