14 January, 2021Unite the union members have won the Battle for Barnoldswick after a determined fight on icy picket lines throughout the winter. Thanks to a groundbreaking deal struck between the union and the company, 350 jobs have been saved and the community has been protected from ruin.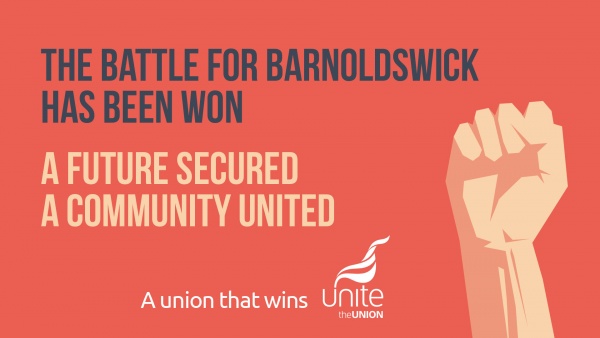 The Rolls-Royce jet engine factory in Barnoldswick in the United Kingdom has been saved after a nine weeks of strike action. The future of the factory was thrown into doubt last summer when Rolls-Royce announced that it was transferring the production of its Trent jet engine blade work to Singapore. The workforce balloted for industrial action and began targeted strike action on 6 November last year which ran until Christmas Eve. Workers returned to the picket lines at the start of 2021.
The small town of Barnoldswick, home to just 11,000 people, mobilized in defence of their community. The Rolls-Royce factory, which has been in operation since 1943, is the birthplace of the jet engine and the main employer. The closure of the site would have had devastating consequences for the prosperity of the local community.
The dispute was widely supported in the UK, and IndustriALL Global Union affiliates from around the globe stood shoulder to shoulder with the colleagues, sending messages of solidarity.
Unite has long criticized the UK government for its failure to develop an industrial strategy that invests in the development, growth and transition of manufacturing. Despite the lack of political support, the union negotiated a deal that saves jobs and manufacturing capacity while preparing for the future.
The deal, which is supported overwhelmingly by the workforce, will give the historic site a new lease of life as a core manufacturing facility and host to a new centre of excellence, training engineers to meet the challenges of the climate emergency.
The main details of the deal are:
A ten-year manufacturing guarantee for the site
A guaranteed minimum headcount of 350 workers
The creation of a centre of excellence training school supporting the development and manufacture of zero carbon technologies
A guarantee of a two year no compulsory redundancy agreement to facilitate discussions on a plan for advanced manufacturing work, supporting carbon free energy generation, along with synthetic fuels and green technologies.
IndustriALL assistant general secretary Atle Høie said:
"This dispute has been very important to the IndustriALL global aerospace steering committee because it sets such an important precedent. This deal is testament to the tenacity and courage of the members, as well as the willingness of the company to negotiate in good faith and listen to the union's alternative business case. We believe that this groundbreaking deal shows a way forward for the sector, preserving jobs and skills while preparing for the future.
IndustriALL aerospace director Georg Leutert said:
"Rolls-Royce is one of the most important companies in the sector, and one of the few to allow trade unionists to meet regularly at a global level. Rolls-Royce reps have a permanent seat on the aerospace sector committee. IndustriALL, Unite and the company hope to meet soon to discuss social dialogue at global level."