7 July, 2022When unions go on strike, engage in negotiations, collective bargaining, social dialogue, and social security, as well as campaign for workers' rights and workplaces free of gender-based violence and harassment (GBVH), they do so as a collective. It is this collective that builds union power and where the strength of the union lies, argues Rose Omamo, the general secretary of the Amalgamated Union of Kenya Metal Workers (AUKMW), affiliated to IndustriALL Global Union. 
UNION PROFILE

From Global Worker No 1 June 2022

 

Country: Kenya

Union: AWKMW

Text: Elijah Chiwota
According to Sister Rose, as she is affectionately known, another valuable quality of a trade unionist that union leadership must always keep in mind is to remain loyal to the collective's cause. This means that as a union leader you must ensure that the union provides service, listens to its members, adequately represents them in labour disputes, and fights for living wages.
But for a unionist to confidently stand up for workers' rights they must find their voice and be able to speak about the workers struggles with more clarity, commitment, and passion. 
"It took me many years to find my voice. But now that I have a voice, I use it to advance the rights of women workers, demand decent working conditions, and for the ratification of Convention 190 to eliminate violence and harassment in the world of work. For example, we must use the power of our voices to name and shame the perpetrators of GBVH, act against them, and bring them to account,"
she reiterates. 
Sister Rose has appeared on various media platforms and forums to advocate for gender equity and equality as well as for the setting up of gender champions as a strategy to fight GBVH at the workplace. She has also campaigned against domestic violence which increased during the Covid-19 lockdowns.
At a Sub-Saharan Africa GBVH workshop in Johannesburg, South Africa, in April, Sister Rose, said one of her unique personal qualities is to sing and dance after a union victory. She describes this as part of the repertoire for celebrating workers wins. Together with other campaigners, she danced when Convention 190 and Recommendation 206 were adopted at the International Labour Conference in Geneva, Switzerland in 2019. She says celebrating union victories is joyful especially as it comes after tough negotiations that take a lot of time and effort. In most instances this will be against employers who are unwilling to agree to the workers' demands.
A board member and women's leader at the Central Organization of Trade Unions (COTU) - a confederation of Kenyan trade unions - and co-chair of the IndustriALL Sub Saharan Africa region, Sister Rose was recently appointed to yet another leadership position. This time as a trustee of Kenya's National Social Security Fund (NSSF) which administers a national pension fund with responsibilities in health insurance, occupational health and safety, and social protection. She will be one of the two workers' representatives on the board as per national laws and says she will approach her responsibilities in ways that are influenced by her rich union background.  
"As unions we will work together in solidarity with other social partners that include the ministry of labour and employers to protect the NSSF, and to ensure that there is investment to grow the fund. Further, we will provide oversight so that the workers money is safe and is invested as per the fund mandates. Again, the experience that I gained in working with other organizations to protect workers interests will be useful because the board represents the collective interests of all key stakeholders,"
she says.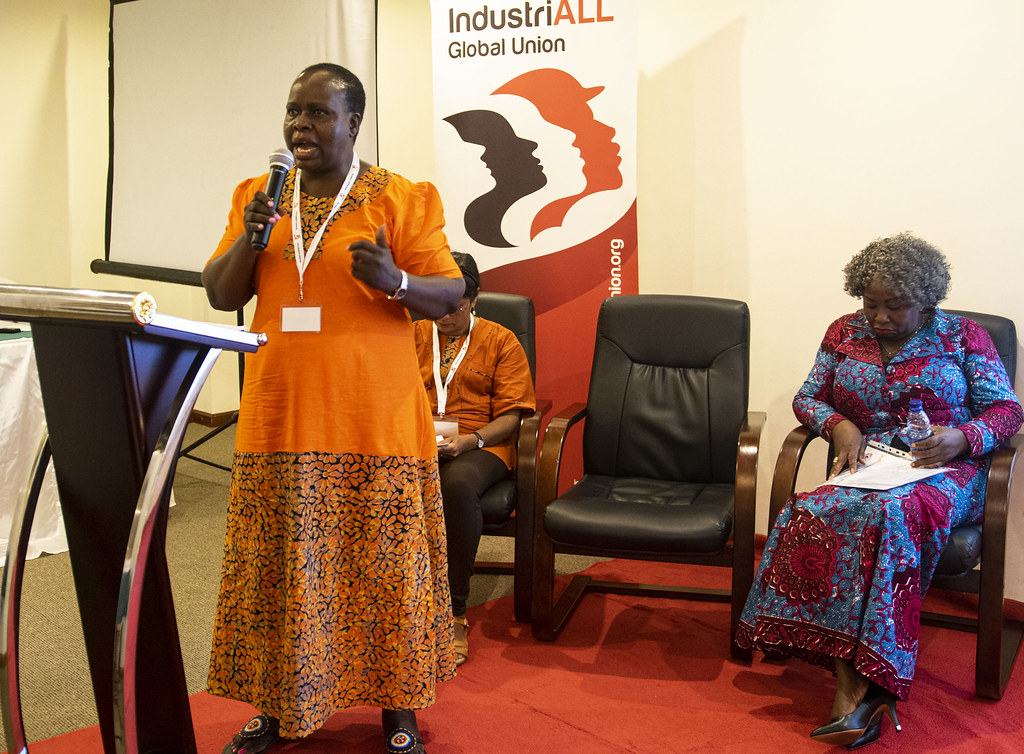 Lifelong learning is an integral feature of the trade union movement, and this is the path that Sister Rose, walked in the last 30 years. Her union journey began as a shop steward at an automotive assembly plant in Mombasa before emerging into her current positions as general secretary in 2016, and re-elected at the quinquennial conference in 2021. Her union experience shows that the trade union movement is a learning space for workers because of the diverse skills that unionists acquire over the years: from organizing workers at the shop floor, negotiating with employers and governments in the board rooms, to campaigning for workers and human rights at the global level. 
Sister Rose suggests that unions should explore ways of working with the informal sector workers, and to that end the AUKMW has signed an agreement with the Jua Kali Association of road-side mechanics and informal artisans. She sees this as some of the first steps to organize the informal sector. Jua Kali, means hot sun in Swahili and is the name that has become common in describing the informal sector workers. They work under the hot sun, exposed to the elements but with unionization their working conditions can be changed. 
Rose IndustriALL co-chair of Sub-Saharan Africa, as well as vice president of the region.
AUKMW
AUKMW was founded in 1971 and has 4160 members, 800 from the informal sector
The union organizes in the automotive sector and its value chain, including artisans and panel beaters in tyre manufacturing, spray painting, exhaust systems, and other auto components. The union also organizes workers who manufacture electrical appliances such as fridges, insulated wires and electrical cables, and telecommunications cables. It also organizes workers in suppliers and manufacturers of medical equipment, and those who manufacture mobile construction equipment e.g. wheel barrows.