18 July, 2019The National Union of Metalworkers of South Africa (NUMSA), has condemned a decision by ArcelorMittal to retrench 2,000 workers without consulting the union as required by law.
Steel producer, ArcelorMittal South Africa (AMSA), which employs more than 8,500 workers, made the announcement on 10 July. AMSA then wrote to NUMSA, stating that it did not know how many workers will be affected, even though it had just made an announcement.
Mokete Makoko, NUMSA regional secretary for Sedibeng where the AMSA Vanderbijlpark plant is located, said:
"AMSA has already gone ahead of the consultation process and decided on the number of workers who will be affected. Again, this is another example of the flagrant disregard which the management of AMSA has for workers and their right to due process."
In March, IndustriALL Global Union affiliate, NUMSA , went on strike at AMSA demanding equal pay for work of equal value, and protesting against labour broking, deteriorating health and safety standards, and other labour rights violations.
One of NUMSA's demands was to give permanent jobs to workers employed through labour broking companies. Instead of employing workers directly, AMSA used contractors it described as "service providers" to recruit the workers were paid 50 per cent or less than permanent workers doing the same work. Some workers employed through the contractors have been under precarious contracts with no benefits for many years. Now they have been given termination letters.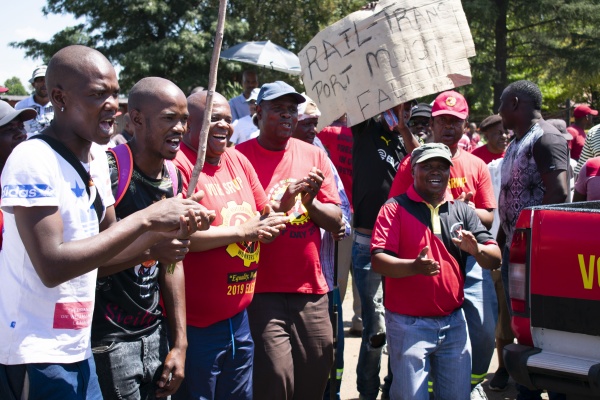 "It comes as no surprise that the management of AMSA is proceeding with this course of action, just a few months after our members embarked on a strike to end outsourcing at the company. They clearly want to punish workers for fighting to end the exploitation of contract workers supplied by so-called service providers. As NUMSA we will do everything in our power to minimize the number of jobs which will be lost," said Mokete Makoko.
Paule France Ndessomin, IndustriALL regional secretary for Sub-Saharan Africa said: "It's important for ArcelorMittal South Africa to consult with unions and to respect workers' rights before making any public statements on retrenchments. We call upon the company to implement fair labour practices."
Around 100,000 jobs have been lost in the steel industry in South Africa over the past decade.
AMSA is part of the global ArcelorMittal group and NUMSA has over 3 000 members at the company. ArcelorMittal employs some 200,000 workers in 60 countries worldwide.