4 December, 2019Through a long-running project with Finnish trade unions and SASK, work continues in Mozambique to include women and youth in union structures, as well as develop a training scheme for tomorrow's leaders.
Union presence in Mozambique has been centred around the capital, Maputo. Through the project with the Finnish trade unions PRO and Teollisuusliitto and Finnish trade union solidarity centre SASK, union density in the provinces has grown significantly between 2015 and 2018:
Sindicato Nacional dos Trabalhadores da Indústria Metalúrgica Metalomecánica e Energia (SINTIME) 20 per cent growth
Sindicato Nacional dos Trabalhadores da Indústria Quimica e Afins (SINTIQUIAF) 61 per cent growth, and
National Union of Construction Industry, Wood and Mine Workers of Mozambique (SINTCIM) 22 per cent growth.
However, local structures have remained weak, the next phase focuses on empowering local structures and incorporating more women and youth.
The effort to raise the profile of unions has meant empowering local shop-stewards, woman, and youth through training. Local shop stewards have been trained as "circle study leaders", and have then organized local workshops facilitating discussions with members around trade union issues.
"Everyone has basic workplace knowledge and experience. They then come to these discussions and learn through exchanging; it's not just training it's learning through experience and reflection. The idea is that they take the method back to their workplace and spread the knowledge. Through the study circles we can already see the leaders of tomorrow,"
says Sarah Flores, IndustriALL youth project officer.
Jointly within the three unions, women and youth have been working on policies. The policies will then need to be approved by their national council before they can be adopted. Each union will develop an implementation strategy, ensuring inclusion of women and youth throughout their structures.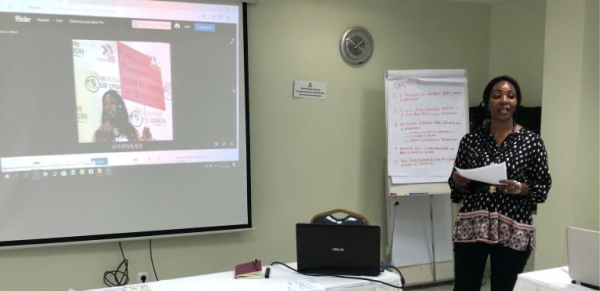 Sonia Nhampossa from SINTIME
"It is important to have policies for youth and women because we have seen violations of their rights in the workplace. Women and young people must be encouraged to occupy decision-making roles within unions,"
"This is a great example of how long-term work in the spirit of unity can make unions stronger, we are looking forward to these policies being adopted and implemented," says Atle Hoie, IndustriALL assistant general secretary.