7 October, 2021Around 80 trade union leaders from South Asia attended a webinar to discuss gender based violence and harassment and to plan for a joint campaign.
Jane Pillinger, researcher, presented the findings of a study on gender based violence. A predominately female workforce, most often young and migrant with precarious employment contracts, a low level of unionization and weak implementation of laws are major risk factors for gender based violence in the garment sector.
The ICT electronics and electricals sector have the same risks as the garment sector, in addition to a low awareness on the issue and minimum support.
As an initial conclusion, Jane Pillinger said that social dialogue and the positive effect of women leadership in unions play key roles in bringing the issue to light. Though there are some inspiring women paving the way, unions need to recognize the gravity of the issue, integrate it in to union  activities and collective bargaining. They also need to ensure that workplace policies on gender based violence are present and monitored.
Rose Omamo, general secretary of the Amalgamated Union of Kenyan Metal Workers and member of IndustriALL Global Union's  executive committee, was invited to the webinar and said that trade unions played a leading role in Namibia, Mauritius and Somalia that have ratified the convention.
"C190 is very close to my heart and I was part of the negotiation process. I feel it is my responsibility to make sure it is ratified and implemented to  gurantee especially women and young workers are protected and have a safe and secure work place."
Rose Omamo encouraged all unions to make a pledge at every meeting and event that 'sexual harassment must not happen neither in my work place nor in my union'.
Among others, she cited a campaign by South African union NUMSA calling for justice for a murdered energy worker, gender audits in Zambia and Zimbabwe where outdated policies were updated, formulating sexual harassment investigative tools, establishing gender champions in a group of young men and women in Zimbabwe and Kenya that look into all gender based violence cases and issue.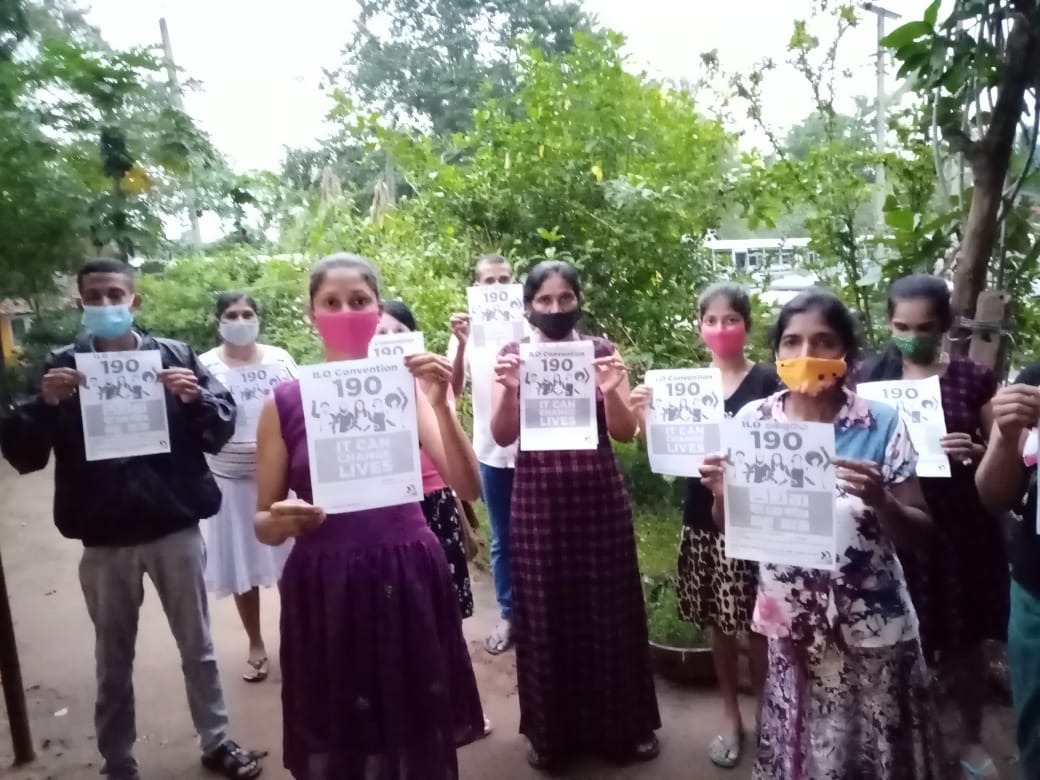 Union leaders agreed that there is a need for joint action not only for the ratification, but also for addressing violence harassment at the workplace and the unions.
"With South Asia having a high number of cases of violence and harassment against women, I hope that the unions will take this issue forward together at the national level and regional level to amplify campaign activities around '16 days of activism against violence against women', which starts on 25 November,"
said IndustriALL regional secretary Apoorva Kaiwar.
The discussion highlighted some important issues; this is a problem of men and unions need to address it and influence the world of work. Union leaders agreed to accelerate awareness campaigns to reach out all workers, including non-permanent and contract workers.
Efforts should be made to increase women's participation in unions, including male-dominated sectors.
"This is not a women's issue but a men's issue, as they are the perpetrators. And it is not a regional issue but happens all over the world. We will use the tool kit in trainings in the mining, garment and ICT, electrical and electronics sectors. We urge you all to actively participate in the campaign and training activities planned by IndustiALL and also to do your part locally and nationally,"
said IndustriALL general secretary Atle Høie.