10 March, 2022The National Union of Mineworkers (NUM), affiliated to IndustriALL Global Union, and other unions, are on strike to push for wage demands after failed negotiations at Sibanye Stillwater gold mines.
The strike began with the night shift on 9 March after Sibanye Stillwater's fifth proposal on the wage negotiations fell short of the workers' demands and was rejected by the unions.
 
Earlier, the NUM held joint mass meetings with other unions including IndustriALL affiliate, UASA, over the mining company's refusal to meet the wage demands. Protracted negotiations have also taken place before the Commission for Conciliation Mediation and Arbitration (CCMA), but an agreement was not reached.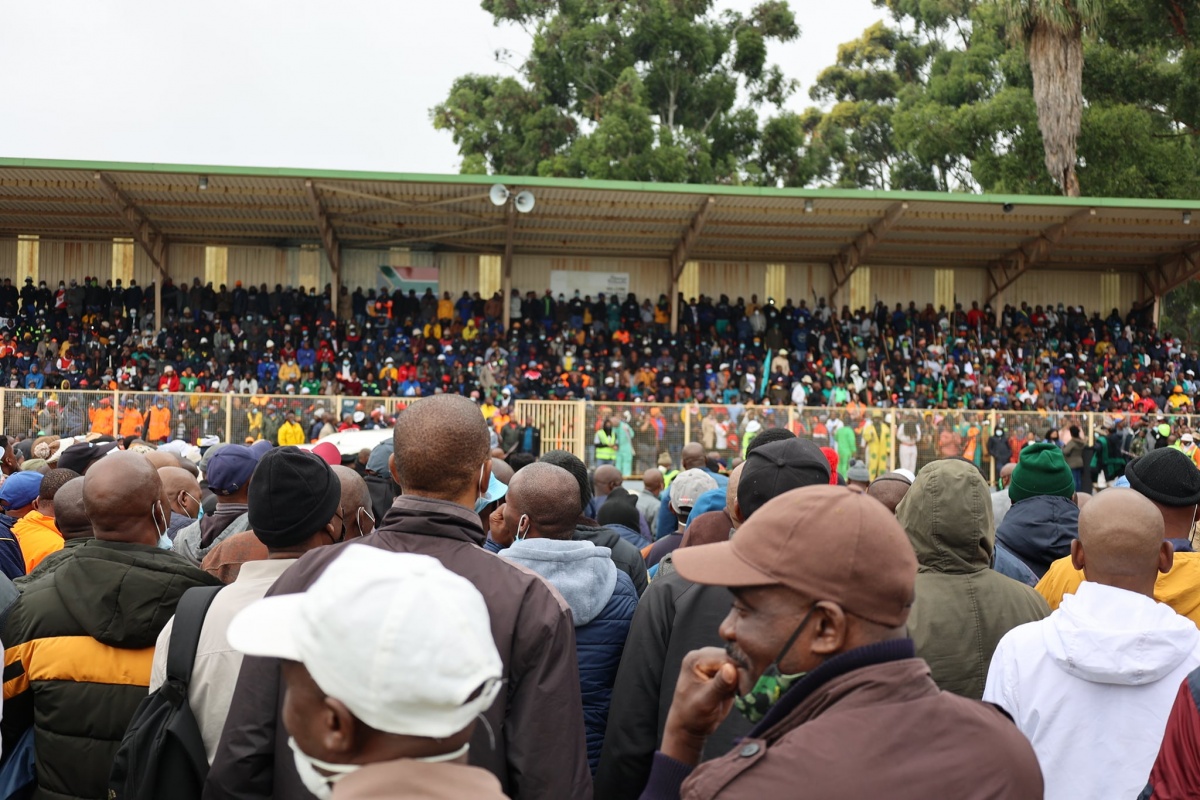 The CCMA issued a certificate of non-resolution which allows unions to give a 48-hour strike notice. According to South African labour laws, labour disputes can be referred to the CCMA for conciliation.
 
According to the NUM, the unions are demanding an increase of R1000 (US$65) per month for surface and underground miners, and 6 per cent for artisans, miners, and officials.
William Mabapa, NUM acting general secretary says:
"Mineworkers are determined to embark on the strike action until their demands are met. The union has noted the arrogance of the employers in maintaining that they are unshakable in their 5 per cent and R700 (US$46) pittance offer. However, the NUM is unshakable too in its demands for a living wage.
 
"The NUM has been reluctant to take industrial action in favour of negotiations but given the arrogance of Sibanye Stillwater the union is forced to embark on the nationwide industrial action that will change the gold mining landscape forever. The captains of the industry have continuously awarded themselves huge bonuses while mineworkers are earning poverty wages."
 Glen Mpufane, IndustriALL director for mining, says:
"We support the strike for living wages by gold mineworkers at Sibanye Stillwater and commend the NUM for its solidarity with other unions. Workers' unity is important in this strike. Further, this strike is also about preserving the gains that workers have made as found in existing collective bargaining agreements between the employer and the unions,"
Sibanye Stillwater, which employs 31,000 workers in gold mining, also mines platinum group metals in South Africa and the USA. The company is also involved in the mining of battery metals. The company is listed on the Johannesburg Stock Exchange and New York Stock Exchange.