7 July, 2022After a week-long strike to push for wage increases and standing firm against a surge of fake news to discredit the unions, the National Union of Metalworkers of South Africa (NUMSA), the National Union of Mineworkers (NUM), and Solidarity, signed a wage deal with Eskom on 5 July.
The deal, which was signed at the Central Bargaining Forum (CBF), includes a 7 per cent wage increase over a year (1 July 2022 to 30 June 2023), a R400 (US$24) housing allowance increase, and a commitment to continue negotiations to improve wages and working conditions.
Additionally, the deal reinstates working conditions prevailing on 30 June in which workers would have lost R9 000 (US$547) in benefits had the unions not protested. The CBF, which represents 28,300 workers at the state-owned enterprise, is a forum where employers negotiate with the unions.
"We are pleased to have finally resolved this round of wage talks, particularly given the difficult circumstances we faced. The conditions of service, which were unilaterally withdrawn and caused so much pain to our members, have been restored. We have also secured an improvement from last year, after Eskom imposed 1.5 per cent, and we want to thank the negotiating team for their tireless efforts in finding a solution. NUMSA will always fight to improve the conditions of the working class,"
says Irvin Jim, NUMSA general secretary.
During the strike and the negotiations, which deadlocked after Eskom management declared a dispute and walked out of the talks, the workers argued that Eskom could afford the increase and were against an increase that was below inflation increase as what happened last year. Inflation in the country for 2021 was 5.9 per cent.
"The NUM wishes to express its sincere gratitude to its members at Eskom for their conduct during the negotiations until when they gave us a mandate to sign the agreement. On disciplinary and grievance procedures and the recognition agreement a task team will be established consisting of at least three persons from each party. The task team will report back to the CBF within three months,"
says William Mabapa, NUM general secretary.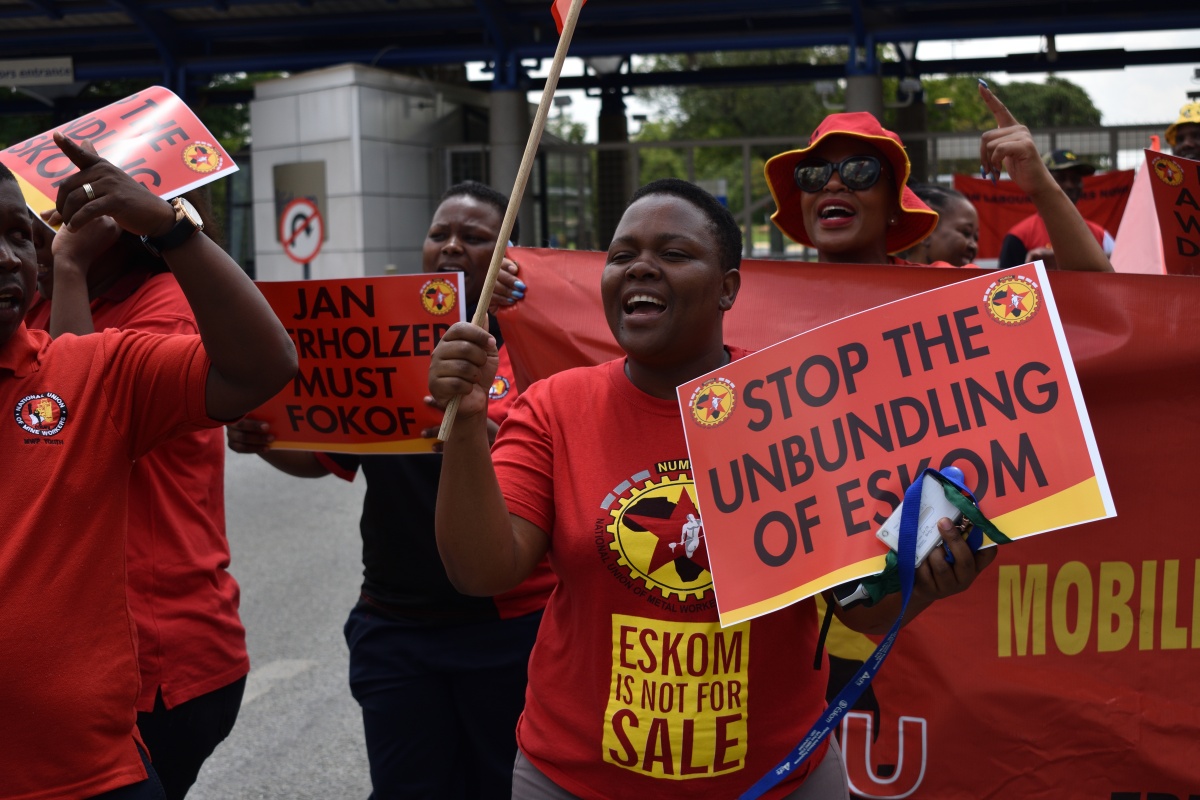 On-going electricity outages due to insufficient power generation were blamed by some media outlets on the striking workers as part of a disinformation campaign, says the unions. For example, fake news announced that an agreement had been reached before the unions had even signed or consulted their members on the wage offer.
"We call on media houses to be responsible in their reporting. When they publish fake news, this can have a detrimental impact on the negotiations,"
cautioned NUMSA and the NUM, who are affiliated to IndustriALL, in a statement.
Paule France Ndessomin, IndustriALL Global Union regional secretary for Sub Saharan Africa says:
"We are pleased that NUMSA and the NUM continue to fight for living wages and better working conditions for workers at Eskom. As Eskom embarks on a transition to renewable energy sources, workers' interests remain paramount and must be protected. This is why IndustriALL campaigns for a Just Transition that is inclusive of the decent work agenda."