9 October, 2020Thousands of Indonesian workers from 30 provinces downed tools and took to the streets to express their anger over the passing of the omnibus law on job creation on 5 October. 
Workers chanted the slogan "Long live the workers" and walked out of factories. They held placards with the messages "Rest in Peace, Parliament", "Omnibus law kills the future of our grandchildren" and "Colonization has ended but colonization of workers begins".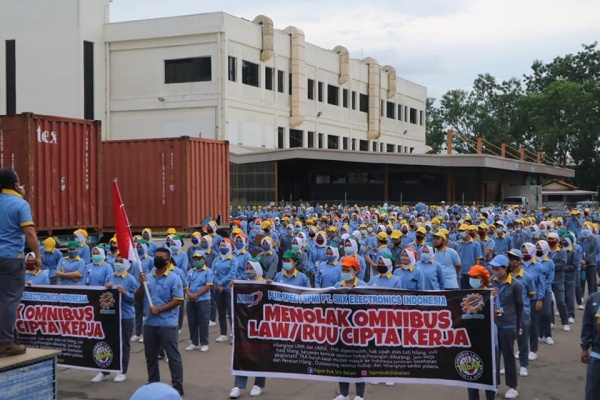 The national strike on 6-8 October was organized by the Indonesian Trade Union Confederation (KSPI), Confederation of All Indonesian Workers' Union (KSPSI AGN), KSPSI Yorrys, Indonesia United Workers Confederation (KPBI) and national welfare movement (GEKANAS). Seven affiliates of IndustriALL Global Union mobilized members to join the strike.
The president of KSPI and FSPMI, Said Iqbal, said:
"Two million workers affiliated with KSPI will join the national strike to reject the omnibus law. We reiterate that the law severely erodes workers' rights. It will eliminate sectoral and municipal minimum wage, decrease severance pay and increase labour flexibility.

"The government must not change existing protection measures in the Manpower Act 2003, particularly provisions relating to layoffs, criminal sanctions against employers and employment of foreign workers."
The president of All Indonesian Trade Union Confederation (KSBSI) Elly Rosita Silaban said:
"The actions taken by workers are the result of the government not understanding the situation of workers during the pandemic.  In addition, the new law degrades workers' rights, eliminating most of what they receive today. These are crucial issues, especially regarding wages, employment contracts, outsourcing and severance pay. We oppose it and hope the president can withdraw this law. We have prepared a lawsuit for a judicial review to the constitutional court regarding articles that contradict the law."
On the eve of the national strike, the Council of Global Unions issued a joint statement, calling the Indonesian president Joko Widodo to repeal the omnibus law and renegotiate with trade unions. It urged the government to ensure that any future legislation does not diminish rights and benefits guaranteed by the Manpower Act.
The general secretary of IndustriALL, Valter Sanches, said:
"Since the last global crisis, over 27 countries have pushed for some form of labour law reform, under the false goal of being more attractive to foreign investment with lower labour costs, but effectively, most of them only brought precarious work. We don't want that to happen in Indonesia.

"IndustriALL congratulates you on your initiative in carrying out the national strike. We are in solidarity with your action. I wish you all success."
There are reports of arrests and police violence against trade unionists, which IndustriALL is investigating.