16 July, 202018 picketing workers were arrested in Orkney on 13 July for protesting non-payment of wages and retrenchments at Kopanang and Tau Lekoa gold mines, as well as West Gold Plant. They were charged for violating Covid-19 lockdown regulations and released after two days.
The workers, who include members of IndustriALL Global Union affiliates the National Union of Mineworkers (NUM) and the National Union of Metalworkers of South Africa, have been picketing since April for the payment of wages and for the retrenchments to be stopped.
Picketing worker, Junior Kgoedi, from Kopanang mine says:
"If the retrenchments were made during the lockdown; why can't we protest during the lockdown? Why did they decide to retrench during our absence? They took advantage because most workers had gone home to other provinces."
1,500 migrant workers from Botswana, Eswatini, Lesotho, and Mozambique working at the operations, have not been paid since South Africa went into lockdown in March. The workers are unable to travel to their home countries because of closed borders. A further 146 local workers are also unpaid.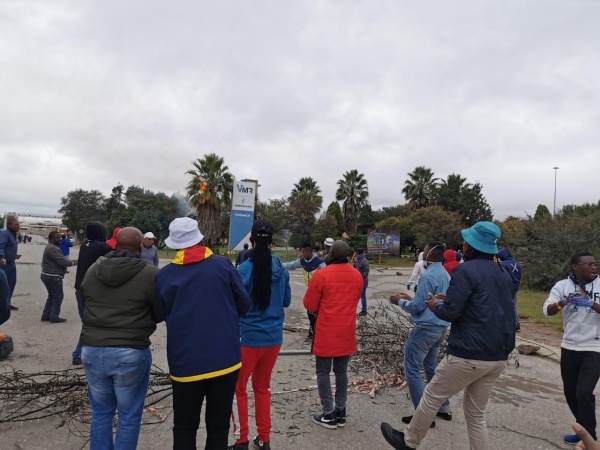 Realeboha Majara, from Lesotho, has worked at Kopanang mine for 30 years, from his first job of maintaining pipes. His past positions are locomotive operator, driller, supervisor, team leader, and miner before becoming a shift boss. He is the NUM branch chairperson at the mine and says the situation is dire for the migrant workers.
"We are demanding the immediate payment of the wages. Without income workers are struggling and surviving on handouts from friends. Although workers qualify for Unemployment Insurance Benefits under the Covid-19 Temporary Employee Relief Scheme, they are yet to be paid."
NUM is challenging the retrenchments in court and demanding VMR to respect existing collective bargaining agreements that have been signed with unions. The issues are also before the Commission for Conciliation, Mediation and Arbitration.
Joseph Montisetse, NUM president says:
"We are appealing to the department of mineral resources to reject the irregular retrenchment notices that were issued without due process as per labour laws."
Glen Mpufane, IndustriALL director for mining says:
"Mining companies must consult unions on retrenchments and mine closures. Covid-19 is not an excuse to trample on workers' rights and VMR must adhere to fair labour practices."
Village Main Reef (VMR), owner of the mines and plant, is part of the Hong Kong-based Heaven-Sent Gold Group. VMR bought the operations as going concerns from AngloGold Ashanti in 2017.