4 March, 2021Hundreds of mineworkers from Konkola Copper Mine (KCM) took to the streets of Chingola in the Copperbelt on 2 March to protest the delayed payments of redundancy benefits by majority owner Vedanta Resources Limited.
According to the Mineworkers Union of Zambia (MUZ), affiliated to IndustriALL Global Union, Vedanta Resources issued redundancy notices to 3881 mineworkers in December 2020 and promised that the workers would receive the benefits in three payments beginning on 1 March and then at six months intervals. But court challenges have put the payments on hold.
The workers were addressed by union leaders, the Member of Parliament for Nchanga Constituency, Chali Chilombo, and the District Commissioner for Chingola, Agnes Tonga, who concurred that Vedanta must stop its delaying tactics and pay the workers.
Speaking to the workers after the march, Joseph Chewe, MUZ president said:
"It is unfortunate that Vedanta always runs to the courts and delays the transition of the mining company. The company is using the law as a scapegoat to cling onto the mine which they have failed to run in the past. The courts must also consider the plight of the mineworkers when they decide on the Vedanta application in the Lusaka High Court."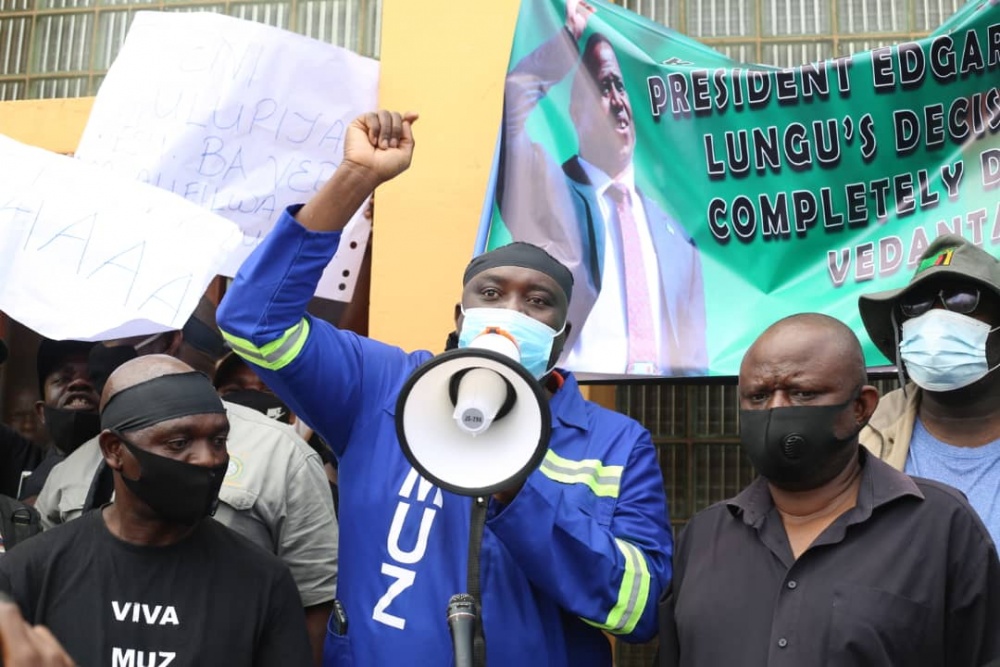 Responding to the protests, Vedanta says it is urging MUZ and other unions to open "a constructive dialogue with Vedanta and all parties to the benefit of KCM stakeholders, including KCM employees and the Copperbelt community." Vedanta claims that it is willing to reinvest over US$1.5 billion to restart mining operations and is challenging the liquidation initiated by the state-owned Zambia Consolidated Copper Mines-Investment Holdings (ZCCM-IH).
Vedanta, which holds 79.4 per cent of KCM shares, has been in legal wrangles in the last two years with the government of Zambia which owns 20 per cent through ZCCM-IH. The government has invited bids from mining companies from Australia, Canada, China, Russia, Turkey, and other countries to buy KCM and says Vedanta violated its mining license and not paying taxes.
Paule France Ndessomin, IndustriALL regional secretary for Sub Saharan Africa says:
"When workers are retrenched, they lose their only source of income and are unable to provide for their livelihoods and those of their families. Vedanta should pay the mineworkers their benefits in a timeous manner to avoid worsening their suffering."