16 July, 2020IndustriALL affiliate BMCGTWF's proactive intervention has ensured the reinstatement of 34 workers at the M/S Motalab Steel shipbreaking yard in Bangladesh.
On 6 July, 17 cutter workers, together with 17 cutter helpers, were told without prior warning by the employer to not come back to the M/S Motalab Steel shipbreaking yard, due to a lack of work.
However, there was a ship in the yard but it would take at least six days before cutting could start, and management tried to avoid paying the daily attendance allowance mandated by law for those six days.
Workers opposed the decision and sought the intervention of Bangladesh Metal, Chemical, Garments, & Tailors Workers Federation (BMCGTWF).
The BMCGTWF announced it would initiate a protest, legal procedures and seek help from the government to resolve the issue.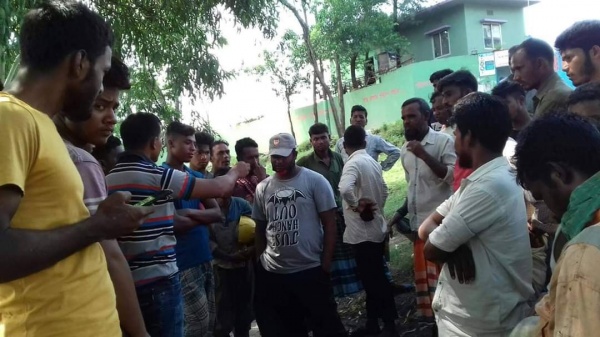 All affected workers gathered in front of the yard gate, and faced with the collective action, management agreed to pay the 34 workers' daily attendance allowance, as well as allowing back in the yard.
As of 8 July, all sacked 34 shipbreaking workers had gone back to work.
Mojibur Rahman Bhuiyan, BMCGTWF general secretary, says:
"Collective action and union solidarity is needed to defend workers' rights. They have now returned to work with dignity due to our united action. We will continue to protect workers' rights."
Kan Matsuzaki, IndustriALL shipbreaking director, says:
"This is a big victory for shipbreaking workers in Chittagong, and it is a big victory for the union in an industry which is characterized by low union membership."