16 December, 2020On 30 November, trade unionists around the world joined a global day of action for the Philippines, holding protests in the streets and at Philippine embassies, calling on President Rodrigo Duterte to end the repression and killing of trade unionists. The Philippine government responded by arresting six trade unionists and a journalist on 10 December.
Trade unions around the world first took action on 10 December 2019, International Human Rights Day, to demand that the Philippine government end the red-tagging and extra-judicial killings of labour and human rights activists. But red-tagging - the blacklisting and harassment of individuals or groups seen as insufficiently loyal to the government – continues.
Lawmakers from the progressive bloc have been accused of being members of the Communist Party, and there have been recent killings of people alleged to belong to a militant group.
The Council of Global Unions (CGU) launched a global day of action for the Philippines on 30 November, demanding that the Philippine government end intimidation, hold perpetrators of extra-judicial killings to account and scrap the Anti-Terrorism Act. Trade unionists around the world participated.
In the Philippines, IndustriALL affiliates joined a mass rally at the University of the Philippines in Quezon city. They will write to the labour secretary to request an intervention with the office of the President to accept a high-level tripartite mission.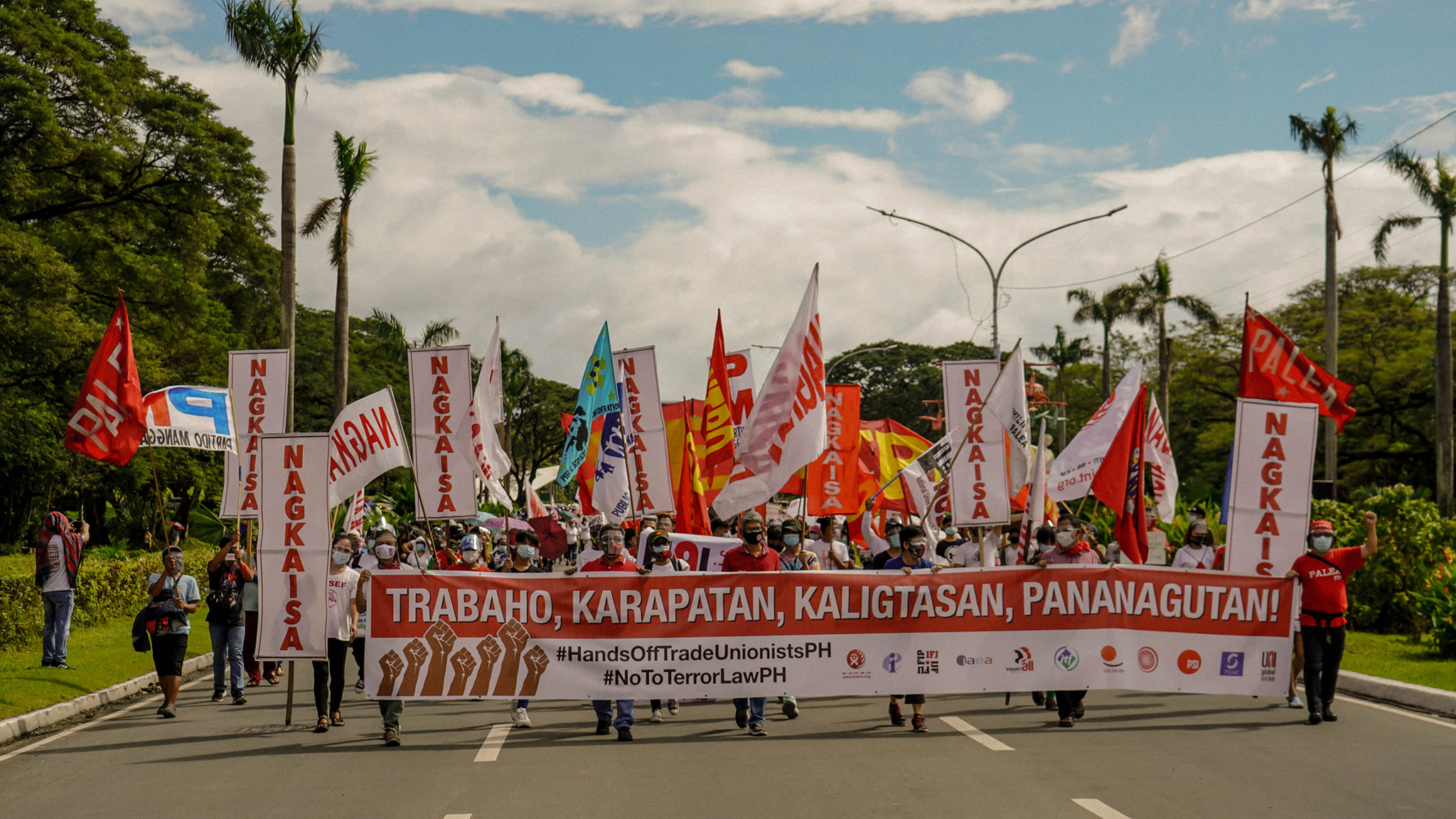 A spokesperson of the Metal Workers Alliance of the Philippines (MWAP), Mary Ann Castillo, said:
"We condemn widespread trade union repression in the country. Our union in Nexperia also became a target of red-tagging and terrorist-tagging in Laguna. Unionism is not a crime, workers' right to join union must be protected."
Vice presidents of Philippine Metalworkers' Alliance (PMA), Narciso Lozano and Joseph Bo, said:
"The Anti-Terror Law has to be junked as this will further restrain the right of the workers to exercise their right to organize, provide livelihood for the family and protect their safety and jobs."

The president of Australian Manufacturing Workers' Union (AMWU) Andrew Dettmer said:
"We have coordinated with other unions to hold protests at embassies or consular offices of the Philippines in Sydney, Canberra and Perth. We stand in solidarity with our brothers and sisters in Philippines to fight repression."
IndustriALL Global Union general secretary Valter Sanches said:
"The Anti-Terrorism Act is being used persecute unionists and activists. We must put pressure on the government on the issue of preferential trade agreements to make the government take its hands off unions."
IndustriALL affiliates from Cambodia, Indonesia, Japan, Korea, Malaysia also joined a social media campaign on the global day of action for the Philippines.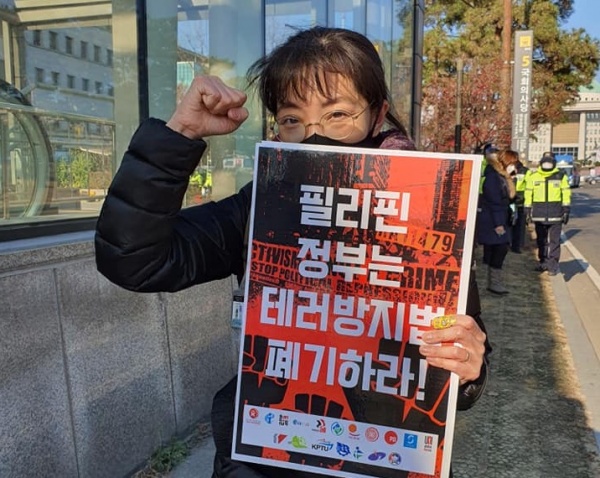 The response from the Philippine government was brutal: on 10 December 2020, security forces arrested six trade union activists and a journalist.
The CGU condemned the action and called for the immediate release of those arrested, with all charges dropped, saying:
"Trade union activists are being criminalized, illegally arrested and detained, as the government's way of preventing them from organizing workers into unions and associations, and depriving them their freedom of thought and expression as translated into their activities among the workers. The intensified crackdown is precisely aimed at stifling dissent and organized action among the people. Killings among activists and rights defenders, as a way of instilling fear and silencing the people, have not ceased."