20 January, 2022The French multinational utilities giant ENGIE today renewed a global framework agreement (GFA) with the global union federations IndustriALL, BWI, and PSI, as well as with the representative French trade unions (CFDT, CFE-CGC, CGT and FO).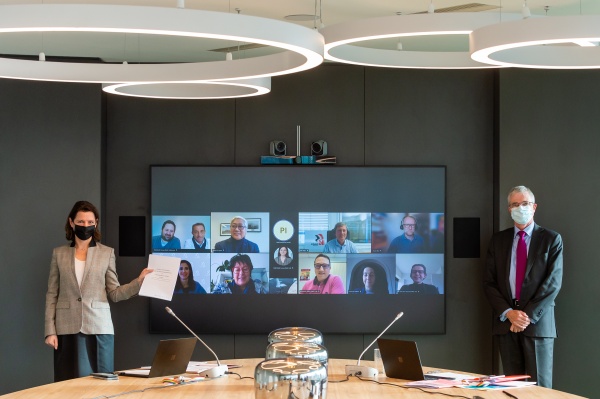 The agreement commits the company to a just energy transition, to sustainable employment and social protection for workers.
The renewed agreement represents a decade of international social dialogue, which is embodied in several agreements and conventions, both at European and global level. It lays out the company's commitment to social responsibility and fundamental rights, and provides a standard set of guarantees for all 170,000 ENGIE employees around the world.
Crucially, the concepts of sustainable development and Just Transition are integrated into the agreement, as is French legislation on due diligence, which the company commits to apply globally.
The company also commits to comply with fundamental international labour standards wherever it operates, including ILO Convention 190 on violence and harassment in the world of work. To facilitate equal pay analysis, there will be a transparent and gender-disaggregated remuneration system, and enhanced fiscal transparency with country-level tax reporting.
There is a commitment to sustainable employment and social protection for workers, with 14 weeks of fully paid maternity leave, and four weeks of fully paid paternity leave. There is a minimum coverage of one year of incapacity benefit, a health benefit covering hospital costs at a minimum of 75 per cent, and death coverage for all workers, which includes the payment of a minimum of 12 months of gross salary.
There is also a commitment to digital transformation and lifelong learning for employees.
The monitoring and implementation plan for the GFA includes appropriate training and is backed by a world forum, held at least once a year, and bringing together employee representatives from all regions, with the signatory unions and company management.
The forum will hear reports on benefits coverage, the gender pay gap and plans to eliminate it, global risk mapping, minimum wages and social benefits, training, and the implementation of the agreement itself.
This will be supported by social dialogue at local level, at least once per year.
IndustriALL Global Union general secretary Atle Høie said:
"At IndustriALL, we are pleased to sign the renewed global framework agreement with ENGIE. As a multinational utility company which operates in the energy sector, it is key that ENGIE commits to sustainable industrial development and a Just Transition with the global union federations that represent its workers worldwide. Likewise, the commitment to comply with French due diligence law globally is very important.

"We hope that the world forum, which will meet at least once a year, can effectively move forward to implement the points in the agreement."
Photo: ENGIE