20 September, 2018A delegation of trade unionists and workers dismissed from Yves Rocher's Flormar factory in Turkey visited the ILO in Geneva and the company office in Paris.
On day 128 of their resistance, the delegation demonstrated outside a Yves Rocher store in central Geneva, where they were joined by representatives of global and local unions, NGOs and Turkish opposition political parties. After the demonstration, a meeting was held at the ILO to highlight the violation of Convention 87 on the right to freedom of association.
The next day, the delegation travelled to the company office in Paris, where they were joined for a demonstration by IndustriALL Global Union French affiliate FCE-CFDT. They brought a SumOfUs petition signed by 124,256 people.
After the demonstration, a company representative met with the delegation to hear the chronology of events and rights violations. The delegation was concerned that the Turkish subsidiary had not communicated an accurate version of events.
Speaking at the ILO, Petrol-İş general secretary Ahmet Kabaca explained that the Flormar factory has about 400 direct employees. The union started recruiting early in 2018, and by March, had the legally required majority, and applied to the ministry of labour for recognition. This was granted on 3 April, officially recognizing Petrol-İş as the negotiating partner.
The ministry informed Flormar management, and they immediately fired 18 people.
Süleyman Akyüz, Gebze branch chair, said that 132 workers have now been fired. They have also been blacklisted, and can't get jobs anywhere in the area. However, the workers are getting a wage from the strike fund, as well as donations from local people.
"This struggle sets a precedent", he said.
"A victory at Flormar would be a win for the working class. Failure would make future organizing more difficult."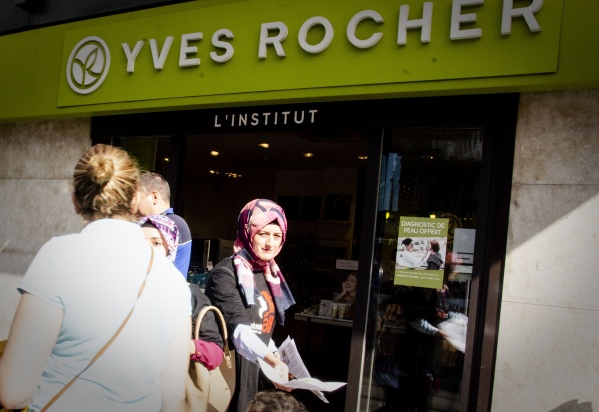 One of the dismissed workers, machine operator İlknur Arslan, explained:
"I joined the union because after eight years at Flormar my salary is still only just above minimum wage. It is my constitutional right to join a union.

"When management fired the first group of union members, other workers applauded them. They were fired too. I was working the night shift. Our shift took no action, but at the end of the shift we went to the picket line to show our solidarity.

"We were fired, with no compensation, because the company said we had 'joined an illegal demonstration'. We have been on the picket line ever since."
Another dismissed worker, Ayşe Güley Kahveci, who makes mascara, said that any worker who shows support for the union is severely bullied. Management told her:
"We will never accept the union. You should give up on this dream."
Production supervisor İsmail Balıkçı said.
"The plant manager offered to double my salary if I left the union. He said the owner would burn down the factory and move production to Bulgaria before accepting a union.

"The company is using scabs. Health and safety has declined dramatically, and so has the quality of production. A lot of defective product has been destroyed. They called me and asked me how to fix things. I said my condition for helping was that we all return and they recognize the union."
IndustriALL general secretary Valter Sanches said:
"Turkey is one of the worst countries for workers' rights violations. It is disturbing how multinationals with good union relations in their home countries behave this way in Turkey.

"We prefer to solve things peacefully. The company doesn't want it this way, so we will fight. You have the full strength of IndustriALL behind you."
Take Action