30 May, 2022630 members of IndustriALL affiliate Syndicat des Métallos/United Steelworkers are on strike at Glencore's Raglan mine in Canada over the extensive use of subcontracting and a lack of respect from the employer.
A demand for genuine respect from Glencore is a major issue for the union members, who often work eleven-hour shifts, for 21 consecutive days, at the isolated, fly-in/fly-out nickel mining operations in Nunavik.
The increased use of subcontractors, who work under inferior conditions at Raglan Mine, is another key issue in the labour dispute, and on 27 May, the 630 unionized workers went on strike.
"It has reached the point where there are often many more contractors at the mine site than unionized workers. It doesn't make sense. This means fewer economic benefits for the regions of Quebec, while this multinational corporation extracts huge profits by exploiting our natural resources,"
says Eric Savard, president of Steelworkers Local 9449, which represents the striking workers.
In addition to the shameful use of subcontractors, other stumbling blocks in negotiations include vacations, working conditions and wages. Above all, however, workers are demanding respect from Glencore.
"Glencore has been continually pushing the limits. It even balks at providing a proper lunch hour to workers who are working eleven hours a day, 21 days in a row. Living conditions at the mining camp have deteriorated over the years. The employer systematically quibbles over the living and working conditions of employees who are away their families for long periods of time. It's time for this company to show greater respect for the workers who are generating its profits of tens of millions of dollars each year,"
adds Savard.
The parties met on Friday in the presence of a mediator, without breaking the impasse in negotiations. The union members therefore decided to exercise their strike mandate, which they had approved last week by an overwhelming majority vote of 97.5 per cent.
"IndustriALL fully supports the demands of Steelworkers' local 9449, which resonates with the wider call for respect for workers and their fundamental rights by Glencore mineworkers around the world, including in Colombia, the Democratic Republic of the Congo and South Africa.
"This is a classic race to the bottom, as Glencore races to supply the critical raw minerals for the low carbon energy transition and meet its multiple long-term supplier agreements with a host of downstream customers, including the auto sector."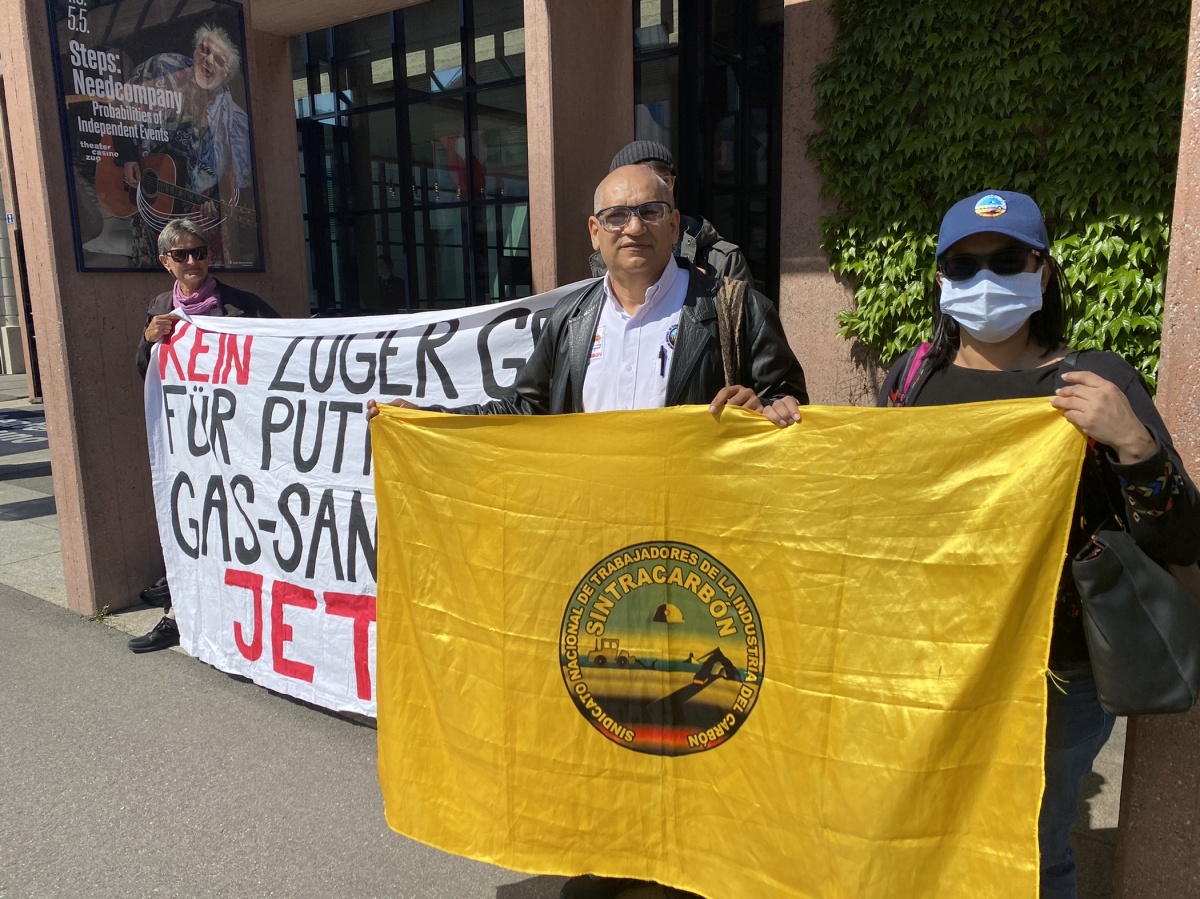 The strike comes on the back of false promises by Glencore to enter into meaningful dialogue with IndustriALL, and IndustriALL Colombian affiliates, together with Swiss, Dutch and British NGOs, protesting at the annual general meeting against Glencore's shameful conduct and treatment of workers, including a refusal to enter into a Just Transition dialogue.
IndustriALL will embark on a global corporate campaign against Glencore to seek redress and to demand meaningful global dialogue.
Cover photo: Glencore AGM, Switzerland, 2017