6 October, 2022Nigeria is the latest African country to ratify ILO Convention 190 which aims to eliminate violence and harassment in the world of work. The ratification comes after sustained campaigns and concerted efforts, including social dialogue involving trade unions, civil society organizations and labour support organizations.
On 30 September, the Federal Government of Nigeria announced that President Muhammadu Buhari had signed the instruments of ratification, and that the government is committed to strengthening laws to curb gender-based violence and harassment (GBVH) at work.
 
A report by the Nigeria Labour Congress (NLC), to which some IndustriALL Global Union affiliates belong, and the Solidarity Centre, stated that GBVH happens at most workplaces and is underreported because of stigma and other social norms. It is worsened by poor enforcement of laws and weak implementation of workplace policies.
According to the report, this creates an environment where discriminatory gender norms are entrenched as evidenced by groping and sexual harassment by supervisors, which is common at workplaces - often making women workers dread going to work.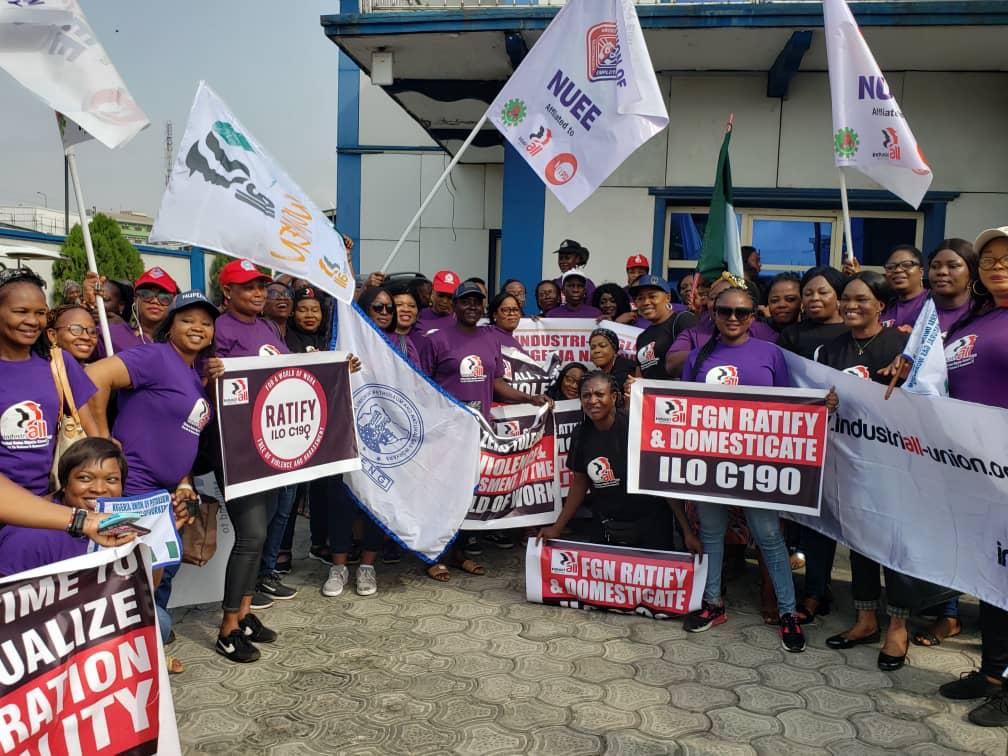 "We have been campaigning for the ratification of Convention 190 at meetings and events. Our main message has been that if the country is committed to ending GBVH, the Federal Government of Nigeria must ratify the convention,"
says Oluchi Amaogu, secretary of the Sub-Saharan Africa region's interim women's committee from the National Union of Petroleum & Natural Gas Workers.
 
The unions say that the ratification of C190 will strengthen the development of workplace policies to address gender discrimination, gender inequality, improve reporting mechanisms and confidentiality, and make perpetrators accountable and be prosecuted under appropriate laws.
Unions want remedies to be provided to survivors of GBVH, and power imbalances and GBVH risk factors that include unsafe public transport when commuting to work to be dealt with. This will make workplaces safer for formal, informal, and precarious workers. Unions will carry out C190 awareness campaigns, especially in male dominated workplaces, to discuss the ending of practices that perpetuate GBVH at work.
Armelle Seby, IndustriALL gender director, underlines the importance of the Convention as a tool in stopping GBVH:
"The ratification of C190 is an important step for Nigeria, but the implementation of the convention and Recommendation 206 is crucial to making workplaces safer for women. This means coming up with initiatives to build the capacity of unions on gender equality, and preventing and addressing GBVH through actions and campaigns."
The other African countries that have ratified the convention are the Central Africa Republic, Mauritius, Namibia, Somalia, and South Africa.