19 October, 2022More than 50 trade unionists from textile and garment suppliers met on 4-5 October to discuss how to identify and eliminate violence and sexual harassment at the workplace. The meeting follows on the Zero tolerance policy Indonesian unions signed with employers earlier this year.
Causes and risk factors of violence and sexual harassment at the workplace were discussed, as well as the Zero tolerance policy, how to use GFAs to end violence and harassment, and how to assess the risks through health and safety policies.
Participants identified unwelcome touching as something that often takes place in the production area. Toilets, changing rooms and car parks are also places where violence and harassment occur. The Omnibus law has replaced the collective agreement at many workplaces, making discrimination and harassment easier to get away with than before.
Sharing experiences on trusted complaint mechanisms, participants highlighted communication apps like WhatsApp and Telegram to report violence and harassment to unions, as well as the importance of independent audits. An imbalance of power is the root of gender-based violence and harassment (GBVH), and a silence culture at the workplace maintains and encourages it.
Stakeholders shared their commitment to follow their code of ethics, using international standards, trusted complaint mechanisms at workplaces, and raising awareness through training. More than 15 suppliers to H&M, Inditex, Adidas, and Nike shared their programmes on eliminating GBVH and committed to providing more training and safer workplaces.
The employers' association expressed support for the ratification of ILO C190, and the importance of the new Law No.12 – Criminal Act 2022 on sexual harassment. The Ministry of Manpower reiterated their commitment to reveal sexual harassment even though many companies deny it happens. They also shared experiences on safe houses built together with unions to create a safe environment for victims of violence and sexual harassment.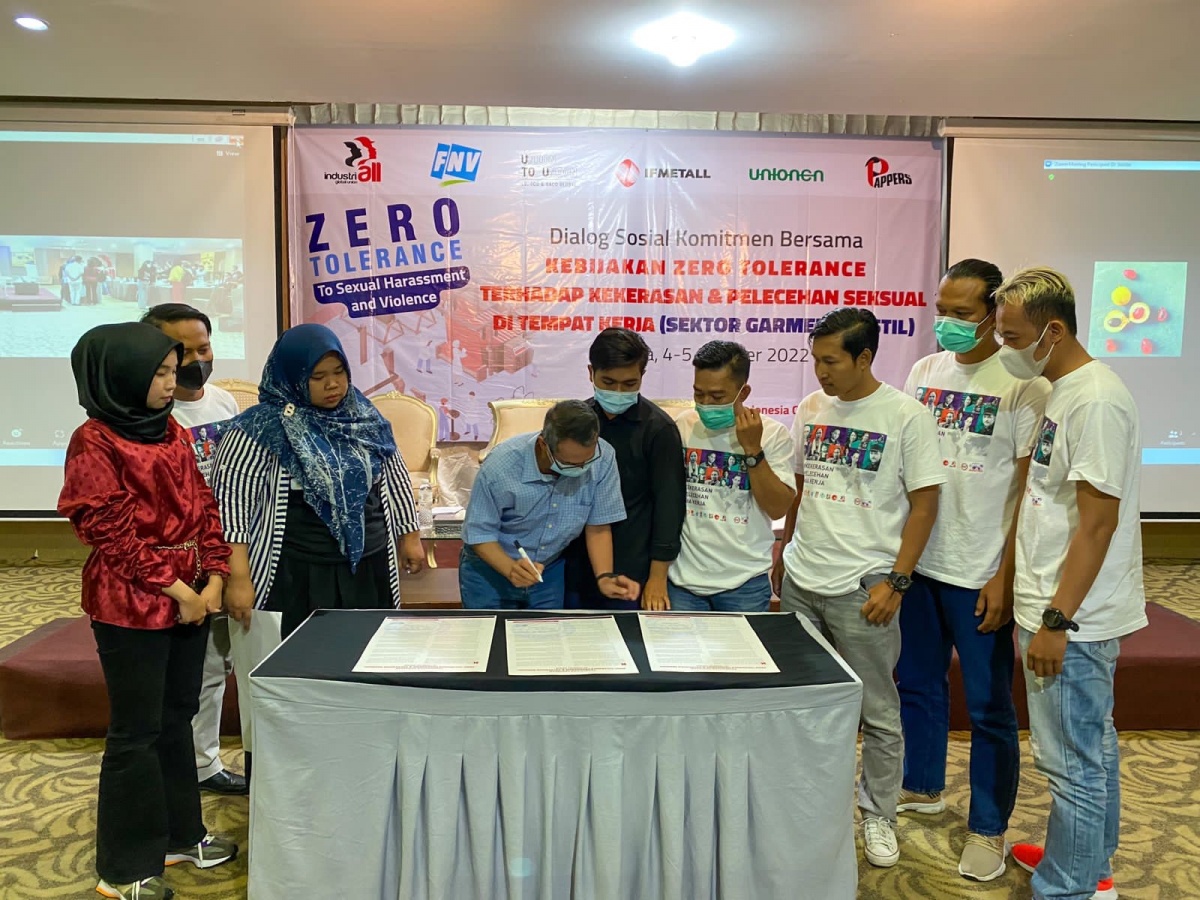 The meeting ended with the suppliers and trade unionists signing the Zero tolerance policy. Fighting GBVH is an important part of the work for trade union networks. The Pou Chen trade union network attended the meeting with three suppliers, and together with workplace-level unions, all signed the policy. 
Christina Hajagos-Clausen, IndustriALL textile director, says:
"Women represent more than 80 per cent of workforce in the garment industry and are disproportionately affected by violence and harassment at workplace. We need stronger commitments from industry stakeholders to create workplaces free from violence and harassment.

"The Zero tolerance policy is a good example of collaboration to eliminate GBVH and to create a safer garment industry. We welcome the commitments from GFA brands, H&M and Inditex, as well as Adidas to combat GBVH. The Pou Chen group's commitment exemplifies the importance of how a trade union network can create change."
The meeting was held in participation with the Ministry of Manpower, Ministry of Women Empowerment and Child Protection, the Indonesian employers' association, Better Work Indonesia and ILO Indonesia office.