26 October, 2020As reported cases of Covid-19 skyrocketed in Myanmar, the government, employers and trade unions have taken strong measures to protect workers' lives.
Manufacturing is allowed to continue despite a partial lockdown and Myanmar Ministry of Health and Sports (MOHS) has issued a comprehensive health protocol for all workplaces. After a dialogue between management and trade unions, several garment factories are providing enhanced personal protective equipment (PPE) for production workers.
Coats, hair nets, goggles and face shields are provided for free for every worker. Factory management will check the workers' body temperature before entering the plant, production tables and canteens are arranged according to the stipulated distance.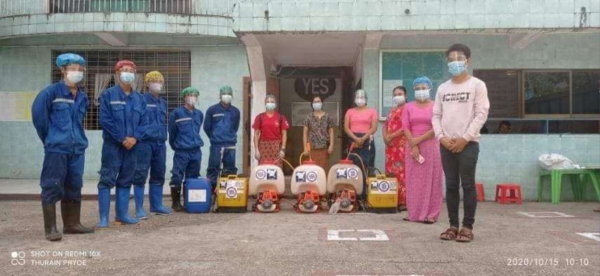 Vice president of Industrial Workers Federation of Myanmar (IWMF) Ma Soe Lay says:
"Our local unions have negotiated for enhanced safety measures with Yes One Garment Factory, Eslite Garment Factory and Popular Garment Factory. Managements agreed to abide by the MOHS rules to prevent further transmission of Covid-19. These are good examples of sound industrial relations.

"IWFM is working closely with the Confederation of Trade Unions in Myanmar (CTUM) to disinfect the workplaces. CTUM has established a strong Covid-19 response team  with ambulance vans and disinfectant spray teams."
IndustriALL South East Asia regional secretary Annie Adviento says that IWFM's efforts to negotiate with employers to provide adequate PPE are commendable.
"IWFM and the CTUM's Covid-19 response team will ensure that workers will be better protected against the virus in workplaces. It is a best practice to be shared by unions and employers in other countries."