7 November, 2019India has withdrawn from the RCEP trade agreement, while the remaining 15 countries announced the end of negotiations and a commitment to sign the deal in 2020.
After seven years and 28 rounds of Regional Comprehensive Economic Partnership (RCEP) trade negotiations, it was widely expected that at the third RCEP Leaders Summit in Bangkok on 4 November 2019, the conclusion of the deal would be announced.
However, against the backdrop of unprecedented domestic protest, India decided to withdraw from RCEP, as many outstanding issues remain unresolved.
According to the RCEP Leader's joint statement, 15 countries have concluded negotiations for all 20 chapters and intend to sign the final text in 2020. The text has been sent for legal scrubbing – analysis by lawyers to ensure it is internally consistent, clear and compliant with relevant laws. RCEP countries will work together to address outstanding issues, and India's final decision will depend on the satisfactory resolution of these issues.
Valter Sanches, general secretary of IndustriALL Global Union, said:
"We remain concerned over the lack of democratic process in the RCEP negotiations. Now that the 20 chapters are concluded, the RCEP text must be released immediately to facilitate informed public debate.

"RCEP should not affect government's policy space to enact appropriate trade and industrial policies according to their current and future developmental needs. Any such hurdles in the current text should be removed.

"RCEP countries cannot remain spectators of violations of workers' and human rights in member countries. The RCEP needs to include a sustainable development chapter with provisions to promote ILO core labour standards and to protect environment. It should include a commitment to an effective implementation and monitoring mechanism with the participation of trade unions."
In line with the IndustriALL global trade and industrial policy action plan, earlier in June IndustriALL Asia-Pacific affiliates developed a regional action plan. Subsequently in July, IndustriALL affiliates along with other global union federations expressed serious concerns over the lack of a democratic process, the need to retain development policy space and other issues. They took action in August to demand a  fair trade regime during Labour 20, the union counterpart to the G20 Summit.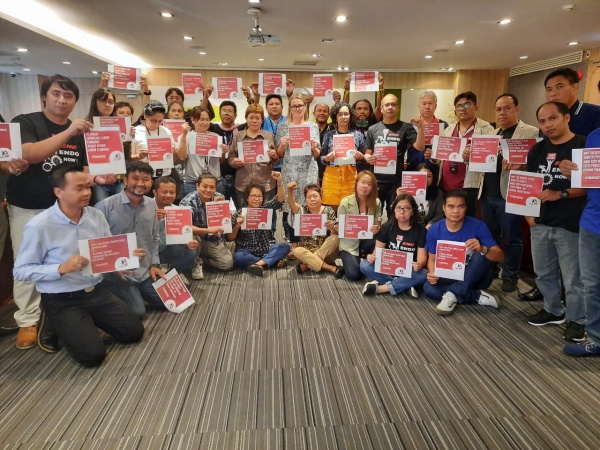 Trade unions and civil society have highlighted their concerns on numerous occasions, saying that it is unacceptable that RCEP governments fall short of holding meaningful social dialogue with trade unions, farmers and other sections of the society.
According to reports, some of the issues raised by India include a special safeguard mechanism to check import surge, movement of professionals, shifting the base year for tariff cuts from 2014 to 2019 and rules on cross border data transfer. India also opposed 'ratchet' provisions and most favoured nation treatment on investment and services.
RCEP is an agreement between ten Association of Southeast Asian Nations (ASEAN) countries and their five partners, Australia, China, Japan, New Zealand and South Korea. The twenty concluded chapters cover trade in goods, rules of origin, trade facilitation, trade remedies, services, movement of natural persons, investment, intellectual property, electronic commerce, government procurement, competition and dispute settlement.