4 September, 2019Workers at Harland and Wolff have occupied the Belfast shipyard for the past five weeks, in a call for the yard to be saved.
Harland and Wolff, the shipyard that built the Titanic, went into administration on 6 August with the potential loss of over 120 jobs when the troubled parent company, Norwegian Dolphin Drilling, failed to find a buyer.
The workers have occupied the yard since 30 July, in an attempt to prevent speculators and asset strippers from taking over. Workers blocked administrators from entering the site. Shop steward Joe Passmore explained:
"We weren't going to accept people who don't have our interests at heart taking over our yard… we run this place, and we decide who comes in and who doesn't."
The unions representing workers on the site, IndustriALL Global Union affiliates GMB and Unite, are calling on the UK government to nationalize or develop a rescue plan for the plant, saying that the workers have shown far more commitment to the yard than the government.
The refusal of the UK government to intervene is in stark contrast to the precedent set by the Scottish government, which nationalized the Ferguson shipyard in Port Glasgow in August. Workers from Ferguson Marine visited the shipyard to show their support.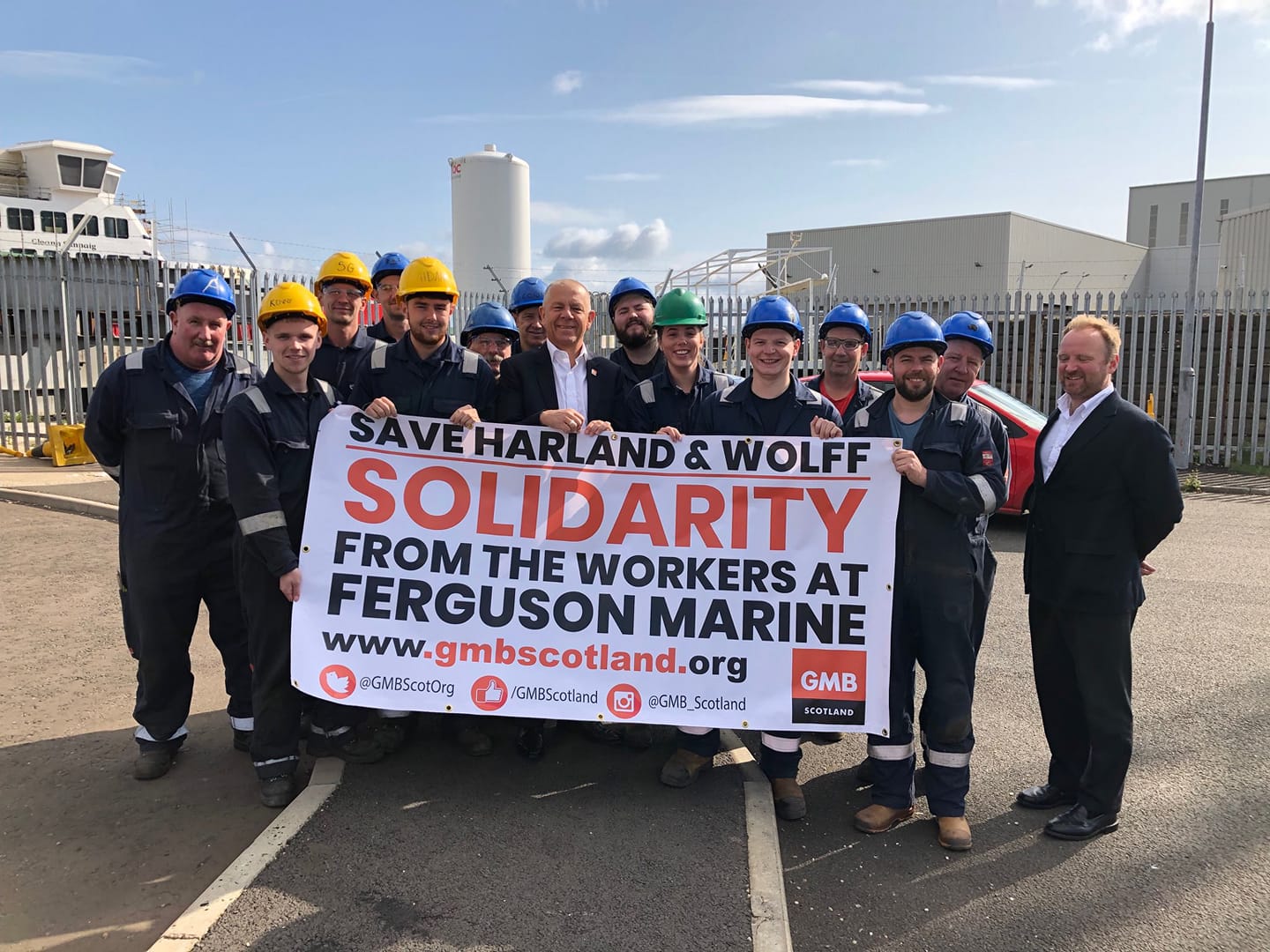 Campaigners argue that the yard, which produces equipment for the renewable sector, should be saved as part of a green new deal.
The workers have built support in the local community, and from across the world. A rally was held at the yard on 23 August, and addressed by trade union leaders from across the country.
The strength of support has attracted a number of serious bids from potential buyers who want to take over the yard as an ongoing concern.
Susan Fitzgerald of Unite said,
"The bidders who are visiting the site and looking around offer not just a fix but the promise of a vibrant future of growing numbers of high-value added jobs.

"There is now a competition between commercial bidders to buy this shipyard whereas only weeks ago it was being pronounced dead."
IndustriALL industry director Kan Matsuzaki said:
"The courage and determination of these workers is inspirational, and shows that there is life in the yard, and support from across the world. We will continue to support them in defending their livelihoods until a serious buyer is found and the future of the yard is secured."
In the meantime, the unions have negotiated a temporary lay-off that will preserve their contracts and terms of employment until the yard reopens.