23 August, 2022Yesterday and today, unions in Visakhapatnam rallied against the country's new labour laws. Union leaders submitted a memorandum to the district administration after the rally, raising concerns over the new labour codes which attempt to weaken workers' rights while promoting companies' interests.
The demonstrations were held ahead of a meeting with all of India's labour ministers in the state of Andhra Pradesh, where Visakhapatnam is located. The meeting is to discuss the formulation and implementation of rules under the labour laws.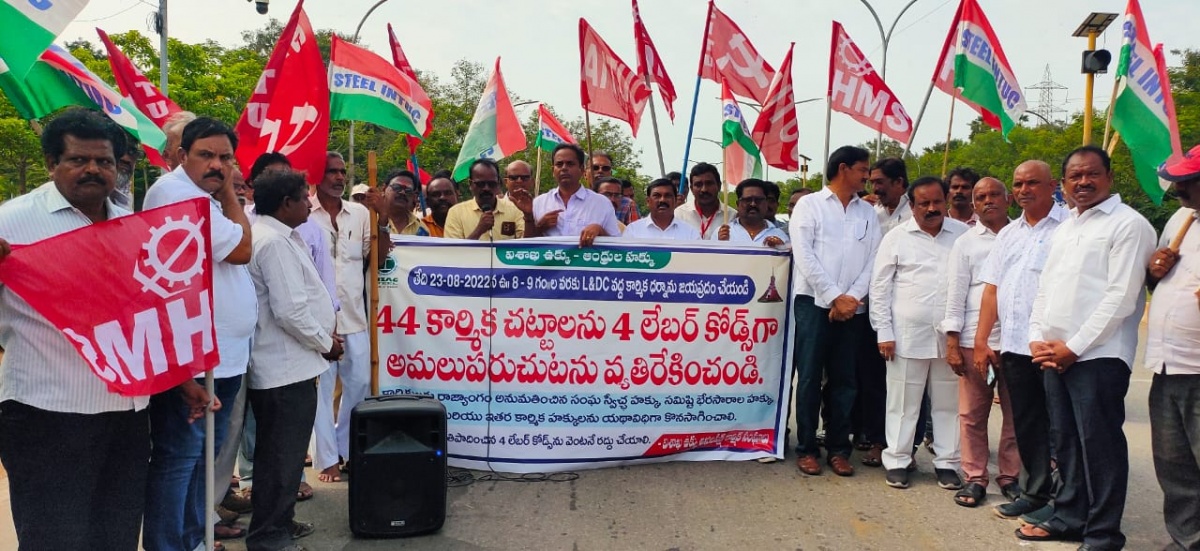 Since the new labour laws were announced, workers across India staged several demonstrations, opposing the government's move to consolidate 44 labour laws into four labour codes. Trade unions view the changes in labour legislation as an attempt to undo the struggle of the workers' movement that fought hard to win the rights that were enshrined in the earlier laws.
Sanjay Vadhavkar, executive committee member of IndustriALL and general secretary of Steel, Metal & Engineering Workers' Federation of India (SMEFI), says:
"The current government has shown complete disregard for workers' rights. The changes in the labour laws coupled with the increasing privatisation of public sector undertakings are going to exacerbate precarious employment and unsafe working conditions. We have no choice but to continue our struggle."
In May, IndustriALL affiliates, SMEFI and the Indian National Steel, Metal, Metalmines and Engineering Employees' Federation (INSMMEEF), staged a demonstration at the Vishakapatnam steel plant, opposing its privatization. An estimated 100,000 people who depend on the plant either directly or indirectly will be impacted by the privatisation.