24 November, 2021Less than a month after COP26, IndustriALL Global Union is hosting a webinar on 9 December on the renewable energy supply chain and the key objective of increasing union power to ensure a Just Transition for workers. 
According to a recent report from the International Renewable Energy Agency (IRENA), accelerating energy transition towards preserving the climate could double energy jobs; up to 122 million by 2050, potentially boosting the economy in the process.
While this projection looks promising, the involvement of workers transitioning from environmentally unsustainable jobs to jobs in the renewables supply chain requires the will and active involvement of trade unions.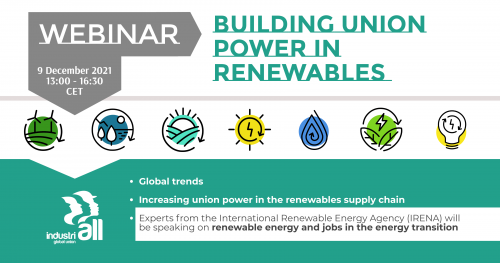 The webinar Building union power in renewables will look specifically at the industrial sectors in the renewables supply chain that are most affected: energy, mechanical engineering, and ICT electrical and electronics.
IndustriALL's sector experts will look at global trends and future perspectives, and discuss the challenges of climate change and energy transition, as well as strategies to increase union power in the renewables supply chain.
Two experts from the International Renewable Energy Agency (IRENA) will speak on renewable energy and jobs in the energy transition. They will focus on where the sector is growing, the jobs expected to be created, and the skills required for these new jobs.
Ulrike Lehr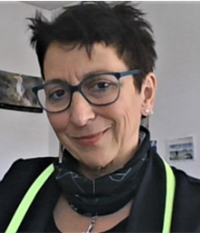 Head of policy and socioeconomics unit, IRENA
Dr. Lehr analyzed the economic effects of the transition to the green economy for Germany, Russia and the Middle East, as well as climate change adaptation policies for the EU member states and particular EU regions. She applied economic simulation models developed by the Institute of Economic Structures Research (GWS) and analyzed economic effects detailed by economic sector. She focuses on developing methods to identify impacts of cross-cutting sectors and technologies, such as renewable energy, e-mobility, tourism, or green production. As head of the policy (socioeconomics) division in IRENA, she oversees IRENA's socioeconomic modeling work for the World Renewable Energy Transitions Outlook (WETO 2021), as well as the socioeconomic footprint analyses, the socioeconomic analyses in IRENA's Regional Market series and IRENA's work on gender, and on jobs.
Michael Renner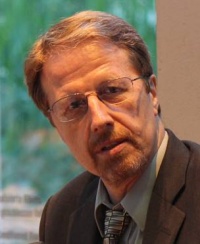 Programme officer, IRENA
Michael Renner is a programme officer, Policy Advice in the Knowledge Policy and Finance Centre (KPFC) of the International Renewable Energy Agency, based in Abu Dhabi. His area of work at IRENA is focused on the socio-economic impacts of renewable energy, including employment and just transition issues. He is a co-author of the report series Renewable energy and jobs, Annual Review, of reports on gender equity in the renewable energy sector, and contributor to the agency's Global Renewables Outlook 2020 and its Post-COVID Recovery report.
INFO:
The webinar will be availavle in the following langauges: Enslish, French, Spanish, Japanese, Russian
For more information on this event please contact Janire Escubi: [email protected]